Let's face it. We could all use a little professional help from time-to-time.
From life coaches, to dating coaches, business advisors, to an occasional therapist appointment, now you can even have your own personal fashion stylist to help select the perfect clothes to wear on a date.
I know that looking good on a date is a huge challenge for many women. From praying for a good hair day to wondering what to wear, while fearing he won't look like his online dating profile, it can make even the most efficient woman fill with anxiety.
Into our closets we go, but all too often we find ourselves with nothing to wear as we gaze at the row of little black dresses and notice the LBD that was short enough to wear a decade ago, but just won't make the cut today.
To find someone who can put all these ingredients together in a fun and flirty package isn't easy. That was until now. Enter 'Dress for the Date,' the brainchild of Jennifer Kelton, founder of BadOnlineDates.com. To be honest with you, I've called on Jennifer to help me decide what to wear from time-to-time and instantly, she came up with the perfect look, which immediately upped the confidence level.
Now Kelton has taken it one step further by creating Dress for the Date, where she combines her years of fashion background with the knowledge of the dating trenches to help even those who think they have a flair for fashion to ramp it up a notch.
I decided to watch Jen in action as the fly on the wall at one of her recent dating makeovers at the Kenneth Cole store in Century City in Los Angeles. A single man and a single woman who had never met before came in with what they thought were good first date outfits. While they looked ok, they weren't putting their best fashion feet forward. I watched as almost seamlessly, each single dater's wardrobe was transformed in just one hour.
Meet Megan, an edgy girl from the west side of Los Angeles.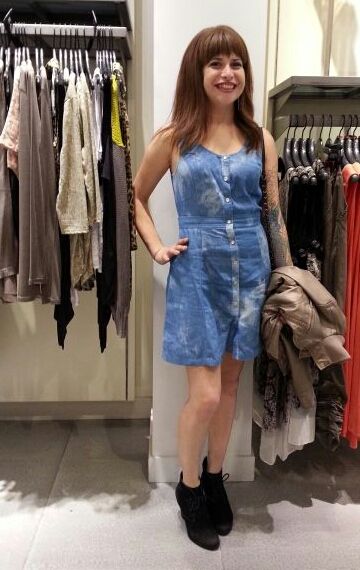 Megan: Before photo
"I wanted to put her in a date outfit that allowed her inner rock chic to shine through - with leggings, and a blazer that is both street style and classic," said Kelton of her wardrobe update for Megan. "They're easy to layer and build upon as basics that she can dress up or down."
Megan told me her budget was $200 for her wardrobe makeover. She went from a very casual day look to an instant confident hot look that even impressed Charlie, the male dater who was waiting for his turn for his fashion makeover. Megan was so pleased with her look, that she spent $520 on a blazer, new shoes, leggings, and two shirts.
"Megan is young and has an edge, said Kelton. "I wanted to put her in a date outfit that allowed her inner rocker chic to shine through -- with leggings, and a blazer that is both street style and classic they are easy to layer and build upon as basics that she can dress up or down."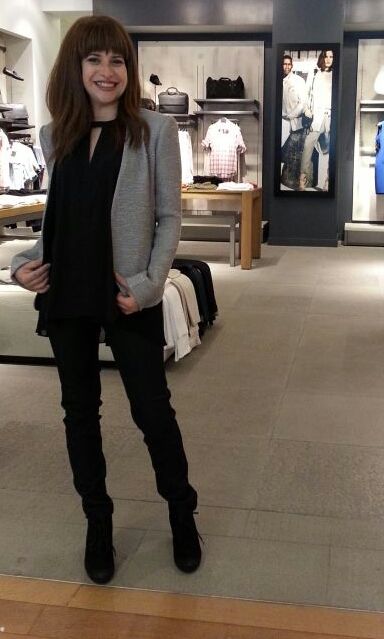 Megan: After Photo
"Let's face it showing up in a pair of old sweatpants is not going to have same impression as a stylish well put together outfit," Kelton added. "I get so much pleasure working with clients, and seeing the transformation right before my eyes. In almost every one of my in-person sessions the clients have left wearing what we have just purchased."
Can you relate? How often have you left a store begging the sales girl to cut off the tags so you can walk out in your new outfit?
Meet Charlie, a 29-year old single guy from San Diego. When it was time for Kelton to change his look for a date, he said he had a budget of $500 - $2000 for his new wardrobe.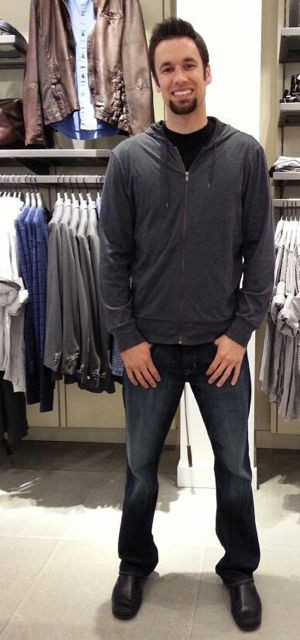 Charlie: Before Photo
Charlie told me, "For a first date, a woman should dress it up. Maybe wear a color that pops like pink or red. Not too daytime of a look." He added, "Turning 30 is motivating me to branch out more in business and update my wardrobe. I want to feel more confident and coordinated in my outfits."
Charlie ended up staying within his budget and spent $783 for his new date outfits, which included a pair of new brown boots, a dark purple sweater, a black leather belt and four button up shirts.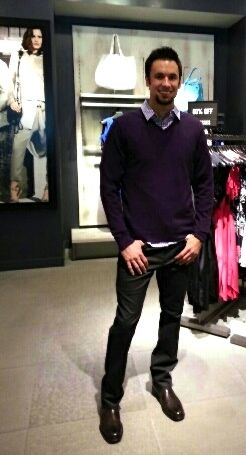 Charlie: After Photo
"Charlie is mostly in workout clothing due to his work," said Kelton. "I felt he's more suited with new date pieces that he could easily mix and match. By picking a black jean, paired with boots and a staple leather jacket he has many options to layer with that will be timeless investment pieces for any man's wardrobe."
By the end of the hour, each dater felt transformed and ready for date nights to be put on their calendars.
What will you be wearing for date night?
Photo Credits: Henie Reisinger
Related