So you're in need of marketing data. Great! Whether you're using this data for your own marketing research, or whether you're using it to inspire new content, it's important to make sure you're getting your information from credible sources.
The last thing you want to do is produce a series of infographics, or put together a report, only to find out that all of the stats you included are false. Finding credible data is not always easy. There are a lot of online businesses and marketers that conduct their own original research that may not always be entirely accurate.
As a content producer, reliable marketing data is one of your most powerful tools. Without hard data to back up your statements, it becomes difficult to differentiate yourself from an amateur writer, and a true market researcher. With the proper stats, your content becomes more compelling, persuasive and overall intelligent.
The following five data sources are some of the best available:
Data.com - Salesforce Inc.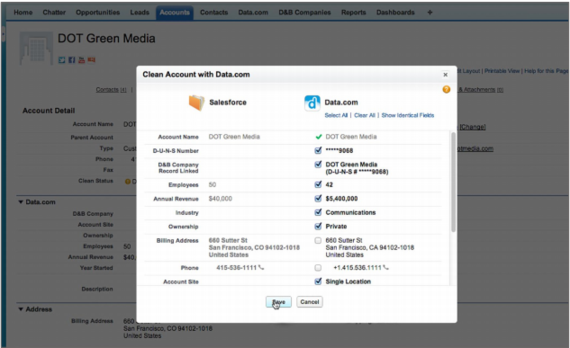 Purpose: To organize your data, make it easily updateable and compile relevant or related information.
Pricing: Data.com has two services: Clean and Prospector.
Clean is available for $25USD/month, billed annually for a total of $300.
Prospector is available for $150USD/month, billed annually for a total of $1800.
Overview: Salesforce Inc. is a cloud-based customer relations management system (CRM). It's easily accessible across most devices and offers many applications: one being data. Their product that focuses on data is Data.com, an application available inside of the Salesforce app.
The two services Data.com offers work best when used together. Clean is a service used to manage all of your data. You can use it to input information on your company and customers. It then takes the information that you've input and matches it against trusted databases to fill in missing information and automatically update records. It then produces reports based on that information.
Prospector is an application to help filter through CRMs and give insights to gain access to relevant topics. Combined with the report from the Clean service, you can target what information is relevant, and find related industry trends.
Hoovers - Dun & Bradstreet Inc.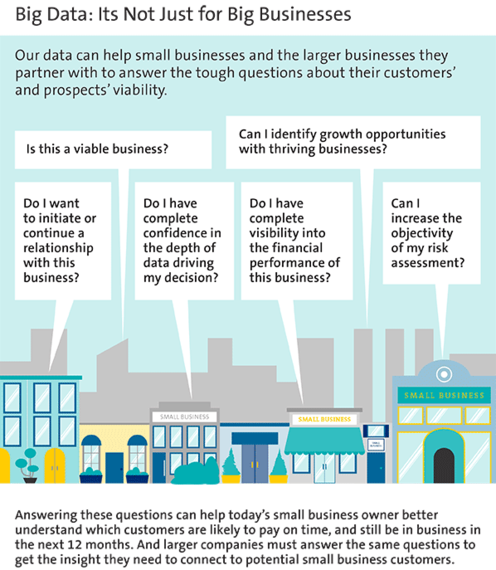 Purpose: To give access to data on sales leads, and related companies and industries, as well as keep your records up to date.
Pricing: A free trial is available by request.
Plans start at $50/user/month based on an annual subscription.
Overview: Hoovers compiles information on company, industry and market trends to provide insight into your customers' interests. The data this will give you access to can provide you with new perspectives into the effects your company has on its industry. This can be a great resource to grab your market's attention and demonstrate the positives of your business.
Its database contains 85 million companies, 100 million professionals and 900 industry segments.
They use Dun & Bradstreet provides the data, but they are also a content creator. You can go to their website to browse their directory for their free contact before committing to a subscription.
They have three subscriptions to choose from: Researcher, Prospector and Relationship Manager.
Each of these of these subscriptions can be utilized for different purposes. Researcher gives you access to companies who may have interest in your product or service; Prospector is used to provide data on prospect and customer data. Hoover's Relationship Manager is more comprehensive tool set for your business.
Experian - Experian PLC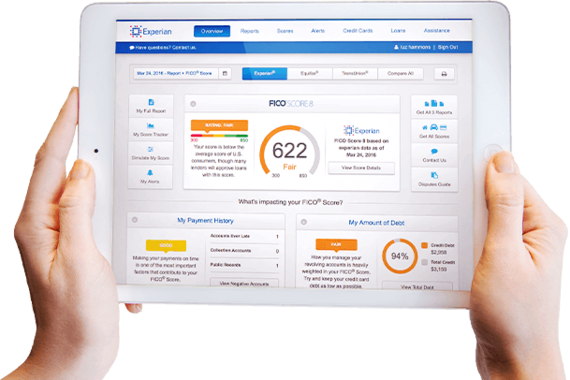 Purpose: To provide an accurate and up-to-date database of different aspects of your industry (customers, suppliers, products, etc.), while keeping the data secure.
Pricing: Contact for quote.
Overview: Experian keeps records up to date by gathering personal information from thousands of organizations. This information is uploaded regularly so that the data is always as accurate as possible, and goes through a quality process to remove duplicate entries and checking it against other records. Part of this service is the security used to protect the information that is uploaded to the database.
Since the information is updated on an almost daily basis, the trends this database has are as accurate as possible. These trends can include browsing patterns and internet service provider preferences. You'll be able to pinpoint what your customer wants to know about your organization.
Thomson Data - Thomson Data Inc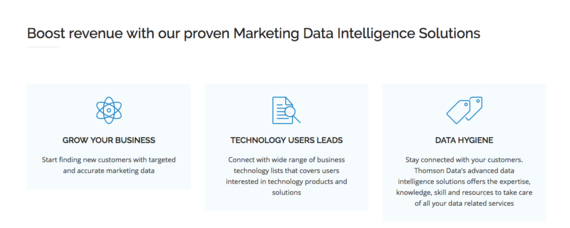 Purpose: To provide customized B2B Marketing Data for
various industries along with data cleansing and enhancement services.
Pricing: Free sample and quote available through
their contact page.
Overview: target="_hplink">Thomson Data provides custom built B2B marketing data configured as per industry, geographic regions, demographics, size of the prospective market and so on. With an endeavor to supportyour sales cadre in the lead generation process, Thomson Data
maintains a rich directory of decision makers across all industries and provides accurate contact details to approach your prospects through emails, physical mails or telephone. They also allow decision makers, product/service providers and seekers to save or update their information in Thomson Data directory to find prospects and get found. Also, they undertake to sanitize and update your outdated database at regular intervals, keeping data security and safety uncompromised.
With a team of over 150 strategists and data scientists globally, Thomson Data not only helps you gain new leads but also earn customer loyalty through continues engagement. Other than data management, they also provide SEO, advertising, and web design and development services
to support your marketing and sales needs.
InfoUSA - Infogroup Inc.

Purpose: To create business and consumer lists to help your business grow by providing updated records.
Pricing: Speak with a marketing expert to get a quote.
Overview: InfoUSA is a data enhancement service that you can use to fill in the blanks in your customer records. It can include geographic and demographic information that can be used to create an infographic about your company. They boast a low turnaround time and greater efficiency with their advanced targeting to help you get the information that you're looking for. It can be an effective way to gather information on your customers' interests and cultural knowledge to target your infographic more appropriately.
They boast investing $20 million per year in keeping their records up to date, and they employ over 350 data scientists to manage them. They provide the data that verifies top-tier search engines globally. They gather business and consumer data from a multitude of sources, including but not limited to North American Yellow Page directories, bill processors and behavioral data. This information is regularly verified by their human staff, a rare feature in a data management company.
-
Much of the information provided by these services are confidential and secure. Be sure to be read up on the terms and conditions on using these services, and what information can be shared legally and ethically.
REAL LIFE. REAL NEWS. REAL VOICES.
Help us tell more of the stories that matter from voices that too often remain unheard.