To all married moms who are just embarking on this journey of motherhood, hang in there, because in the end, you'll succeed.
In the midst of marriage and motherhood while trying not to lose yourself and achieve a career you may wonder if you'll be able to manage it all.
From someone who's an advocate for love, marriage, children, family and one who's half way in the marriage-parenting stage and been married for 23 years, I want to give you a few words of encouragement: YOU can do it, too!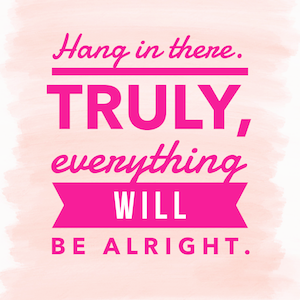 Sometimes the strength of motherhood is greater than natural laws. - Barbara Kingsolver
Yes, I know sometimes you may ask "Why the heck did I get myself into this?" There were many times in the early stage of my children's life when I would ask the same question. But know you are not alone.
Those sleepless nights when your baby wakes up in the middle of the night will soon fade away. The pile of laundry you have sitting in the corner wishing it would go away, soon it will. The moment when you dream of some good quite "me" time, soon you'll have plenty. The moment when you wish it was only you and your husband alone again and wanting for him to nurture you more and vice versa, soon you'll start evolving back to it.
Of course it's a very challenging journey when you have to wear so many hats: woman, wife, mom, caregiver, provider, housekeeper, chef, chauffeur, coach, friend, lover, etc., etc. Yet, it's a journey that along the way with all the chaos is full of gratifying moments. Moments of joy when you see your child achieving another milestone in his or her life's journey.
Motherhood is the most challenging as well as the utmost satisfying vocation in this world. - Nita Ambani
And every year that passes and you see your children growing happy and confident under the guidance of mom and dad, it's a year closer to your success high as a parent. To achieve raising healthy happy kids into self-sufficient confident adults as you dreamed you would together in union and in love, along side your husband.
You see, you are walking this journey because somewhere along the line you wished for it. Of course you didn't wish for all the drama, but what is life without some drama? The key is to stay focused on the dream. To stay focused on the journey. To know that each day, each week, each month, each year is a stepping stone in the direction to your final dream destination.
So, when those moments arrive that you want to give it all up, breathe. Take a moment and just breathe. And don't think you have to do it all by yourself. You don't even if you want to. The truth is that as much as you want to be Wonder Woman you don't have to be because you already are a woman full of wonders.
Believe in yourself, have faith in your marriage and most importantly, care for the foundation of your family, you and your spouse. Nurture yourself, nurture your husband, nurture your marriage and everything else will fall in its place. Care for your marriage as you care for your baby. Because your marriage, in theory, was your first baby.
Don't for one minute think it would be easier to quit the marriage and raise your children alone. Although you would be able to do so, the challenges that will arise from this new arrangement are far more complicated and not what you had planned for in the first place.
I was divorced when my children were young, so I was a single mother for a while. It's so hard to have to do every little thing yourself and be forced to navigate the rocky emotions of motherhood alone. - Terri Blackstock
Therefore hang on tight to your family and to your love for your spouse. Care for each one of your roles, woman, wife, mother, professional. Because each one of them was part of your happily-ever-after dream. Live every day grateful and with purpose honoring your current life stage. Remembering, that it is not all about the destination but about the journey it self.
And never give up believing, never lose faith and never loose focus; There, is where you'll find the strength to keep walking your journey. Because you can do it too!