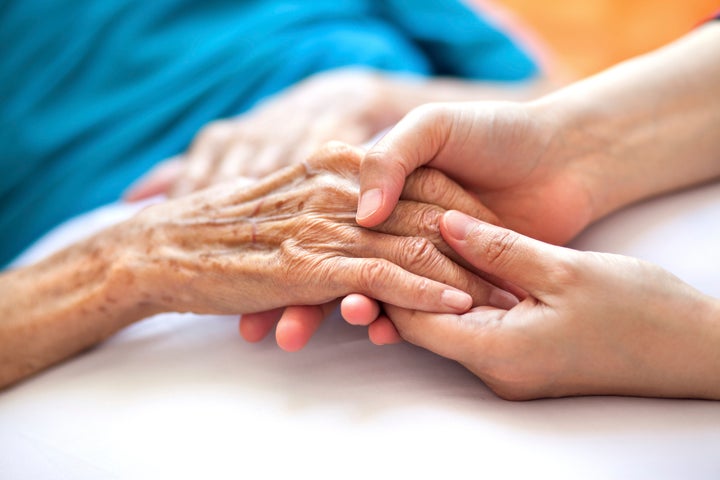 There once was a teeny tiny house that sat on the tippy top of a steep hill in Ponce. That house belonged to my abuela. Next to that house, some children were selling some homemade flavored ices. In the summer of '97, I was their prime customer. Some of my favorites included mango, chocolate and coconut.
I had become quite the sommelier of these ices since there wasn't much for my seven-year-old self to do. Raised in the Bronx and speaking not a word of Spanish, Puerto Rico was such a foreign world to me. I got the sense that New York was that way for my abuela.
Her whole way of life pre-Puerto Rico trip was an enigma to me. She wore these floral batas, the Latin equivalent to a moo moo, everyday. Her hair was so long that it went past her knees. Watching her brush her hair every day was like watching an artist at work, especially when she would twist it into one, long, sleek, whip-like braid.
During the day, she would watch El Chavo. I would try to make out what it was about, settling with the understanding that it was about the adventures of a group of creepy adults dressed as children. There was one who reminded me of Grumpy from Snow White, a girl who would cry about everything and a boy who lived inside of barrel who was abused by Grumpy. My grandmother found this HILARIOUS.
At night, she would pray over her rosary. She kneaded her hands through each bead, like she did when she was braiding her hair. Sometimes I would just watch her stoically sleep with a perfect warrior posture.
Even with the language barrier, as a child, I could sense the power in her silence. This was how she would get me. One gaze into her glare, and I would be in tears.
A few weeks after arriving in Puerto Rico, I was stunned to know my abuela owned actual clothing. She decided to take my brother and I to the market. Of course, I thought this meant a casual walk to the closest Key Food.
The marketplace, however, was not. It was a big place, bustling with people that seemed a lot smaller due to all the things being sold. There was food, clothing, things to make food, things to make clothing and other who's-its and what's-its galore. It was easy to feel claustrophobic in this space. My abuela held me close to her, and we moved swiftly through the crowd.
In the marketplace, my abuela was the greatest hustler. She knew how to bargain for everything she wanted to buy. It did help that she knew everyone she came into contact with. Every time she had a conversation with someone that made her laugh, she would glow. She was out and about, embracing the day.
In New York, my abuela's identity seemed to wither in the shadows of four walls. In Puerto Rico, it flourished and blossomed like one of the flowers on her bata.
When my family moved to Charleston, SC, when I was 11, I lost contact with her. During my Junior year of High School, she came to live with us after suffering multiple strokes. Watching her get wheeled, I realized the woman at the market, the woman who would immaculately braid her hair with the subtle hand of Michelangelo, was long gone. She still saw me as the boy holding her hand though. Alzheimer's had taken its course, and she would always reference me as "el nene" or "the baby boy."
When my abuela was living with us, my mom did a terrific job keeping up her tradition of putting her in batas everyday. So much so that I was surprised to find my bed-ridden grandmother fully dressed in her wheel chair one day. "Get ready," my mom told me. "We're going to the beach."
My brother, my sister, my mom, our home health aid, and my abuela packed into my mom's red Subaru and took a drive to Folly Beach. When we got there, my mom and brother sat my abuela down on a beach chair. It was an emotional moment for a lot of us. As my abuela wiggled her long toes (which I have inherited) in the sand, I saw that marketplace glow on her face. I could tell the feeling reminded her of the beaches at her home in Ponce.
My abuela died when I was 20, on Mother's Day. When someone dies in an apartment full of people, an eerie silence fills the room. Everything seems to turn into a moody shade of Cold Case blue. The last time I saw my grandmother, she was being wheeled out of her room by the morticians. Her death seemed quite anticlimactic, since she had a roughly three-year build up. In hindsight of life, isn't everyone's death?
"Let's get out of here," my mom said, shifting the mood.
My mom knew exactly where to go.
As a family, we hugged each other close as we walked up and down Folly Beach cracking jokes. If you hadn't just been with us thirty minutes before, you would have never known there was a death. We all paused for a moment as the wind carried a cluster of butterfly kites, every shade of the rainbow, right above our heads. It was a common fact among our family that my abuela was obsessed with butterflies.
There was silence again. This time, it was a familiar silence. It was her silence, a silence that terrified me as a child. It made me cry, and not because I knew I was in trouble. It made me cry because I knew she was telling me in our unspoken language that she was no longer caught up behind the four walls of living in New York or Charleston. She was telling me she was flying high in some form of celestial Puerto Rico. She was home.
Calling all HuffPost superfans!
Sign up for membership to become a founding member and help shape HuffPost's next chapter
BEFORE YOU GO