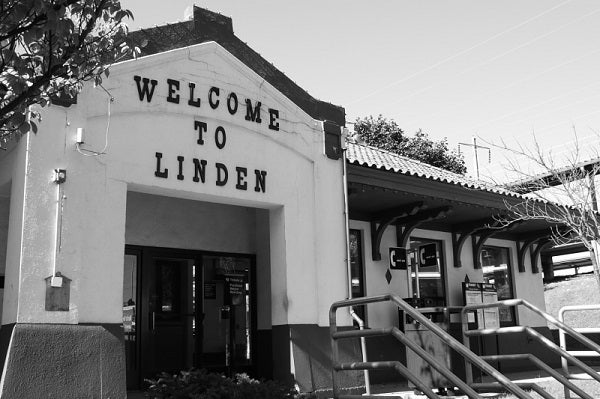 I live in Linden, New Jersey, a fact that typically draws puzzled looks and utterances of "where's that?" from my Manhattan cronies... but not so much anymore.
On Monday, my town was the center of the news universe, as the suspect in a series of area bombings was caught thanks to our heroic police and a responsible citizen who spotted him sleeping outside a local bar. The apprehended planted bags containing explosive devices in three locations across the area (Seaside Heights, Chelsea and Elizabeth)... but it was the cops in my town who bagged him in the end.
Monday's shootout and arrest occurred just a few blocks from the spot where Linden residents like myself board our morning trains. On this day, our afternoon commute home included a glimpse of the scene where, even at rush hour, an armada of police cars and news vans lined the street.
All this unexpected notoriety gives me a chance to talk about Linden, a place I've called home since 2001 and the spot where my husband and I raise our three huskies and enjoy our cozy suburban existence. I'm not the first "Hollywood" type to pass through; as legend has it, a budding actor named Harold Lipshitz decided to change his name for the stage. Riding on New Jersey Transit, he noticed the town name on a water tower, and decided he'd be known as (future Emmy and Tony Award winner) Hal Linden.
As for myself, I've long said the best way to enjoy being a middle-aged New Yorker is to live outside of New York City, close enough to visit, but far enough to get away when the noise, traffic and crowds get too much.
Linden is the place I came to do just that... although the truth is I actually did it for love. My husband Rob has lived in this town, 19 miles outside of Manhattan but just over the Goethals bridge from Staten Island, almost his entire life. His family moved to a stately white colonial in 1969, where his father still resides. Rob and his brother were athletes and Eagle Scouts, his sister was an honors student and future English teacher, and they all graduated from Linden High School in the 1980's, as did my nephews decades later (one was the Homecoming king, the other the commander of the school's ROTC). My father-in-law Bob Frazier was a councilman for 15 years, and my late mother-in-law Carole was active in community works as well as a receptionist at nearby Kean University. Rob's late uncle Willard was a lieutenant on the Linden police force for 38 years, and his brother just retired after 30 years with the state police (where he met my sister-in-law, who logged two decades working for the troopers).
When the time came for us to co-habitate, about a year and a half into our relationship, there was really no option on the locale. I lived in the world's smallest two-bedroom apartment in the East Village; Rob rented the top floor of a nice duplex, owned by a Polish family, near Linden's main drag (and really just a few blocks from the spot where the bomber was captured). Despite many years of the Manhattan grind, my origins trace back to a suburban childhood in Brookfield, Wisconsin, an idyllic suburb west of Milwaukee. So the voice inside me said "Go West, Young(ish) Man" and off I went to settle down with my very own "boy next door" (the next door being... New Jersey). I moved into the duplex, and three years later, we moved into a home of our own. Quite unsurprisingly, as Rob tells me, Linden has changed a great deal in the 47 years his family has resided there. Once a profoundly Polish community, with a tree-lined Main Street of mom-and-pop shops and a one-screen movie theater, Linden has become a much more diverse piece of the American tapestry — and, indeed, a representative of the wonderful, beautiful, colorful melting pot of modern-day America.
My very street is a fine example of it all. Nestled in a subdivision called "Sunnyside" that used to be a golf course, we live on a road that is populated (to name a few) by African Americans, Latinos, Asian Americans, an Okinawa veteran, young couples, middle-aged couples and, in the case of yours truly, a pair of gay marrieds. We were married in Linden's City Hall in 2014 by the town mayor, Richard Gerbounka (who has since been succeeded by one of Rob's former Linden High classmates, Derek Armstead, our first African American mayor). We were one of the first LGBT couples married in Linden after the New Jersey Legislature legalized same sex marriage that fall (the very first were a gay couple who own a flower shop and bar in town, and we were also beaten to the altar by a lesbian duo in line before us that morning).
Here's the point I'm trying to make in all of this: I've always felt it, but this week's events reinforced it. Linden, New Jersey was the center of the news world on Monday, but the heart of America every day. The way our community has come together - praising our law enforcement, praying for those injured, shuddering at our shared proximity to peril, and thanking the fates for our health and safety on the other side of the dangerous episode - is the spirit of America itself.
People representing all cultures and walks of life live and thrive and struggle and share a common existence in Linden, with all the good and bad, elation and uncertainty that involves.
Terror affects us, as it does everywhere in our nation. But heroism touches us too ― we see it every day in our brave law enforcement, keeping us safe, and our conscientious citizens, seeing something and saying something.
Horrible things happen in my town, and wonderful things too.
Some things change ― neighbors come and go, kids grow up and move on, businesses open and close. And some things stay the same ― love of family, pride of country, spirit of community.
Through it all, we come together and look out for each other and embrace our heroes and face our hardships together.
That is my Linden this week, and I profoundly hope it is all of America forever.
Calling all HuffPost superfans!
Sign up for membership to become a founding member and help shape HuffPost's next chapter
BEFORE YOU GO