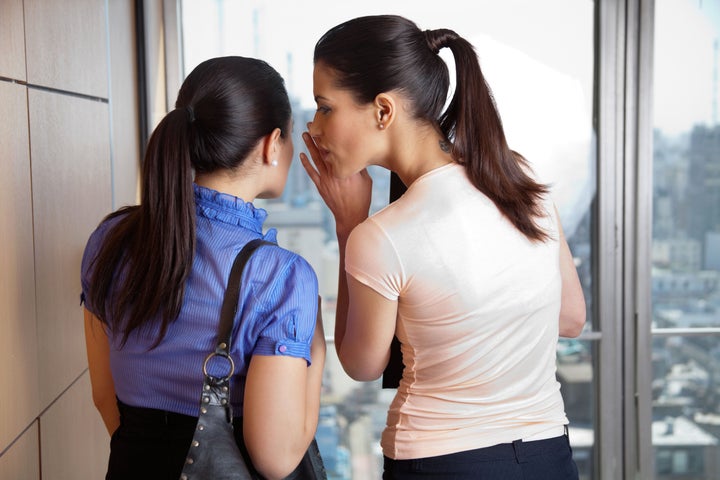 If you've had the misfortune of going through a very public, contentious divorce, it may feel like all heads turn when you walk into the room. You may be convinced that people are whispering behind your back. If truth be told, your friends and neighbors may be consumed with dissecting and embellishing every sordid detail.
But let's remind ourselves of some basic tenets of human nature. Public attention is short-lived. When you hold your head high and conduct yourself with dignity and class, people will eventually move on, finding another story to catch their attention. They may even consider you with renewed respect and admiration, as you face life's adversities with poise and restraint.
So many of us believe that our spouse's behavior will be an important reflection of our own value as people. We may cower with shame when their behavior is less than admirable. But reminding ourselves that there's a distinction between their character and ours is critically important. We cannot control another person's behavior, and there's no point in trying.
When we're targets of gossip, we may take negative barbs to heart and believe other people are right: that there's something inherently wrong with us. Shame is a debilitating emotion that runs rampant and strips a person of his or her pride.
There will always be a group of mean-spirited, petty people who lift themselves up at the expense of others. Gossiping affords them an elevated sense of importance and superiority.
The rest of us mortals are well aware that we will never be fully spared from a dose of life's tragedies and humiliations.
When misfortune happens to another person, many people sigh with relief that it wasn't their turn. They may actually have the capacity to show a tremendous amount of compassion and concern for the victim.
Sometimes, reaching out to a close friend or confidante, and eventually connecting with others, (even if it feels awkward at first) may help to increase self-acceptance and offer hope that life can be improved. The person who shrinks into a corner may deny himself the opportunity of being supported by others. He may actually enhance the mystery by unintentionally implying there's something to hide.
As Eleanor Roosevelt said, "No one can make you feel inferior without your permission." It's important to find ways to fully appreciate the scope of our worth and accomplishments. It can make a big difference when we focus on the positives, even when we're feeling sad and discouraged. Now, more than ever, our families will need us to be a source of strength and direction.
Sometimes, the very act of taking positive steps can set in motion an impressive momentum of increased self-esteem. We'll be able to think more clearly and make reasonable decisions when we reach for our inner resilience.
Linda Lipshutz, M.S., LCSW is a psychotherapist serving individuals, couples and families. A Palm Beach Gardens resident, she holds degrees from Cornell and Columbia and trained at the Ackerman Institute for Family Therapy in Manhattan. She can be reached in her office at 561 630 2827, or online at www.palmbeachfamilytherapy.com.