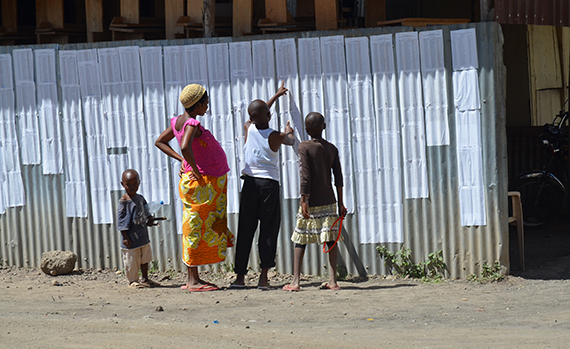 Photo credit: Jifundishe
This is a guest post by Debra Kelly, executive director of Jifundishe.

We sit in the car watching as one person after another arrives at "the wall." We have come to the District Education Office in Usa River, Tanzania to talk to the DE Officer about our scholarship students for the coming year. Our conversation is over, but as we're preparing to leave we are held captive, mesmerized by the drama unfolding in front of us. Parents and children, some having walked for hours, approach "the wall" from every direction.
"The wall" is in the middle of the dusty, hot parking lot of the District Office and is constructed of corrugated iron sheet, one piece next to the other, somehow affixed to the ground. It is covered from top to bottom, left to right, with pages of letter-sized paper, containing lists of names...the names of the lucky.
In this area of Tanzania, students graduating from primary school are about 14 years old and they are at a crossroads. They have taken a national exam that will determine their fate with regard to further educational opportunities. The students took that exam in early September, and now, the week before Christmas, they learn their fate by visiting "the wall" to find the results. They have attended one of over 200 primary schools in villages all over the district, and may have been selected to one of as many secondary schools. This is where they find out if they have a chance to continue in school, or return home to a life of poverty and hardship--or, in the case of the girls, the possibility of marriage and children by the end of the year at age 15.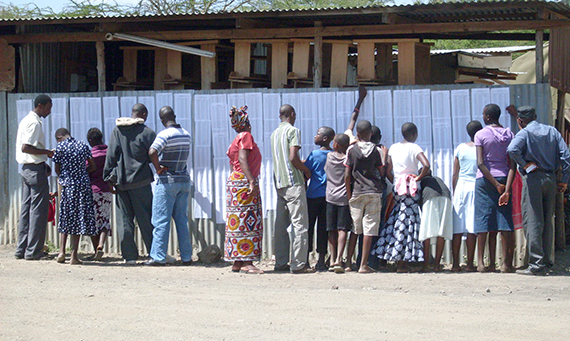 Photo credit: Jifundishe
We watch as the children and parents approach "the wall" together, pushing through the crowded front line to get a glimpse of the results. The results are posted by school selected to, so, without knowing that, the children can only look up and down the lists and lists of names posted on the wall by school, looking for their own. We can see the anticipation on their faces, we can feel the tension, and we all smile as a child looks at their parent and jumps up and down, having seen their name. And for others there are tears, as the realization sets in that school is not in their future. It is absolutely heartbreaking. Some search the list for hours, one sheet after another, refusing to accept, needing to be absolutely certain that their name is not there, and then walk away in sadness.
Most primary school students in our area are not selected for secondary school. I cannot quote the actual statistic because the Tanzanian government passed a law last year that made it a crime for me to do that without passing it by them first. They are desperate to spin the sad statistics of what is happening in the education sector.
Our organization, Jifundishe, has been supporting girls with opportunities of attending secondary school for eight years. Even those happy children leaving "the wall" with smiles may still never go to school because the cost of secondary school is prohibitively high for most families. We help bright, vulnerable girls living in poverty to have that chance, which also provides a chance for that family lifting itself out of the cycle of poverty. Educate an African girl-child and the family is 25% more likely to be lifted out of poverty. That is a statistic that I can quote freely.
Photo credit: Jifundishe
For the last eight years, we have sent our girls to government schools, both in their villages and in boarding schools far from home. Sadly, the quality of education in Tanzania has deteriorated to a point where they are simply not delivering an education at all, but filling desks, collecting fees, and often, caning students for being late or failing to get answers right. It has always been a principle of our scholarship fund to support government schools, and we have felt that--as hard as it was to accept the low quality of the education they delivered--to abandon them was not the answer. However, this year, we have made the decision to send our girls to a private school hoping that they will receive an education that is worth the money spent. Sega Girls Secondary School is a fellow Segal Family Foundation partner that will not only prepare our girls academically, but teach them life-skills for their futures. After meeting with the administration in October and forming a plan for sending five girls there this January, we returned to Arusha happy to have found this wonderful school, but sad that for hundreds of thousands of others, this would never be an option.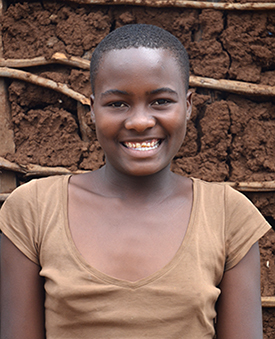 At this point, Jifundishe is in the beginning of our selection process for identifying vulnerable girls who would otherwise have no chance at an education. The need becomes greater each year and the process becomes more painful for us as we try and raise money for our scholarship fund. Despite the challenges presented by poor government policies and the challenges of working in a developing country with few resources, we intend to continue to help as many girls as we can.
Related
Popular in the Community