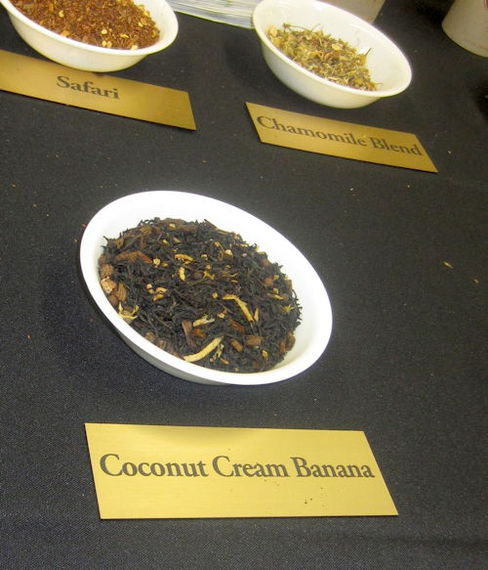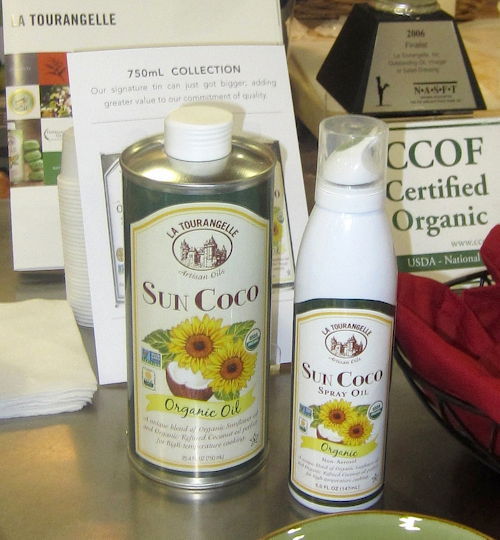 Flavor trends didn't used to be a thing. Until quite recently, the same set of flavors you grew up with were the same set of flavors you'd know all your life, and you wouldn't "discover" a new flavor until you went on vacation, served in a foreign war or had lunch with your piano teacher's Norwegian friend.
Being surrounded by my all-time favorite flavor at the Fancy Food Show made me think Finally! But I was surprised to also feel something else, which was: No. Coconut is MINE.
As if coconut was my secret private stash which the cool clique was kicking in the playhouse door to steal. This is life with low self-esteem: We are ashamed of loving anything. We are also afraid to love, believing that whatever we love will be snatched away from us because we don't deserve it, because we were stupid to desire it, because we are selfish ugly monsters thus nothing is rightly ours. Hey, I don't make the self-loathing rules. I just follow them.
Coconut is being hailed as a new superfood, and studies suggest that it can lower blood pressure, that it can restore hormonal balance in women, that it contains anti-cancer compounds and that it can work other biological wonders. Some experts warn that it's too soon to tell. But I kind of don't care. For me, coconut is the sacred stuff inside Mounds bars which my grandfather bought at the corner store and gave me in small paper bags with rolled-up Archie comix. That was all we ever had between us. Then he lost his mind. Coconut was the most delicious of the seven fillings that distinguished septpartite Seven-Up Bars, which existed in the 1970s, when candy wrappers bore the words "milk chocolate" in big look-at-me letters as if this was remarkable.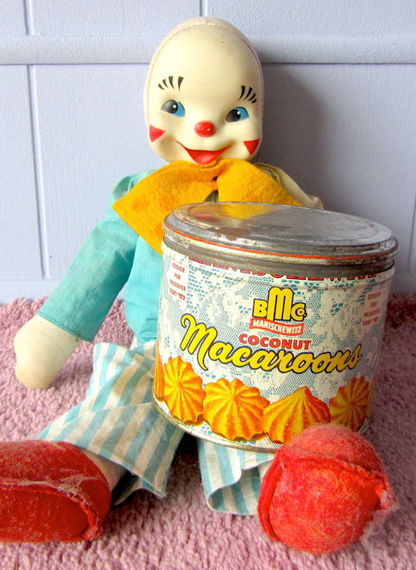 Coconut was the curly white strips stuck in icing at my hometown's Circus Donuts. It's the chewy part of German chocolate cake, the part that, just thinking about it, makes you drool. Coconut makes white-on-white cakes glow like bridal gowns, like angelwings, like surf, lambs, clouds, pure alabaster, temple walls and snow. It is the whole point of Passover macaroons -- which, yes, my best friend believed at first were spelled "McArunes." Coconut is the toasted flecks that gild marshmallows given to the chosen few. Coconut was the main ingredient of Desert Moon Bars, which I purchased at the student store then ate every day on the beach flanking my university: a slender, tar-swept crescent I think I will never see again.
Sugared dried coconut flakes were what one put in and on things in North America back then to render them fancy, to signal their relative elegance. Jell-O molds. Fruit salad. Granola.
I remember this because I come from a time before everything was fancy all the time for everyone.
It was always those dried and sugared flakes, never the fresh stuff -- except once, at day camp, when the counselors cracked open a coconut from Safeway and fed all of us the liquid from inside it with a single spoon which they rinsed in a drinking fountain between sips. The counselors called this a luau. Coconut fragrance and flavor suffused the gifts given to me for 25 years by my late friend E, who knew I loved them and who grew up in Hawaii surrounded by coconuts but didn't care.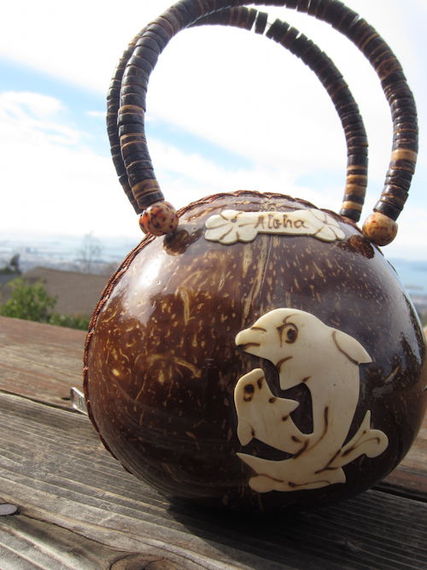 And I didn't plan to go on and on about all this. I was going to go the "5 Things You Never Knew About Coconut" listicle route, but then I realized I'm not that person, at least not today, because coconut is more than food to me but rather a sacrament. And every whiff of it connects me with the loved, the lost, my longing and the meaning of desire. I hope some food does the same things for you. But see. Coconut is now sophisticated in the way things get when foodies find them, which I realize is a good thing, an excellent thing for farmers and entrepreneurs and of course for consumers, who can effortlessly now engage its hypnotic tropical song of intense seaside sunshine -- with Lake Champlain Chocolates' Organic Creamy Coconut Dark Chocolate Bar. jcoco's Vanuatu Coconut-Pecan chocolate bar. Marich's coconut-curry chocolate-covered cashews. Annie Chun's quick-cooking Thai Coconut Ramen. The Republic of Tea's coconut pu-erh, toasted-coconut HICAF, and other coconut teas. Navitas Naturals' organic freeze-dried young-coconut-water powder for mixing up instant coconut water, on demand. McConnell's small-batch French-pot-processed ice creams, come in not one but two stunning coconut flavors: Island Coconut and Toasted Coconut Almond Chip. Carrington Farms' expeller-pressed, cold-pressed, triple-filtrated, cholesterol-free, organic "extra-virgin" coconut oils come in many different forms, including cooking sprays. Not hungry? CF also suggests using its products for skin- and haircare.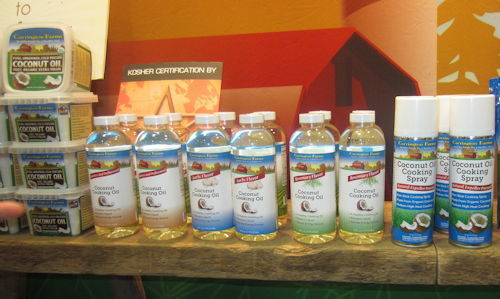 After the Fancy Food Show, I asked a few of the folks who now make delicious coconut products what inspired them to start making delicious coconut products, and whether coconut is easy or difficult to work with as an ingredient.
"When developing a tea or herbal blend that incorporates coconut, you have to ensure that the coconut flavor achieves a balance where its flavor takes the lead but does not overpower other flavors," said Alexis Siemons, Tea & Brand Specialist for Takeya USA, which produces a coconut-lime rooibos flash-chill iced tea, along with handy devices to brew it in. "When tea lovers read 'coconut' on packaging, they are expecting that flavor to really come through, which is why we blend both natural coconut pieces and natural coconut flavoring. Coconut is a polarizing flavor -- some love it and some hate it -- so you really need to have the coconut flavor come through to satisfy the tea lovers that are expecting to really experience the coconut flavor, not just a 'tropical blend.'"
Among the sumptuous High Road craft ice creams created by award-winning Atlanta chef Keith Schroeder is Roasted Kaffir Coconut.
"My stepfather lived in Hawaii for some of his childhood and shared his love of all things coconut with the family," Schroeder recalls. "As a kid, I was hooked on Baskin Robbins' Nutty Coconut, and donuts of any kind with shredded coconut. Then, as a professional chef, I became smitten with the use of coconut products in savory cooking -- particularly Thai cooking."
Intriguingly, "kaffir lime leaves are not used in sweets in Thailand. As Americans, we're less constrained by rules, and I thought that kaffir lime really punctuated the flavor, and was glorious against the dark chocolate flecks in the ice cream. We use coconut chips from Thailand and roast them for a few moments just before spinning them into the ice cream.
"When we make fresh coconut products at our Thailand plant, we go to the local markets and have merchants press fresh coconut cream and milk for us."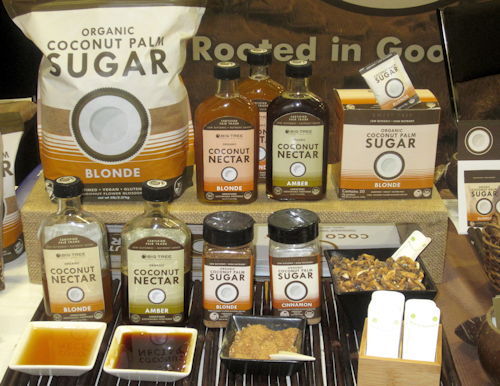 So now it's ubiquitous and hip. So now I can struggle with not wanting to share.
But honestly, there's enough coconut to go around. Coconut products are ancient staples throughout much of the world. Nearly 4 million hectares of coconut trees, managed by over 3 million farmers, are growing in the Philippines alone. Indonesia has even more. And check out Sri Lanka! Coconut faces no imminent threat of extinction, especially now that all these Western companies are investing in it. But please excuse me while I double-bolt the playhouse door.
Coconut purse and toy clown images by Anneli Rufus. All other images by Kristan Lawson, used with permission.