Sometimes when your flight to 'there' is delayed or cancelled, you still get 'there,' albeit a few hours, even a day or so, later because the airline whose friendly skies you've chosen to fly does its best to get you up in the air as soon as the problem, be it mechanical or weather-related, is resolved. In extremis they don't reschedule your flight but they have one or several daily flights to stuff you on.
Not so when your 'there' is the Cocos Islands and your airline Virgin Australia, sole master of that particular 'there' universe, with only three flights a week from Perth for the 2,000-mile voyage out into the Indian Ocean, halfway to Sri Lanka.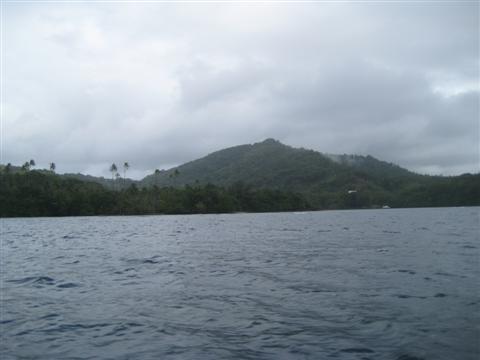 Not the Cocos - Milne Bay, eastern Papua New Guinea (you'll understand why when you get near the bottom)
You might of course ask why in hell would someone want to voyage 2,000 miles out into the Indian Ocean to visit two palm-clad atolls consisting of 27 islets around a green-blue lagoon, with a high point 16 feet above the climate change-driven rising seas, a total land area of 5.5 square miles -- just 24 times The Mall in Washington, says the CIA fact book -- and a population of 600 mainly Malay descendants of workers brought in by a Scotsman during Queen Victoria's reign to work the coconuts on what is now an Australian territory.
Well, it's 'there,' I haven't been 'there,' and 'there' is only 500 miles on from Christmas Island, another Australian Indian Ocean territory, which has become a way station for thousands of refugees fleeing war- or poverty-wracked Asian and Middle Eastern countries.
My plan: leave Perth on a Friday, spend four days on the Cocos, catch the flight back to Christmas Island on Tuesday, then back on Friday to Perth, where I have a three-day tour of the southwestern forest region of Western Australia leaving at 7 a.m. Saturday.
I arrive on the Cocos' West Island slam-bang in the middle of the rainy season, the sea varies from green-grey to deep grey, a black wall of rain advancing across the ocean promises to flood us out, there's a monsoon trough threatening even heavier seas and higher winds, and sea and air rescue planes are in the area as there's a refugee ship nearby that will be in very serious doo-doo if it gets caught in the storm.
Friday night: great goings at the Cocos Club, a shack backing straight on to the airstrip, across from the Cocos Motel in The Settlement, West Island's 'capital.' It's Cocktail Night, it's 6:30, and 20 Aussie expats are fast getting sloshed. A table of ladies on the terrace is producing many a squeal; its eight occupants of various ages, shapes and sizes, and varying hues of natural and dyed blonde hair, pump up the decibels as their intake increases and their skirts rise higher on their legs. Clearly some thighs should be neither seen nor heard.
Saturday: outside it's a solid wall of rain. It blitzkrieged down on the motel's corrugated roof all night, and Virgin Australia cancels today's flight, leaving a whole lot of its 'guests,' as it insists on styling its passengers, stranded, though that's hardly its fault.
Sunday: it's still niagara-ing. Dory's, the only other cafe on West Island, is flooded out with calf-high water. Much more ominously, the airstrip runway has got the mumps. It's bubbled up all over the place from the torrential downpour.
Monday: the rainfall for the past two and a half days is now up to 850 millimetres, nearly three feet, breaking all records and eight times the average for this time of year. The motel is on the ocean side and all you can see is a dark grey rampart of rain.
Emergency services interrupts Dr. Oz on TV with three airport-style echoing bells, announcing a blue alert. That means we must not leave The Settlement area. If it's upgraded to yellow we go under lock-down in the motel. If it goes to red, we evacuate to the cyclone shelter, fortunately right by the Cocos Club bar.

Monday evening: the weather eases but the airport runway still has mumps. Virgin Australia cancels Tuesday's flight. Again not its fault, but bang goes one day of my Christmas Island visit.

Tuesday: it's cleared up enough to go for a walk. On the ocean side the winds are still raging, bending the palm trees almost double. The bottle-green waves are cresting in white foam as they crash into the crescent-shaped shore -- a magnificently wild panorama. On the lagoon side, the track is idyllically peaceful, disappearing into vast groves of emerald coconut palms tinged with golden sun.
Wednesday: the runway is healing nicely and Virgin Australia's 'guests' are waiting expectantly for the announcement of the rescheduled flight when the representative says there will be no rescheduled flight. They virtually never reschedule, he says, now leaving their 'guests' to stew until the next scheduled plane on Friday. Bang goes the whole Christmas Island trip. This is infuriating especially as Virgin Australia is government-subsidised on this route. But there's nothing to do but be British, keep calm and carry on.
Besides, the pilot of the plane that flew us in is in a worse situation. His wife is expecting twins at any moment. He was due out on Saturday's flight. The dozens of other 'expectant guests' are furious. They're missing flight connections in Perth and important meetings.
Thursday: the enforced stay is having its effects on the sanity of the inmates. A lady has just rushed, or rather limped up to me to thank me effusively for helping her up when she came a cropper in the Cocos Club the other night. I've no idea what she's talking about.
Thursday night: sanity takes another blow. The aforesaid lady has just lost her teeth braces in the Cocos Club, and we're all on all fours looking for them.
Friday morning: we're at the airport at 10 a.m. as ordered for the 1:30 flight.
Friday, 2:30: we're still at the airport. Rumours fly even if the plane doesn't. It's grounded in Christmas Island after hitting a bird, says a passenger in contact with a friend there. No, a reverse thruster broke, says the lady in the visitors' bureau, talking by mobile to a stewardess on board.
No, it's neither, says the expectant father-pilot who announces that he's just phoned his wife to tell her to cross her legs while he crosses his fingers. Engineers tell him it's a different issue. The Virgin representative says they have no intention of bringing in any extra plane and we'll have to wait for Saturday's 4:05 p.m. scheduled flight. Bang goes the start of my three-day tour of the forests of western Australia.
Saturday, 4:05: what plane? They're still tinkering around with it in Christmas Island.
Saturday, 6: it still hasn't left Christmas Island.
Saturday, 8:30: it's on its way. It's past 11:15 p.m. by the the time we board. By the time we touch down in Perth it's 6:15 a.m. Sunday.
OK, Virgin Australia does pay the enforced three-day extra stay in the Cocos, and -- eventually -- reimburses the $200 extra they charged for the now never-to-be stop-over on Christmas Island, plus the bus fare to catch up with my tour after I've missed the best part of the forests.
Still, a first world airline on a government-subsidized route leaving you to marinate for days until their next scheduled flight? And especially when their "guest charter," as they call their customer service plan, starts off: "Being Australia's airline of choice, it is our priority to get you to your destination safely and on time, having experienced our exceptional Virgin Australia service..."
I have no pictures of the Cocos -- or Western Australia or most of Tasmania for that matter -- to accompany this part of the blog as I managed to erase the entire memory card when trying to remove a single misfocused photo of a Tasmanian devil playing nasty.
But let me tell you how a supposedly third world airline, Air Niugini, reacted to weather issues -- and for that I do have photos. The flight from Port Moresby, Papua New Guinea's capital, to Alotau at the eastern end of the country, was cancelled due to bad weather, so they put me up in a first-class hotel.
The next day we were on the scheduled 6 a.m. flight, and flew smack into the rainy season. Unlike the rest of the country, the eastern tip of Papua New Guinea has its rainy season from May to October.
You can actually see the seasonal change from the plane -- bright blue sky with fluffy white wisps, then huge banks of dark pregnant clouds, with incredible views of even blacker mountain crags and jagged volcanic peaks thrusting out of the cloud ceiling. We came round to land, but suddenly the engines roared back into full throttle and we reared up again.
The pilot said an enormous amount of rain was pouring down on the runway and he'd try again. But again we roared back up and flew back to Port Moresby. The flight was rescheduled for the afternoon, and they let me into the executive club lounge for sandwiches and fruit.
At 2:30 we took off again -- no waiting for the next scheduled flight. The cloud banks were still enormous, even if a bit less threatening. We came into land. Again the plane reared up. The pilot announced there was very low cloud but he'd make one more try. This time he managed to touch down in driving rain.
I think Virgin Australia could learn a thing or two from Air Niugini about commitment to get their 'guests' to their destination and 'exceptional service.'
For additional travel experiences see www.looneyfront.blogspot.com
Also by the same author, Shakespearean spoofs on current day politics at www.shakespeareredux.blogspot.com
Support HuffPost
A No-B.S. Guide To Life
Related
Popular in the Community