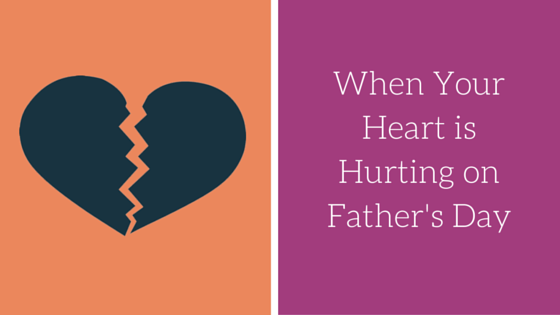 If Your Heart is Hurting Today, It's Okay
You don't have to feel like running off to BBQs, wrapping up "World's Greatest Dad" mugs, and writing heartfelt posts on social media…
You don't have to click Like on your friends' cheery family photos...
You don't even have to call or write to your dad today if you don't want to.
Yes, it's Father's Day...
But you still get to choose.
And if your heart is hurting, you have permission to feel what you're feeling.
So Many Reasons Your Heart Could Be Hurting
Maybe your father has passed away and you're missing him like crazy...
Maybe you and your dad haven't spoken in years...
Maybe your dad left when you were little and you never had a relationship with him...
Maybe he was in your life, but he wasn't the loving, supportive dad you hoped he would be...
Maybe things have been "different" between you since your dad remarried...
Maybe he died years ago and you still find yourself thinking, "Good riddance."
Maybe your dad is an alcoholic, an addict, or was abusive and caused harm to you or other family members...
Maybe you and your father had an argument recently...
Maybe your dad is incarcerated...
Maybe he's critical of your the way you lead your life or raise your children...
If you're feeling sad, indifferent, resentful, lonely, angry, hurt, or any other combination of uncomfortable feelings today...
Taking Care of Your Hurting Heart on Father's Day
When there's such a big expectation that we be happy and celebratory, here are some ways to take care of yourself if your heart is hurting on Father's Day:
"The best way out is always through." - Robert Frost
When we're feeling pain, the tendency is to want to run away from it. But have you noticed that when we do that, the feelings eventually catch up with us again? Try acknowledging what you're feeling so you can move through the pain. Journalling can go a long way in expressing this type of hurt. Letting yourself be a melty mess of tears works, too.
2. Practice Self-Kindness
"If your compassion does not include yourself, it is incomplete." - Jack Kornfield
While others are honoring their dads, do something nice for yourself today: Order in from your favorite restaurant. Catch up on that series you've been wanting to watch. Unplug from social media. Reach out to a friend who's a good listener. Take a nap. Connect with someone else you know who might be feeling tender today. When we're in pain, we need kindness and comfort. And we can give it to ourselves.
3. Be Honest With Yourself
"Being entirely honest with oneself is a good exercise." – Sigmund Freud
With all the hub-bub about Father's Day, it's understandable that you might not be feeling giddy and excited today. But if you've been suffering for months or even years because of stuff related to your dad, there's an opportunity for some healing.

That unresolved pain that's been rattling around in your heart? It's aching to be soothed. Consider looking for a therapist, coach, or personal development book that can support you as you start your healing journey. You and your tender heart deserve to feel whole, at peace, and happy.
4. Apply Balm on the Wounds of Others
"A kind gesture can reach a wound that only compassion can heal."
- Steve Maraboli
Whether your heart is feeling full today, or woefully lacking, there are so many tender hearts out there that feel lonely and lost. Let them know they're not alone. Share this post so that they, too, can be reminded that it's completely, totally, and absolutely okay for them to feel what they're feeling.
To learn more about resilience coaching, finding your way through situational depression, or healing unresolved emotional pain that's been lingering, you can reach out to Mona on her site or find her on Facebook.