To anyone who lives in Afghanistan, whether you grew up here or not, life is a roller coaster of emotions. With struggles of our own, we're still surrounded by people who have it worse. Poverty, illness, death of multiple loved ones, senseless attacks and the ups and downs of the government and economy. Really, there's no shortage of things to make one sad in this country. Still, there is much to be proud of. Since I first arrived in 2005, I've seen so much progress and I am in awe of the generation that is coming of age. They are strong, motivated and resilient. I say this all the time.
But lately I've been wondering: how much is too much? Or at least, when is too much for me? Whatever the politics of it may be, I certainly don't feel as safe in the country as I used to. Afghanistan is a concern to the world, and then it's not. People pay attention, and then they don't. It's fine to drive from here to there, and then it's suddenly a scary route after an attack. The huge bomb at the end of May, with its casualty list and how close it was to taking loved ones from me, had drained me more than the many others I've experienced over the years. It wasn't even the closest call I'd had, but I was exhausted and went home for a couple of months. Now I'm back and wondering how everyone around me feels. I know before I went for my trip to my hometown, I was encouraged to move back more than I had ever been.
"It's no good here Mina, just stay there and be happy"
These are the same people who were always so proud of my choice to stay here. I realized it would be easy to sink into the mindset of hating it here or simply deciding that I'd had enough. In my first week back, the electricity has barely been on, I've gotten food poisoning and it's easy to become bitter about the lack of fancy vacations and salaries that people usually get "for being here."
But after more than a decade of commitment not only "to be here", but to be someone who lives here happily, I thought I should try to motivate myself.
I called a young woman I know who is always an inspiration for me and has done so much for this country. I wanted to talk to her and see what her advice would be. She messaged me back that she had to leave the country for personal reasons and was not currently here. My attempt to speed up my reintegration was futile. It looked like it would just take time and I'd have to figure it out.
And then I was talking to two colleagues, Najib Sharifi and Suleiman Amanzad. We discussed the one thing I'd been really happy about: Aryana Sayeed, a famous Afghan pop star, had performed an Afghan Independence Day concert despite public threats and attempts to cancel her show. To me, it showcased her bravery and I was so proud of her and her team for that. But after talking to Najib and Suleiman, I took a few steps back and looked at the big picture. She didn't just have a concert in a dangerous place. That place, Afghanistan, has made it possible because its changed enough for her to get the support she deserves.
Their current enthusiasm caught me a bit off guard.
So I asked them about it. Was it just me who faltered? Najib said to me:
I've personally been extremely demotivated since the beginning of the year, due to escalating violence, political turbulence, bad leadership in the country and the dying morale of the public. The big bomb (in May) was the turning point for many, including myself. There was a lot of disappointment around us. Many people were leaving the country. Hope for the future was on the verge of demise. Increasing interference of the regional countries coupled with lack of certainty about the survival of the government were all the contributing factors. But more importantly, when you are surrounded by people who no longer have hope, this affects your psyche very profoundly.
So what did you guys do to cope? I asked this, knowing that I had the advantage of going to Canada and forgetting everything for a few months.
We've been voluntarily running social media campaigns (Guardians of Hope and Afghans Smile) to remind ourselves of what is most important. We spent time with the kids in our programs. Listening to music, reading and engaging in spirituality were other things to keep ourselves in shape.
Suleiman explained to me why Afghan Independence Day had them so incredibly excited. It wasn't just about the concert for them at all. His story was amazing.
Back in 2011, when we were just starting out as a team, we decided celebrating Independence Day was something we wanted to reintroduce to our community. There had been so many years without celebration, and even now this day was basically just acknowledged by the government and celebrated on their premises. We set out to get some flags so that we could rally a few cars and parade the streets holding the flag and playing joyous patriotic music from our speakers. It was heartbreaking that we couldn't even find 50 flags of our own country in the market. We were told more could be ordered, but they'd have to be made in our neighbouring country. The only option was to order and print our own locally, so we did just that. We made stickers and flags. We painted our faces and drove around handing out our printed goods. People actually asked us "why?"
But we had a vision and we knew this was something good, even if we were called silly and discouraged by some. The love for the country and the feeling it gave us was what mattered.
It was a wonderful day for us. Small but significant. We made a video of our experience and shared it. We received some response from colleagues and contacts in other provinces. They wanted to know if they could have some flags!
Year after year, more patriotic parades began to happen across the country. By 2015, we were sending flags to 25 provinces.
And despite the kind of year we've had, 2017 was the biggest year to date. There were more flags and parades than ever before. Social media lit up with pictures of people with their faces painted. They were waving flags, dancing and praising the leaders of eras that pushed Afghanistan to grow.
So as difficult as I'd thought it would be, the positive energy didn't take much effort to find. It found me. I realized, or better yet reminded myself, that the backdrop of this country has never been all sunshine and rainbows. I always knew that. I just needed the reminder that the will of Afghanistan has not faltered. I like to say that the positive, forward thinking movement in Afghanistan is like toothpaste that has come out of a tube. It's going to be very difficult for anyone to put it back where it was. Even when we have our moments of exhaustion. Happy Independence Day Afghanistan!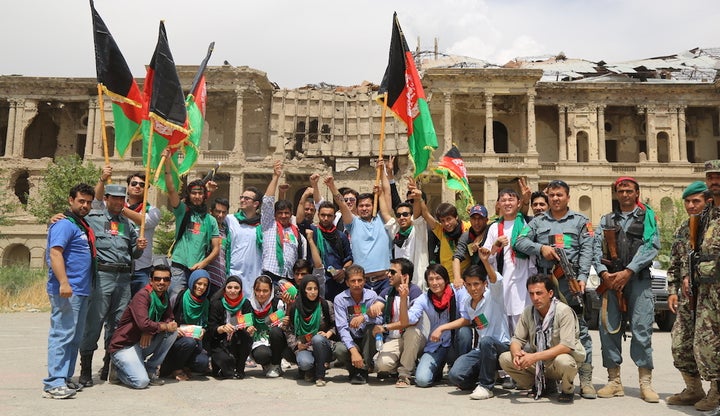 Related
Popular in the Community