It was time for my parents to give up the family home. They had clung to the house and the independence they cherished way past the time they could live safely on their own. When frequent 911 calls became the norm, the decision to move to assisted living seemed obvious, even long overdue.
But what to do about the family house, a living museum filled with objects and memorabilia from my parents' sixty-eight years of married life, and even older family keepsakes living securely in numerous closets, cupboards, and drawers, and neatly boxed in cartons stacked high in storage rooms? My mother dated and labeled, stored, and preserved everything, until she couldn't; until, as she called it, pieces of her mind went missing.
Each object, evoking the past, calls forth the sweep of time. Here are four-leaf clovers carefully pressed into my mother's 1942 high school scrapbook; 57 telegrams my parents received on their wedding day in 1947; travel cards friends sent, in 1972, to wish Bon Voyage for a European vacation--a storehouse of memories, carefully archived; a family's history preserved. Objects not only from my parents' lives, but also from their parents, aunts, and other family members, including photos and correspondence from the battle lines of World War I.
I want to ask my mother why she kept everything and what she hoped might be done with her keepsakes, such as those in a box labeled 1946, jammed full of college notebooks and drawings from an art appreciation class, or in a carton, dated 1958, packed with detailed lists of dinner party menus and recipes, plans for my 7th birthday party, and souvenirs from our family vacation to the Smokey Mountains. Perhaps she saved everything because, at age 11, she escaped Germany and had to leave everything behind. Perhaps as a practical, frugal homemaker, she thought that she should save what she might need at some future point-- cloth remnants matching my father's business suits, useful for mending. Why throw it out, I can imagine her saying, when you can save it. Or maybe these keepsakes were her connections to a past she wanted to hold onto and preserve.
At first, as I tore into my mother's boxes, I felt intrusive, almost voyeuristic. It was both exhausting and exhilarating to see the depth and breadth of what my mother had saved, holding onto what she loved of people and places spanning continents and centuries--hundreds of sepia photographs, of relatives in Bavaria, in the midst of their lives, swimming and hiking, laughing and eating, as if their lives would always be so; photographs of my parents looking impossibly young, staring into the future, with hope and confidence, as newlyweds and young parents. And boxes for each of my daughters, with their art projects and letters, school compositions and poems, and photographs of my daughters, too, in the midst of their lives, as if they would always be so young.
And, then, deep inside a storage box is the unexpected gift of my mother's 1941 autobiography, a high school project titled Looking Back. Here is my mother's voice, as I never knew it, thoughtful, reflective, very personal, looking back to the day her mother died, when my mother was seven, and to the subsequent chain of her childhood misfortunes--Hitler's rise to power, the murder of her best friend's father, the boycott of Jewish merchants, her escape from Germany in the middle of the night, and, then, her delight on arriving in America, seeing the Statue of Liberty, imagining it waving to her: "Welcome, Stranger!"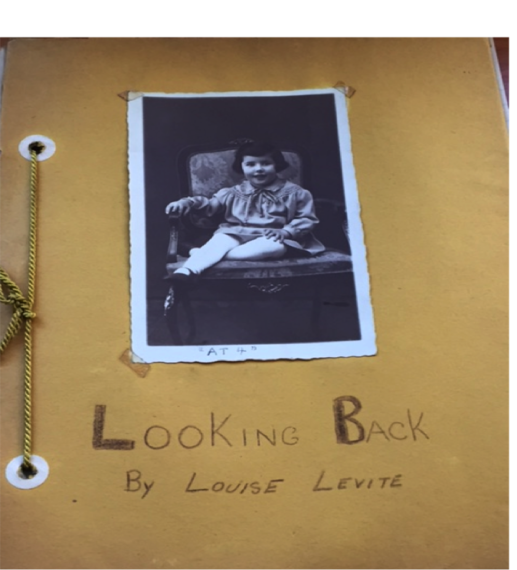 Why my mother saved everything, I will never know. She dated and labeled life until the cruel, progressive dementia stole her organized way of being in the world. These family keepsakes--four-leaf clovers, telegrams, cloth remnants--her connections to the past, are now mine for the making. Why throw out pieces of family history when you can save them, I hear her saying. And I want to keep them safe, but I can't turn my home into a living museum. I know I can't save my mother's memory--and life-- by clinging to her keepsakes. Yet it is all I have right now. And I cling tight.
REAL LIFE. REAL NEWS. REAL VOICES.
Help us tell more of the stories that matter from voices that too often remain unheard.