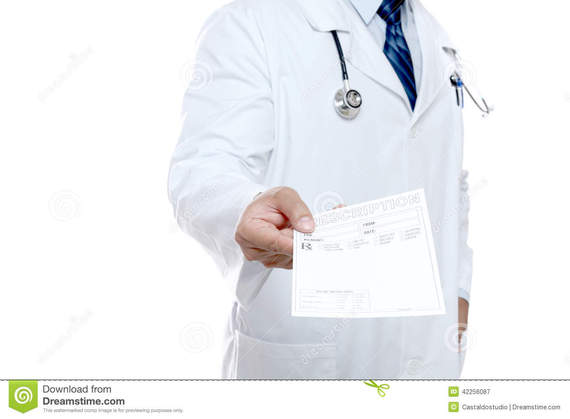 Last week, a friend in California was aghast after her 18 year old daughter was sent home from the dentist with a prescription for fifteen Vicodin. The girl had sought counsel for a toothache that was hurting but not severely. The girl, being level headed and cognizant of her parent's concerns, allowed her parents to properly dispose of the medication as her pain was sufficiently alleviated by over the counter medication.
The dentist, who was well-liked by the family, seemed surprised when the girl's mother confronted him. It was, the mother said, as if it was the first time he had been challenged. To the dentist's credit, he listened attentively to the mother's concerns assuring her he'd be more mindful in the future.
Last year, a number of teens in a Connecticut town were reportedly feigning toothaches as the local dentist was handing out painkillers, according to parents, like they were Flintstone Chewables.
According to a survey of 201 physicians by the National Safety Council, ninety-nine percent of primary care doctors routinely prescribe potentially addictive opioid painkillers for longer than the three-day period recommended by the Centers for Disease Control and Prevention. Though, critics of the survey say the small sample did not fairly represent the nation's 200,000 plus primary care physicians.
Following are six things parents and caregivers can do if or when faced with such a circumstance:
1. Talk openly with teenagers, particularly if they are over eighteen and in charge of their own medical care. Become educated on the risks of prescription painkillers and the slippery slope that can sink any person into serious addiction. Share stories with teens about others who started with prescription pain relief and ended up falling deep down the rabbit hole of addiction. Begin the conversation early so if faced with the situation, the young adult will be more cognizant of the risks. If the adolescent is living at home, keep the medication locked and under your supervision. Opt for over the counter medications before deciding if something stronger is warranted.
2. Voice concerns to the provider. The more informed parents a physician has in their practice, the more they will think before automatically reaching for the prescription pad.
3. Have an understanding of which factors make a youngster at risk for potential abuse. Trauma or a history of trauma, regardless of when the trauma took place, increases susceptibility to substance abuse. If a teenager has a history of trauma (serious accident, physical or psychological abuse, witnessing something distressing, sudden death of loved one...) mention this to the provider before the appointment. Another risk factor: a family history of substance abuse. Providers are presently not trained to ask about a patient's history of trauma or familial substance abuse, even though they should be. It is up to parents to arm themselves with knowledge.
4. Share the experience with friends and loved ones, not as a means to expose or shame the physician -- most do not have nefarious intentions -- but, rather to spread awareness.
5. Explore alternative methods of pain relief. Massage, acupuncture, somatic or yoga therapy can be tremendously helpful. One reason for the reliance on opioid medications, according to Dr. Deborah Clements, chair of family and community medicine for Northwestern Medicine, is that insurance companies often won't pay for such interventions. This is unfortunate and hopefully will change.
6. Don't assume the doctor always knows what's best. A parent knows far more than the physician about their child's history, their specific strengths, their weaknesses and their vulnerabilities. Sharing information that may not be on the chart can help both patient and doctor.