"When you start a company, you're working within a small nucleus of people and odds are that everyone is your friend. But as you grow your company, you have to be able to separate business from friendship. Your team will respect you more for it."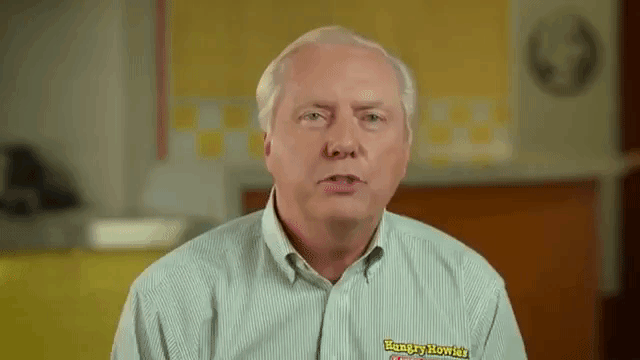 I had the pleasure of interviewing Steve Jackson, President and CEO of Hungry Howie's Pizza & Subs, Inc. which is a pizza titan that's been in business since 1973. Hungry Howie's has experienced 30 consecutive quarters of same store sales growth under Jackson's leadership and is looking forward to building on that accomplishment in the coming years.
Thank you so much for doing this with us! What is your "backstory"?
In 1972, I worked at a pizzeria for Jim Hearn. I began going to college to become an elementary school teacher and working on the line at Ford, but remained friends with Jim. That following year, Jim was opening another pizza shop, which would become the first Hungry Howie's Pizza. During my senior year of college, the realization hit me that there weren't any teaching jobs available and I really disliked working at Ford. So, I had to come up with another plan. That's when I made the decision to quit college, quit Ford, and, with Jim's help, open the second Hungry Howie's Pizza. During the rest of the 1970s, we opened a dozen stores with friends and relatives. I realized we could franchise our concept and began working toward that goal. In 1981, I became President of Hungry Howie's Pizza and in 1983 we awarded our first franchise. I've been an officer and director of Hungry Howie's Distributing since its incorporation in 1986. Additionally, I own and operate 12 very successful pizza franchise locations in the metro Detroit area.
We sell delicious Flavored Crust pizza. Hungry Howie's is a franchise system, meaning we license the use of our trademarks, our recipes and operating system to our franchisees, who make the Flavored Crust pizza, offered for carry out and delivery. This model allows us to provide people the opportunity to enrich their lives and community.
Flavored Crust Pizza. Came up with that niche in the 80s. value conscious pizza chain with carry out and delivery that offers flavored crust pizza. Rob always says we have two of the best words in the English language – hungry and flavor.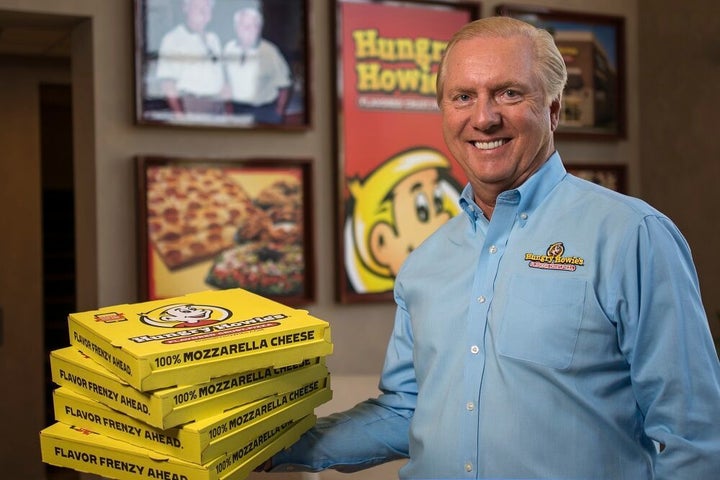 Can you share the funniest or most interesting story that happened to you since you began leading your company?
To this day, I'm still constantly asked "where did the name 'Hungry Howie's' come from". Prior to the opening of Hungry Howie's, I had delivered pizzas for Jim Hearn (founder of Hungry Howie's) at another pizza business. My co-workers and I were all around 17 or 18, just starting our lives. Jim was older than us, 29 or 30, and we thought he was a very sophisticated guy. He had built a new house, he had a couple of new cars so, to us, Jim must've had all the money in the world. So, we gave him the nickname "Howie" after the richest man in the world at the time – businessman Howard Hughes.
Fast forward a bit and I was in college and working at Ford while Jim was opening a new pizzeria. We had remained in touch and Jim was trying to come up with a name for the place. When I was at Eastern Michigan, the most happening restaurant on campus was this bar called Hungry Charlie's. I thought of Hungry Charlie's and combined that with Jim's old nickname – Howie – to come up with "Hungry Howie's".
What do you think makes your company stand out? Can you share a story?
Definitely our Flavored Crust® pizza. Back in the 1980s when we had around 15-20 stores, one of our franchisees wanted to put sesame seeds or butter on the crust of the pizzas. We got together, came up with some initial flavors, and started testing. It took a couple of years, but in 1985, we made Flavored Crust® a part of our brand and that's really how we separate ourselves.
I think back to some of our original flavors and we had ones like rye, which probably wouldn't be very popular today. We're always evaluating our crust flavors and make adjustments over time if something new earns its way onto our menu, like Asiago Flavored Crust® did a few years ago.
Over the last couple of years, we've had success with Featured Flavored Crust®, which is changed on a quarterly basis. These include Everything Bagel, Italian Herb, Sea Salt and, currently, Jalapeno Ranch. We use Featured Flavored Crusts® as an opportunity to incorporate current food trends onto our menu and it's worked out quite well.
None of us are able to achieve success without some help along the way. Is there a particular person who you are grateful towards who helped get you to where you are?
My wife, Sarah. I think back to when we made the decision to open what was the second Hungry Howie's location. We were young, recently married, with a newborn daughter. I was going to college, working on my degree to become an elementary school teacher. I was also working at Ford which, at the time, was considered to be a guaranteed job for life. In spite of everything I had going for me – for our family – Sarah fully supported me to take this longshot and go into business for myself. I threw caution to the wind
She supported me to take this long shot to go into business for myself and essentially give up on the secure path I had going in order to pursue a dream. I threw caution to the wind to do that. And literally since that day, she has supported me in everything I've done. Whether that's opening our own stores, making different investments, opening a distribution center – everything.
Sarah has always been the rock to support me in anything I do. She also has this great ability to play devil's advocate, throwing out comments or questions to me which help me look at all angles of something before making a final decision.
How have you used your success to bring goodness to the world?
All businesses are approached for donations for charities and asked to give back to their communities. And I truly believe that all businesses have some social responsibility to give back to the community and the world.
After many years of trying to be all things to all people, we made the decision to pick a charity that everyone in the organization would be engaged with and committed to in order to really try to make an impact. After a lot of thought, we realized that every single person is affected by breast cancer. About 1 in 8 women in the United States will develop breast cancer. 1 in 8. We all know someone who has been afflicted with breast cancer – whether it's our mother, wife, sister, aunt, friend. And that's how we came to develop our Love, Hope & Pizza campaign in 2009 and formed a relationship with the National Breast Cancer Foundation. We decided to really focus and we've proudly crossed the 2 million dollar mark.
Every October, we turn our signature yellow pizza boxes pink and for every pizza purchased in a pink box, we make a donation to the National Breast Cancer Foundation. We've added additional contribution opportunities over the years by selling specialty merchandise like t-shirts, magnets, and bracelets and allow customers to make donations when they place an order online with us.
Since we started Love, Hope & Pizza, I am so proud to say we've passed the $2 million dollar mark in donations to the National Breast Cancer Foundation. That money goes towards providing women with access to early detection services, mammograms, education and unlimited support services. I'm incredibly proud of Love, Hope & Pizza and how it's bonded everyone in our organization and our customers together.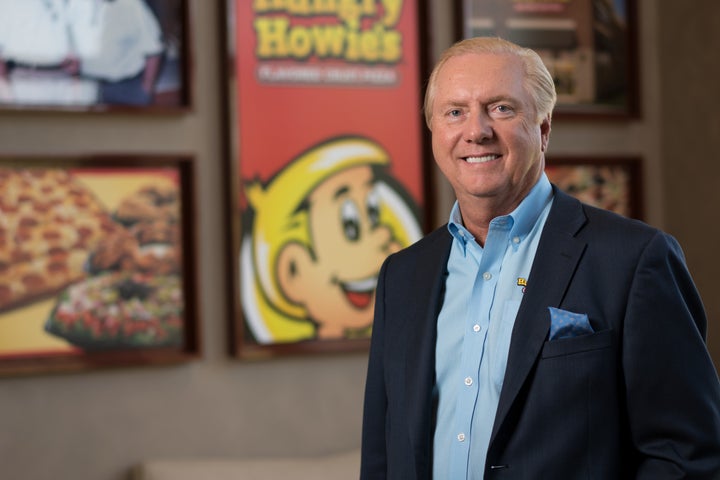 What are your "5 Things I Wish Someone Told Me Before I Became CEO" and why.
1. When you're the CEO, it's hard to be everyone's friend
When you start a company, you're working within a small nucleus of people and odds are that everyone is your friend. But as you grow your company, you have to be able to separate business from friendship. Your team will respect you more for it.
2. Surround yourself with smart people to strengthen your team
As your business grows, you need to surround yourself with people who are smarter than you – people whose greatest strengths are your biggest weaknesses. You need to understand where you need help and surround yourself with people who help fill out those areas. As the business grows, the demands become greater and much more specific, so those disciplines need to be filled in each department.
3. Hire the right people for the right seat
Maybe even more importantly, you need to define what the word "right" is for your company, which likely evolves as your brand grows. Early on, you promote from within. However, you have to be careful that you don't promote someone to a position that they're not capable of fulfilling. From my experience, I learned that bringing in fresh eyes with different perspectives has a significant impact. Having people grow up in the system creates a comfortable environment that no one wants to change and hiring new team members forces everyone to challenge the status quo and try new things. I wish I would have known this sooner to help develop and grow our brand sooner than later.
4. The right decision isn't always the easy one
It's rare when you make a decision that everyone is going to be happy with. You'd better have thick skin because you'll be challenged and need to be able to explain to everyone why you made that particular decision. It's also important to be able to communicate with you team in a way that those who disagree with you are able to come around and support your decision.
(But having a sense of humor is). When you think of being a CEO, you think of lots of rounds on the golf course. But as I built my business, golf always became an increasingly lower priority because it just takes too much time. I love golf, but I could never devote the time to it to be great at it. That being said, while I might not have improved my golf game over the years, by becoming a successful CEO, I've had the opportunity to play with tour professionals, once even with the legendary Jack Nicklaus.
Some of the biggest names in Business, VC funding, Sports, and Entertainment read this column. Is there a person in the world, or in the US whom you would love to have a private breakfast or lunch with, and why? He or she might just see this :-)
I'd love to have lunch and a coffee with Howard Schultz, former CEO and now executive chairman of Starbucks. Schultz took a coffee shop and built a worldwide brand of over 24,000 stores in 30 years, which is incredibly impressive. He had the vision to realize he needed to change his role at times and has come back to reenergize the company when needed. To be able to essentially develop a category and take us from 25 cent coffees to $4-5 coffees is amazing. All while building a brand and a culture that truly has a cult following. Starbucks customers have to be some of the most loyal in any category. Howard Schultz is truly iconic. Of a handful of people who build businesses/brands.
Support HuffPost
The Stakes Have Never Been Higher
Related
Popular in the Community