That thought has stayed with me in the days since ChildFund International's second annual Advocacy Day, March 24, when 27 ChildFund colleagues visited Capitol Hill in teams to speak with members of Congress and their staff about issues critical to the well-being of children and youth worldwide.
This year, some special guests joined us: eight Youth Ambassadors from Jackson, Mississippi — high-school students who participate in our Civic Engagement and Leadership program through our local partner organization there, Operation Shoestring. I was lucky enough to be on their team for the day.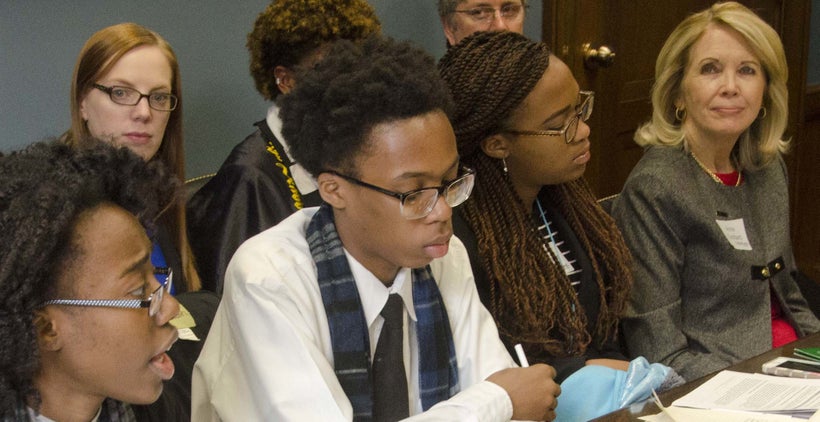 They impressed me with how well prepared they were. After months of pre-work in Jackson as well as an intensive training with ChildFund staff the day before, the Ambassadors had honed their personal stories and tied them to issues they would bring before their elected representatives. They had learned about how policy drives money, how money drives programs and how programs affect children and youth, including themselves, and they fully grasped how this reverberates across the local, national and global levels. They worried that their after-school program at Operation Shoestring might not survive this administration's proposed budget cuts. They also realized the immense power of international aid, and that this mere 1 percent of the federal budget might be slashed by one-third, which could lead to devastating consequences for millions of children worldwide. These newly minted global citizens, hailing from one of the poorest communities in the United States, were ready to raise their voices on all children's behalf.
Their excitement was palpable as we waited for our first meeting of the day in the Dirksen building, outside Mississippi Sen. Roger Wicker's office, where we circled around, stacked our hands in the center and quietly cheered, "Youth matter!"
The Ambassadors relied on their notes less with each meeting, and their ideas flowed more easily with each telling. They leveraged their own stories to speak truth to power, including to their own Sen. Thad Cochran, chair of the Senate Appropriations Committee, and I believe they felt that they were heard.
I realized that I was seeing ChildFund's mission unfold throughout the day, right here in the U.S. In the communities where we work in 25 countries, young people's lives are severely circumscribed, with little opportunity for either education or livelihood, and for that reason their worldviews are likewise limited. ChildFund's programs worldwide act as an antidote to this, broadening young people's worldview and elevating their expectations for their lives.
At the reception ChildFund hosted to celebrate the work of the day, LaToya Washington, a former Youth Ambassador and now an intern with Operation Shoestring, shared the story of her own raised expectations. In the Rayburn office building's Gold Room, she told assembled ChildFund staff, her fellow Ambassadors and executives from P&G (which funded the Youth Ambassadors' participation in Advocacy Day) and other organizations about her beginnings in Detroit, where she suffered abuse and abandonment, and her hopeful journey to be adopted in Mississippi, where more difficulties followed. Still, she attended school, and she did the best she could.
Then, through participating in Operation Shoestring's programs, she learned that Mississippi's education system ranked 51st in the U.S., and that the state's poverty rate is the nation's worst. She said, "When I saw that if tested on a national level I was expected to score the lowest, it hurt me."
She then connected her own experience to that of young people living in poverty worldwide: "Youth struggle constantly with not having resources and opportunity that should have been provided just because of the fact that we're human.
"If education isn't adequate," she continued, "if education isn't provided, what are we expected to do? When we go to violence, or when we go to situations that aren't very helpful or productive, people look down on us — but it's the simple fact that we deserve more and we're not getting it."
There was a hush in the room.
She thanked Operation Shoestring for telling her the truth about the problems in Mississippi, and for inviting her to be part of the solution. "We're being taught how to matter," she said, "how to embody the fact that we matter in society, and to prove our point."
LaToya exemplifies what happens when you educate young people about their rights, and about how policymakers make decisions on how they spend money and for whom. LaToya and the other Youth Ambassadors — Joseph, Chamara, Shamia, Micaiah, Valery, Cameron, Zion and CeCe — demonstrate the power of offering young people opportunity and helping them make the most of it.
Operation Shoestring, a 50-year-old organization with roots in the Civil Rights movement, has a beautiful and simple tagline: "We all rise together." On March 24, because a handful of young people from Mississippi raised their voices, we all did.
Calling all HuffPost superfans!
Sign up for membership to become a founding member and help shape HuffPost's next chapter
This post was published on the now-closed HuffPost Contributor platform. Contributors control their own work and posted freely to our site. If you need to flag this entry as abusive,
send us an email
.