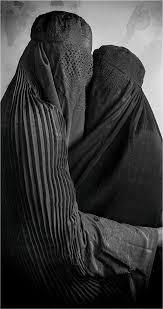 Sunday morning in Harlem, 2016, and on the radio plays Whenever I Call You 'Friend' the duet sung by Kenny Loggins and Stevie Nicks. Too slick, too sweet I heard critics scoff but I think about how profound it must have been in 1978 to hear a man hold up friendship as a crucial component to love.
Yes it does matter. My hero riffed on intimate violence. Until I type this, I conspire to submerge the memory for good.
Upstairs, my husband sleeps. Or he watches MSNBC Sunday shows with his Ipad on his chest. I am writing. He never looks over my shoulder. Whenever I Call You 'Friend' plays and I think: my husband is my friend. This is what I incinerated relationships to get to, this hard-earned equilibrium. I sing along but I'm bested by the harmonies and held notes. Still I try.
That Sunday afternoon I attend Of Note magazine's "Art of the Burqa" co-hosted by the Afghan Women's Writing Project. Afghanistan has been called the most dangerous place for women, a country where war and harsh patriarchal norms keep women subject to violence. Head-to-toe burqa use is widespread. We will hear the poetry of those who wish to throw off their blue cages. We will absorb the fine art of those who are free enough to play with the cloth. Like Mariam Magsi's photograph, when she covered two same-sex lovers in burqas and shot their embrace. Or Hangama Amiri's painting, where she placed her burqa-clad mother inside of an art museum, surrounded by, yet separate from, the landscapes on the walls.
Poet Hajar is a university student only a few months into her new American life. When she stands up to read Roya's "Remembering Fifteen" I can already hear the mother's refrain in the poem: be like other people, be like other people. But the speaker in this poem wants to discover love for herself: she does not want to be treated as a goat to be sold into marriage. Yet, how to speak up when the decisions of parents must be obeyed? The poem states no solution. Instead, offers itself.
The final question for the panel: What do you hope for the future? Hajar had just written a poem about a woman struggling after her progressive fiancé hits her with his belt. This is a poem she has made into a song here in America. She takes the microphone: What I hope for is friendship. More friendship between men and women, husbands and wives, fathers and daughters. And I am in the audience clapping to her answer and I can feel that packed room think, feel, and perhaps take stock of how this kind of relationship helps us transcend what is hateful about human life: our refusal to see the forever in every single one of us, not just the ones we choose.
Related
Popular in the Community