Safety is a huge concern when new families choose where to live. Based on some recently published data on crime rates by the FBI, ValuePenguin determined "crime scores" for all the cities listed in the data. ValuePenguin calculated the scores by weighing violent crimes at 90 percent and property crimes at 10 percent, figuring that perhaps residents are more concerned about violence when determining the safety of their towns (even though property crimes are more frequent).
Towns with fewer than 5,000 residents were not included because their small populations made them more sensitive to slight crime score fluctuation. This data from a 2013 FBI report, and analyzed by ValuePenguin, calculated crime scores for 298 cities. This list shows the 50 safest of those 298 cities in Illinois.
*Click on the image below to view the interactive map and full list of the 50 safest cities.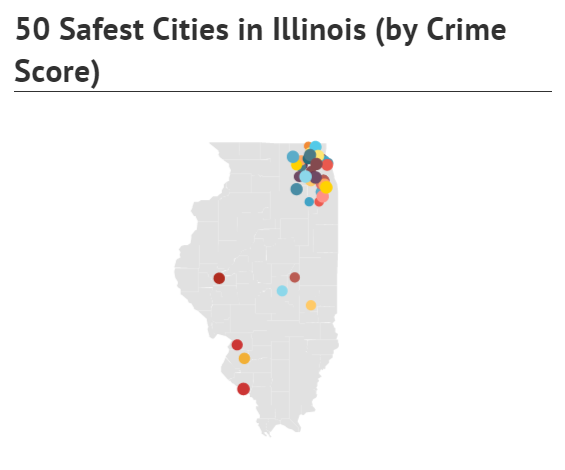 ValuePenguin on the details of its methodology:
To rank these places, we collected data from the 2013 FBI crime statistics by city, which provides the most recent crime data available. Not every town participates in this report and we also excluded towns with fewer than 5,000 residents because towns with small populations are more sensitive to crime score fluctuations for fewer crimes committed. The raw data report included property crimes (burglary, larceny-theft, motor vehicle theft, and arson), and violent crimes (murder/manslaughter, forcible rape, robbery, and aggravated assault) from all law enforcement agencies that chose to partake in the FBI Uniform Crime Reporting program. We standardized the data to reflect violent and property crimes per 100,000, to account for population. Then, we aggregated a "crime score" by weighting violent crime at 90% and property crime at 10%. Though property crime is more prevalent, we figured that violent crime is more concerning to town residents. We then ranked the cities based on their crime scores.
To see the full ValuePenguin report, as well as a detailed list of the 50 safest Illinois cities (including Glencoe and Bartlett) check out Reboot Illinois.
Sign up for our daily email to stay up to date with Illinois politics.
Calling all HuffPost superfans!
Sign up for membership to become a founding member and help shape HuffPost's next chapter