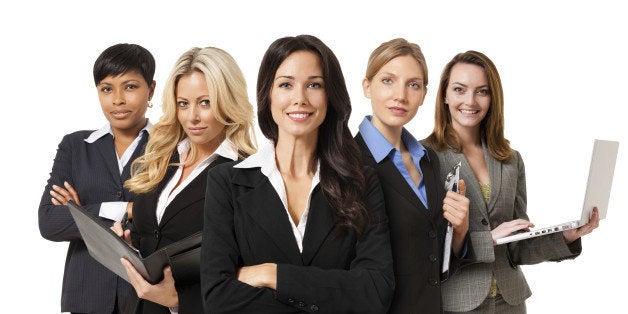 I had the pleasure of attending the S.H.E. Summit at the 92nd Street Y in New York on June 5th-6th. And normally, I wouldn't be writing about something that happened two weeks ago, but I felt the topics covered we so paramount that they deserved another look.
At a panel titled "Where Are the Women? A Look at Industries: Sports, Tech, Media & Beyond," three groundbreaking women spoke about their experiences in male-dominated fields. The panel featured Simona De Silvestro, Race Car Driver, Justine Aitel, Head of Cyber Risk for Dow Jones and Evy Poumpouras, Security and Investigative National News Contributor and Former Secret Service Special Agent. The panel was moderated by Maureen Sullivan, President of AOL.com & Lifestyle Brands.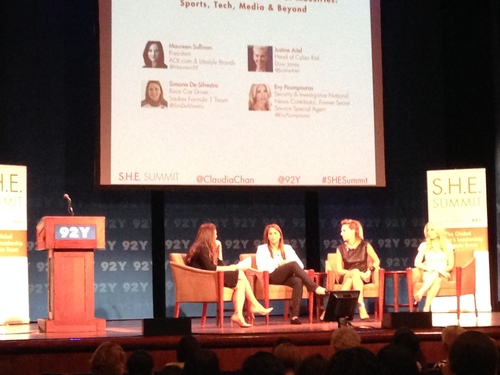 Right off the bat, Aitel jumped in by discussing the lack of role models for girls in many industries, including her own. "In technology in particular, there are really no role models for young girls to look up to." When girls don't have role models to look up to in the field, they are less likely to see that career as a viable option and more likely to choose another career where women are well represented.
A big issue that the panelists focused on is stereotypes that women face in male-dominated industries. Poumpouras chimed in saying that she faced these stereotypes head on when becoming a Secret Service Agent.
"I was told I wasn't wanted there," Poumpouras says. But she decided to stay, and prove the men wrong. She trained even harder and qualified at the male standard, even performing better than some of her male colleagues. "When you endure these stereotypes, what sets you apart is how you react to it. I didn't react. I maintained my professionalism."
De Silvestro echoes Poumpouras' idea that women sometimes have to prove that they are good enough. "I wanted to be the person who was good at what I do and be known for that," she says. She wanted to prove that women "can do the job as good, or even better, than the guys."
"We put women in a box," Aitel adds, "that we think they should stay in."
It seems challenging to fight these stereotypes head on and brave the way for future women, but the panelists had some advice on how to break out of "the box."
Poumpouras says that you should work to gain the respect of you colleagues, but don't expect everyone to give you the respect you deserve. Some people will always look down on you because you are a woman. Don't let that get to you. "You're going to hear no's, but stay focused," says Poumpouras. No matter what others say, keep your professionalism and do your best.
She also says that women need to be "braver and bolder." "We feel we have to ask permission to do what we want to do," she says, but that's not true.
De Silvestro closes saying, "If you want it and work hard at it, you can achieve it, whatever it is."
While I'm inspired by these women, and their courage to venture into these fields, I'm disappointed at the same time. I'm disappointed that in 2014, we are still discussing gender stereotypes. I'm disappointed that women aren't getting the respect we deserve. And I'm disappointed that some industries still remain relatively closed off to women.
I hope women and young girls are encouraged by the role models presented at S.H.E. Summit to be bold, be strong, and go after their dreams, even if it's not the path most travelled.
Note: An edited version of this article was originally published on FindSpark.com.
REAL LIFE. REAL NEWS. REAL VOICES.
Help us tell more of the stories that matter from voices that too often remain unheard.