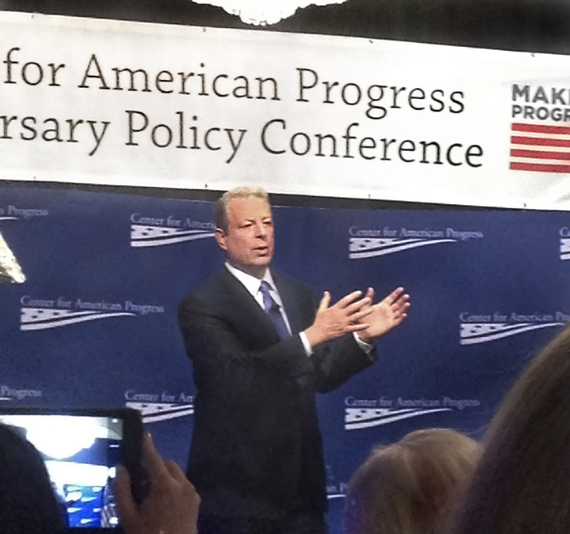 The Center for American Progress commemorated its 10-year anniversary with a day-long conference of A-list speakers whose discussions provided a snapshot of the progressive -- aka Democratic -- movement the past 10 years.
It's no surprise that the speaker/panelist list included A-listers, because CAP was founded by former Clinton Chief of Staff and Obama Advisor and Transition Team leader, John Podesta. Speakers included Secretary of State John Kerry, former Vice President Al Gore, Secretary of Labor Tom Perez, and Governors Jerry Brown of California and Martin O'Malley of Maryland. Panelists included Stephanie Cutter, formerly a long-time campaign and communications strategist for the Obama team who is now at CNN, and former Environmental Protection Agency Administrator Carol Browner, as well as Van Jones, who had a brief and tumultuous moment in the Obama White House, and Ben Jealous, President of the NAACP, as well as Podesta and the current CEO of the Center for American Progress, Neera Tanden.
Here are six takeaways from the commemoration:
1. Democrats need more backbone: The need for Democrats to stick with their positions surfaced in regard to climate change, energy, immigration, and voting rights, and around the insistence that the "full faith and credit of the United States" be separated from political gamesmanship. Van Jones said that Democrats "caved... (and) have low self-esteem."
2. The shutdown negatively affected the U.S. standing in the world. As Kerry said, it caused our allies to question our reliability and "encouraged our enemies...emboldened our competitors, and it depressed our friends who look to us for steady leadership." The Secretary recounted specific meetings with specific world leaders about both economic and peace talks, including Israeli Prime Minister Netanyahu where the federal government shutdown was a factor. Kerry explained the economic costs, stating, "We cannot cede the next century to those who are more disciplined."
3. GDP, GNP and financial reporting models are out-of-date. "Carbon... is not on our balance sheets," and needs to be front and center rather than buried in the category of "negative externalities," according to former Vice President Al Gore. Our balance sheets don't reflect positive externalities either, such as education, reduced carbon footprints and protection of natural resources. However, no one mentioned some brave attempts to do so, such as the Carbon Disclosure Project, Dow Jones Sustainability Index and Sustainability Accounting Standards Board, which are voluntary. I would add the unpaid labor of women in maintaining society is missing as well. A woman carrying water to her village in Africa or caring for her children or elderly parents in lieu of a hired worker, for example, are not factored into the productivity numbers.
4. The model should be: the "polluter pays," as former EPA Administrator Carol Browner summed it up, whoever the polluter may be, because that's what changes behavior. Gore referenced the $7 trillion of subprime carbon assets that are currently on the books of multinational energy companies too. Following the states with their renewable energy standards is also key, which California Governor Jerry Brown stressed is reducing energy use and increasing innovation there. Kerry said, "Energy policy is the solution to global climate change, a $6 trillion market...with about five billion users," defining the economic opportunity.
5. "The Keystone Pipeline is an atrocity." Gore -- who can officially no longer be labeled "wooden" after the CAP speech -- summed up the crowd's opinion about the pending pipeline with this line, and he nudged President Obama to "really understand what happens if he approves this." Steyer said that approving the pipeline would in effect keep us hooked on fossil fuels, whereas not approving it would help ease us off them, by making it harder, more costly and less profitable to access Canadian diluted bitumen. Jones referenced a tar sands oil spill in Kalamazoo, MI as evidence of the potential damage to people as well as to the environment.
6. "If blacks don't vote, greens don't win," was a line from Jones that conflated voting rights and environmental issues in one pithy phrase. Assuming that Democrats are pro-environment, Jones said that they only win with support from the African American community. He also stressed that minority populations are pro-environment because they see jobs (e.g., in manufacturing), and because their communities are often where the power plants and other energy/utility-related facilities are built -- the facilities that wealthier people don't want in their neighborhoods.
They did not seem to challenge the audience to do more. Gore was the most passionate about environmental issues, naturally. Kerry was passionate about making sure that the U.S. leads the 21st century economically and politically -- so passionate I wondered if he would have won the 2004 presidential election if he'd been this "new" Kerry.
Popular in the Community