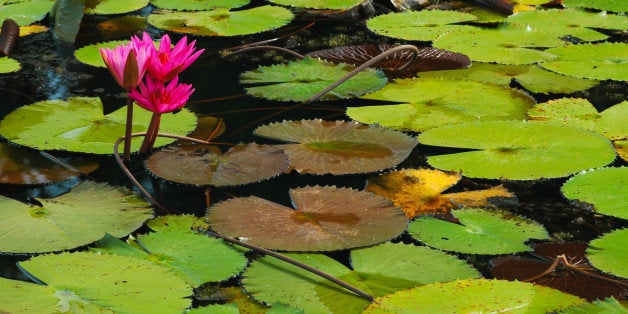 As a long distance runner, I often get asked why I run so much and what goes through my mind when I'm running for three or more hours. Throughout the years, running has meant many different things to me. It's been an escape from my problems, a way to empty my mind of stress, and most recently, a spiritual awakening to engaging in a life with greater purpose.
I've met such incredible athletes over the years, who have supported me when I was feeling broken and lost, and who I look up to as mentors and motivators. Yesterday, I had the privilege of running for 13.5 hours as guide for my dear friend, Rhonda, on her Envisions Run. Rhonda-Marie Avery is a legally blind endurance athlete who is running the Bruce Trail in Ontario from end to end, 885km in 20 days! The section that we ran yesterday was particularly technical and challenging, and there were many occasions when it was hard to see the "beauty" in such a grueling experience. But once again, feet caked in mud, calf muscles twitching from half a day of navigating slippery, steep terrain, my achy middle-aged body could not help but feel joyful and proud to be a part of such an epic quest.
Running is a metaphor in my life because it engages me with my surroundings and reminds me of what it truly means to "be present" in the moment -- it compels me to see the beauty in a forest swarming with mosquitoes, the beauty in the bone-chilling cold of a run in a January blizzard when most people in the city are nesting safe and warm in their cozy houses -- but most importantly, running helps me see the beauty in me.
I'm the youngest of five children -- born into a marriage that was all but over by the time I arrived. Like far too many children, I had a childhood that was touched by physical abuse at an early age, and later by sexual abuse. I entered my adolescence feeling scared and confused, so I turned to drugs and alcohol to "quiet" all those feelings inside that told me I wasn't "good enough." When you build a wall around you like this, it's next to impossible to see not only the beauty in the world, but also the beauty in yourself. When I look back on my childhood, what makes me feel the greatest loss is not the physical or sexual abuse that I experienced, but the fact that I can never remember hearing the words: "I'm proud of you."
It wasn't until I had been married for more than 25 years and had been clean and sober for 17 years that I finally found the strength to get help to deal with the trauma from my childhood. This past year has been the most painful, yet most liberating and self-affirming year of my life. I feel more alive today than I ever imagined possible. Just this past weekend, I told my wife how grateful I felt that she had the strength and love to wait around all these years for me "to become the man I was meant to become." She looked me directly in the eye and said, "No, that's not what I did -- I waited for you to discover the man you have always been."
It was Mark Twain who said: "The two most important days in your life are the day you are born and the day you find out why." Like my inspirational friend Rhonda-Marie, I have now discovered "why" I was born, and the meaning behind all of the experiences, both good and challenging, that have shaped me into the person I am today. I have tattoos of quite a few lotus flowers on my arm because they are a daily reminder of the fact that immense beauty can from the most unlikely places -- the lotus thrives in dark, murky waters, and I believe we can all blossom into our own beauty regardless of where we have come from, or where we find ourselves today. In the words of the ancient Chinese philosopher Lao Tzu, "When I let go of what I am, I become what I might be."
So, if you're reading this and you have someone in your life who may be struggling or seem a little "lost," I invite you to reach out to that person an simply say: "I'm proud of you."