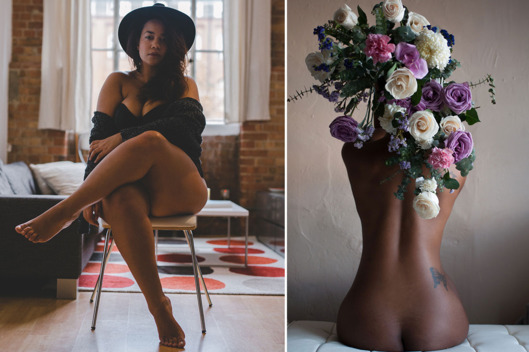 Photos from Rita Labib and Jay William Washington, as seen on @BeBeautifulLA (Photo: jwilliamwashington.com, Rita Labib)
Shawanna Davis was trying to fight tears. On the phone from L.A., she recalled a comment from a follower who said she was barely holding on after a bad breakup. "When you actually talk to someone who is sobbing and she doesn't know what she can do, what her next move is in life, and she wants to hear your voice to calm her down, it changes everything. That's when I realized it wasn't about me anymore." Davis isn't a therapist, a celebrity, or even a spiritual leader. She curates @BeBeautifulLA, the Instagram account that's unapologetically redefining what it means to be black and beautiful.
Right now there are nearly 8,500 photos under @BeBeautifulLA. A young girl with an afro, smiling; Naomi Campbell on the cover of Vogue Portugal; Olympic gymnast Gabby Douglas; a naked woman with her back to the camera, stretch marks and rolls of flesh in full view. It's easy to tell that each image is selected with an artist's eye. Most of the photos are editorials sourced from magazines, or they're scooped from photographers who capture black women in all of our varied states: whimsical, stoical, fragile, and passionate.
Along with each image, Davis attaches a poem in the caption. She looks all over the internet to strike the perfect match between photo and verse. Tumblr and submissions from young, eager poets are helpful. The process is only a little different from the early days of @BeBeautifulLA, when, Davis says, "I would go online and just type in the word love. From there I would find a quote or a poem."
The roots of @BeBeautifulLA reach back to 2012. Actually, they reach back further than that, but let's begin there, when Davis, an artist who earns a living by consulting beauty brands, held an art show at Papillion Art in L.A. She commissioned the work of black female artists because she dreamed of a space that praised images of black women, made by black women, that told stories about black women. But she was nervous. What if no one came to the show? "It was a rainy day in March. My boyfriend and I pull up and it is like a packed house. People are outside the door waiting to come in. That was the moment -- when you can literally feel your wings start to spread. It's a feeling of Oh my God, you have to dream bigger. That show brought me to Instagram, where I can do that every day."
Looking back on the opening night of that show, gallery founder Michelle Joan Papillion remembered the speech Davis gave: "She started explaining to the audience that when she was a little girl she would sit in her room and dream about having a place where she could put beautiful art and beautiful people together. She teared up during that speech because that moment was happening."
In retrospect, it's not surprising that someone like Davis created a space to celebrate black beauty. Born in Tulare, a tiny inland Californian town that sits at the midpoint of San Francisco and Los Angeles, Davis grew up with beauty on her mind. Her mother, four aunts, and grandmother were the "stylish women of the town." Piles of fashion magazines occupied her living room with regularity. As a child, Davis would cut out the clothes worn by models like Iman and Naomi Sims in magazines and attach them to her childhood paper dolls. Neither popular nor an outcast, she struggled to find footing in a world that didn't underscore the intersection of self-aware black girls who enjoyed pieces of white popular culture. "I was the awkward black girl Issa Rae talks about. I was loving New Kids on the Block but still all up in my Essence magazine, trying to realize why Joey McIntyre didn't love me. I'd kind of go back to my younger self and give her a little nudge to let her know it's okay, you know."
Davis says @BeBeautifulLA was launched because of a few factors. She was living in L.A. and needed a creative outlet. There was the art show, of course, that was a wild success. Her friends and boyfriend could also see she had a knack for celebrating beauty in a thoughtful way. Davis first launched a blog, but quickly abandoned it -- the rhythm of that world wasn't quite right for her. She finally landed on Instagram in 2012. "I wanted it to feel very much as if you were in my home. When my friends come to my home, there are books and we like to read, we like to play with beauty products, and we like to talk about hair. This is my vision board. Instead of doing a journal every day, I'll put up a picture with a poem and it will be about black girls and I'm not going to apologize for only posting black women. When I go to a newsstand there's no apology that I only see three of me. Black women have to find a way to know that they're beautiful."
It wasn't long before famous faces discovered @BeBeautifulLA. Tracee Ellis Ross, Sanaa Lathan, Gabrielle Union, and Kelly Rowland follow the page. Skrillex, surprisingly, does too. The notoriety is exciting, yet strange to Davis. "I never thought I would get celebrities to follow me. There are a few of them and they tag their ultracelebrity friends and I'm like oh my gosh. I used to be tempted, when they're commenting on my posts, to put it up on my page, but my page isn't about that. That's their safe conversation, that's their safe space to talk and be sista-friends."
"Her Instagram is like a painter's jumper cables," artist Donald Robertson wrote to me in an email. "It just gets you going. It's flesh and fashion and color. All the stuff that makes me pull out my paints. Her eye and her edit is a constant inspiration to me."
You can tell the respect between Davis and Robertson flows both ways. "Talking to Donald is like Warhol status. He's given me a certain platform, the little blue check mark that I don't have. And he's not a black man, he's a white man, but he understands it, he doesn't question it. He knows that what I'm doing matters to someone, and that means a lot."
That's not to say @BeBeautifulLA runs clear of the pernicious commenters of Instagram. In fact, there are plenty. "I get racist comments daily. And I'm like really, that's what you saw in that poem and that picture of a beautiful woman? There are 900 million Instagram pages and you found me."
So what does Davis do to counter malicious comments? "Delete. I have no time. I'm not here to educate you when you want to say baboon, monkey, look at that darkie."
Her vigilant stance in honoring women extends to size as well. "I make sure that big women are represented on my page. I feel like it's my duty to let the world know that I have 80,000 people now, and that this woman is brave and she's beautiful and we're not cookie-cutter. That she's vulnerable enough to show the rolls in her back, the stretch marks on her body, the cellulite in her thighs. I take it personally when people want to come over and write a laughing emoji. There might be a girl who may look just like that woman in that picture and that woman may never meet that girl, but that girl's going to screenshot that picture and she's going to look at herself differently."
You can call @BeBeautifulLA many things, but unfiltered honesty sits at its core. Nude black bodies and equally raw poetry fill the feed. Davis curates these images with a precise purpose. "We need to see the black female form naked. Little black girls with big butts and full lips, they're getting teased because the European look with the black girl features is the norm now. I need little black girls to know that, your natural hair with these lips, it all makes sense."
Davis began @BeBeautifulLA during a time of "selfie-nation," as she calls it. She didn't want the account to be about her, and that set it apart. Though she now sprinkles the account with her own image every ninth photo or so "just to peek through and say 'I'm here!'" @BeBeautifulLA will always be for black girls, young and old. She dreams of breaking through the wall of digital and into print with a @BeBeautifulLA book. "It's going to go right back to little Shawanna -- she used to make books of paper dolls and fashion and words. It would be a collaborative thing because my page is about the sum of us."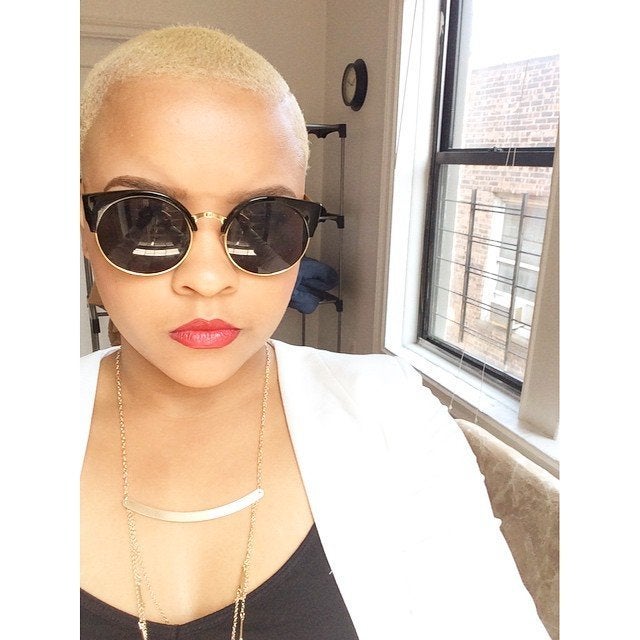 Natural Hair Haircut Inspiration