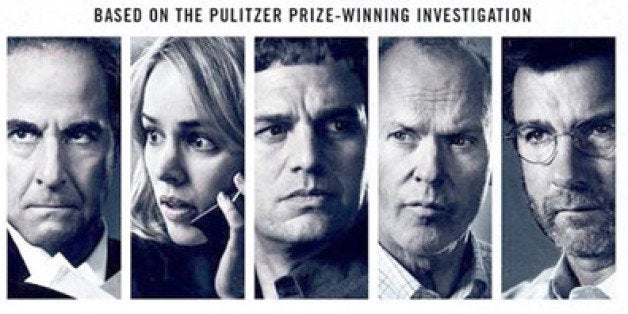 Terry Knopf makes an important point in her article in the Columbia Journalism Review about Boston news coverage of the Catholic Church: for years, many reporters -- in print and broadcast media -- did not cover the Catholic archdiocese in the same way they covered government or other big institutions. Their reverence and respect for the Catholic religion -- in many cases, the religion of their childhood -- blinded them to possible wrongdoing inside the institution itself.
But that changed on the first Thursday in May in 1992, 10 years before the Globe's reporting depicted in the movie Spotlight.
The lead story on WBZ-TV's six o'clock newscast that night was the I-Team's investigative report on former priest James Porter. The story revealed that Porter, while a priest in southeastern Massachusetts in the 1960s, had molested large numbers of children, that the Catholic Church moved him from parish to parish knowing that he was a serial pedophile, that the Cardinal at the time was made aware of Porter's crimes and did little or nothing to stop him, and that even law enforcement had turned a blind eye to Porter's rampage.
In that story, viewers heard Porter's voice for the first time. In a recorded phone interview, I asked him how many children he had molested. His answer, without a trace of remorse or emotion: "50 or 60, I guess." Porter didn't know that the statute of limitations was frozen the moment he left Massachusetts more than 20 years earlier. In 1993, Porter pleaded guilty to molesting 28 children and spent the rest of his life behind bars.
The I-Team's May 1992 story unleashed a torrent of local and national coverage focused on Porter and other pedophile priests in Boston. Within days, I, along with investigative producer Paul Toomey, began getting phone calls about other priests including John Geoghan, the priest who was the focus of the Spotlight coverage 10 years later.
In 1992 and 1993, we reported dozens of stories that revealed that there were numerous pedophile priests in the Boston Archdiocese, and that church hierarchy had systematically covered up for these criminals and had placed them in assignments that allowed them to continue destroying young lives. We revealed -- in the early 1990s -- that the problem was so huge that there were treatment centers for pedophile priests in New Mexico and Maryland.
From May 1992 on, dozens of journalists in Boston -- TV and print -- were covering the dark side of the Catholic Church. There was no circling of the wagons and no blind mice, as some assert in Terry's article. There certainly were viewers and reporters, including some of my own colleagues at WBZ, who questioned why we were "going after" the Catholic Church. To their credit, the managers at WBZ never asked that question and were supportive of our efforts to expose crimes and a cover-up of unfathomable proportions.
By the late 1990s, the stories about pedophile priests in Boston diminished in number, not because anyone was deliberately ignoring the topic but because, many of us -- including reporters at The Boston Globe -- believed there wasn't much more to report. Boston Phoenix reporter Kristen Lombardi's stories and Globe editor Marty Baron's fresh eyes on the topic changed all that. The Globe brought legal action that resulted in the release of documents that gave all of us the first inside look at exactly what the church hierarchy knew and when they knew it. It would be the most damning evidence of all.
The role of investigative reporting is to expose what's wrong inside government, big businesses and big institutions like the Catholic Church. My 16 years of Catholic education taught me the difference between the religion and the institution. That's why in the early 1980s, in my first stint as I-Team reporter at WBZ-TV, I did a three-part series of stories entitled "Power of the Cloth" examining how the Boston Archdiocese was failing to provide its nuns a decent wage and benefits. Those stories immediately made me persona-non-grata in the eyes of the archdiocese and that continued until my last day on the job at WBZ in May 2008, when I left to start the New England Center for Investigative Reporting.
My final story at the station was an in-depth look at what had happened to some of the pedophile priests who the church had defrocked or dismissed but, for one reason or another, never went to jail. We found one ex-priest living a few doors down from an elementary school in Boston's Back Bay neighborhood, another was a visiting nurse going into homes without any supervision and another was living in a small New Hampshire town. Boston Cardinal Sean O'Malley refused our requests for an interview and his PR flack whisked him away when we tried to ask him some questions. Not much had changed in 25 years.
There are many important take-aways here. Investigative reporting requires persistence and patience. It requires a thick skin to ward off intimidation by the powerful, and even to shrug off the criticism of one's peers. Most of all, it requires the dogged pursuit of wrongdoing in the face of multiple obstacles.
On a personal note, watchdog reporting has been my life-long passion. It began in my Catholic high school in Connecticut when a group of us started an alternative newspaper after the principal banned any reporting in the school paper about the Vietnam War. It flourished through a 30-year career in print and broadcast journalism and it took a new turn in 2008 when a colleague and I launched the New England Center for Investigative Reporting, a nonprofit news outlet with a dual mission: to ensure the survival of serious, in-depth investigative reporting and to train a new generation of watchdog journalists.
NECIR's talented reporting staff has published more than 150 investigations over the past seven years and we have trained more than 500 professional, college-aged, and high school journalists from around the nation and the globe.
One of the most fulfilling moments of each year is when I work with the students who attend our Summer Investigative Reporting Workshop for high school students. Last year, 132 students from 26 states and 15 countries came to NECIR for two weeks to learn how to do investigative reporting. I see myself in each of these young reporters and I admire their commitment to holding the powerful accountable. I also share their belief, as the movie Spotlight so powerfully conveys, that journalism truly can make a difference.
Joe Bergantino is the co-founder and executive director of the New England Center for Investigative Reporting, affiliated with Boston University and based at WGBH (NPR/PBS, Boston). For 22 years (1981-86 and 1991-2008), he was the I-Team Reporter at WBZ-TV, (CBS-Boston). He is also a Clinical Professor of Journalism at Boston University and is an adjunct professor at Boston College.
Popular in the Community