This is one in a series of articles on photographic projects that explore our cultural similarities and differences. Read the first installment here.
Childhood bedrooms are among the first places we call our own. Shared with others or not, these are spaces of our play, of our dreams, and of our stuff. Teddy bears, action figures, blankets, pillows, marks on the ceiling—each child's bedroom forms its own unique world. Venice based photographer James Mollison's book, "Where Children Sleep" explores this originary landscape, taking us inside children's bedrooms across the globe.
Mollison's fascinating project draws attention to a child's '"material and cultural circumstances." The series reminds us of Peter Menzel's "Material World" which formed a kind of photographic atlas of personal possessions. Menzel and other photographers traveled around the world taking portraits of families with all of their material possessions gathered and displayed outside of their homes. The result is a staggering portrayal of the variety of materials we come to call our own.
Mollison's "Where Children Sleep" appears to reverse Menzel's series, taking us and our stuff back inside, back to where we came from. Though decorated and outfitted by parents, the child's bedroom is a separate space, a space that holds "such stuff as dreams are made on". Does Mollison's work appear to be an anthropological look at childhood or a commentary on materialism?
Read the brief interview with James Mollison below, take a look through the slideshow from the series, and be sure to let us know what you think in the comments section.
How did you find the children to photograph? How did you get in touch with them?
I had different ways of working. In places like Nepal, China and The West Bank I worked with Save the Children who helped me gain access, but I also felt it was important to photograph children outside of the aid world and worked with a local producer. I would send a list of ideas of children that I thought would be interesting and they would work to get the access- this is also how I worked in countries like Brazil, Japan and America. Then some of the children I found while on assignment for other photographic jobs.
There seems to be an anthropological thread running throughout the series. Do you find that this is a thread that runs throughout all of your work as a photographer?
Yes I it does; my projects usually start from an observation that I then try to allude in photographs. Nearly always based around series of images; individual photographs, though they are important, don't matter as much. With "James & Other Apes" I was interested in how you think of animals generically and how by using the ubiquitous style of the passport photograph you could explore their individual identities as well as the grey area between man and animal. With "The Disciples", group portraits of fans outside concerts, I became interested in what influences individuals' style and how they form groups as part of their identity.
Can you tell us a particularly striking child's story you encountered on your journey?
In terms of extremes between two children, it would be between Jaime, who I photographed in his top-floor apartment on Fifth Avenue in New York, and Lehlohonolo who lived in Lesotho, in southern Africa. Jamie went to a highly sought after school and had a hectic schedule of after-school activities like judo, swimming lessons, cello and kickball; he also liked to study his finances on the Citibank website.
Lehlohonolo lived with his three brothers, who were AIDS orphans. The boys lived in a mud hut where they slept together on the floor, cuddling up to each other for warmth during the freezing cold nights. Two of Lehlohonolo's brothers walked to a school eight kilometers away where they are also given monthly rations of food -– cereal, pulses and oil. They couldn't remember the last time they ate meat. Sadly, they will probably live in poverty for the rest of their lives because crops are difficult to grow on the infertile land and there are no prospects of employment. The vulnerability of the these kids was very upsetting.
How does photographic documentation effect, ensure, and protect human rights?
I think an interesting example is what is happening in Syria at the moment. People are using cell phones to document atrocities that are happening and this helps focus people's minds and keep them in the media. When, 20 years ago, Assad's father suppressed an uprising killing thousands of people, there wasn't much documentation and this enabledthe whole thing to be covered up.
What do you hope people will take away from this series?
We tend to inhabit a small world of friends, family, work, school etc. I hope the book gives a a glimpse into the lives some children are living in very diverse situations around the world; a chance to reflect on the inequality that exists, and realise just how lucky most of us in the developed world are.
Related
Before You Go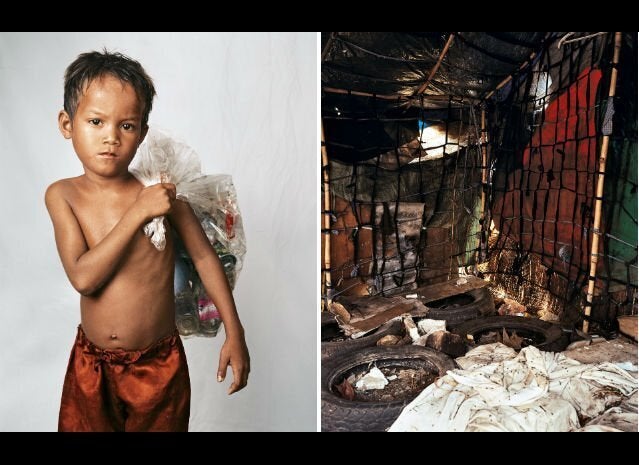 "Where Children Sleep"
Popular in the Community