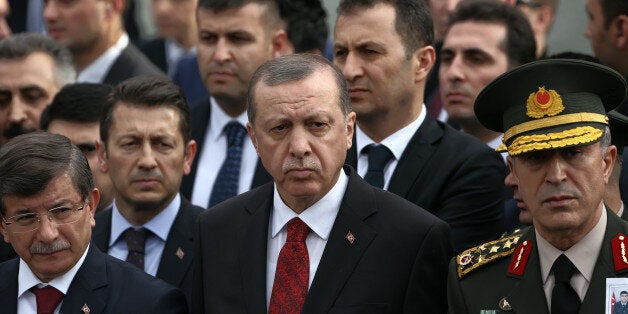 The rift between President Erdogan of Turkey and PM Davutoglu which wasn't a secret before has now become apparent.
What made the conflict between the two so clear was Erdogan's recent attempt to terminate Davutoglu's control over the executive board of the Justice and Development Party (AKP in Turkish).
Due to the very strict and disciplined party system in Turkey, presidents of political parties have almost entire control over the party structure.
Erdogan's recent coup attempt against PM Davutoglu has led to the end of Davutoglu's control over his party, which eventually may also end his premiership in the Turkish Government soon.
Many in the AKP believe that it was a response from the President Erdogan to Davutoglu for successfully arranging an appointment with President Obama during his upcoming official visit to the US early in May after a request to the White House.
After the recent developments in AKP, however, sources in Washington say that the meeting has been postponed to an unknown future.
PM Davutoglu actually was aware of the fact that President Erdogan's obsession to become the executive president of Turkey would eventually end his premiership in the government.
Even though, presidents are not allowed to intervene party politics in Turkey, Erdogan violated the Turkish constitution many times in the past, stating even that he doesn't recognize it.
Now, PM Davutoglu has two options ahead. First, he may avoid challenging Erdogan and leave the office soon. If he does so, Davutoglu would lose all his powers and allow Erdogan to ruin his reputation and political life. However, if he resists and decides to challenge Erdogan, he would have a chance to prove his leadership not only over the party but over Turkey as well.
Even though it would be very troubling and complicated for Davutoglu to resist Erdogan, he should try. Even if Davutoglu obeys Erdogan after the new development in the Party, he wouldn't be able to change Erdogan's attitude against him, due to the vindictive and malicious personality traits of Erdogan. The President would eventually terminate him whether he would obey or not.
From this point of view, Davutoglu has only one chance actually. Even though the Turkish Military is sidelined from Turkish politics, there are some indications that they are not sided with Erdogan. In the Turkish political system, the commander in chief of the Turkish Military is under the command of the PM. In that case, there are signs that Turkish Military would prefer to work with PM Davutoglu instead of Erdogan.
The head of Turkish Intelligence Service, Hakan Fidan as well, is under the command of PM Davutoglu. Last year, the resignation of Turkey's powerful spy chief Hakan Fidan to run for parliament on the ruling Justice and Development Party (AKP) without the approval of President Erdogan, indicated that his assumed loyalty to Erdogan is not absolute.
Thus, comparing with the power of the other dictators in the region, Erdogan's power is not fully consolidated yet but it's still on the formation.
Erdogan has a powerful media machine, which he uses as a propaganda machine and for political character assassinations. Davutoglu has, on the other hand, two newspapers, Yeni Yuzyil and Karar as well.
Now, many believe that recent developments in AKP imply the end Davutoglu's political life.
If Davutoglu could manage to use the powerful instruments in his hands, Turkish Military and Turkish Intelligence Service, MIT, he could have a chance to survive. Davutoglu should find ways to cut off Erdogan's illegal link to several courts he uses against his rivals.
Davutoglu is aware of the fact that, in a global spectrum, Erdogan has angered the U.S, European Union and Russian Federation at the same time indicating that things may not evolve as Erdogan expected, either. The arrest of the Iranian-born Turkish citizen Reza Zarrab last month in Florida by U.S. authorities on charges to conspire to conduct hundreds of millions of dollars in financial transactions through Turkish and Emirati companies that helped Iranian Government to evade U.S. sanctions may have some unexpected consequences for Erdogan as well.
During the gold for oil trade scheme between Iran and Turkey, some $14 billion were vaporized as bribes and commissions in Turkey.
Starting from 2009, Treasury Secretary for Terrorist Financing and Financial Crimes, David Cohen, cautioned Turkish government and banking officials many times about the consequences of evading sanctions against Iran.
For example, in 2009, Cohen expressed concern about delays in Turkey's compliance with the UNSC 1267 and 1373 designation process and the low level of money laundering or terror finance prosecutions. As Cohen noted Turkey's progress on reforming its customer due diligence, but said Turkey must strengthen its efforts to fight terrorism finance.
David S. Cohen was sworn in as the Deputy Director of the Central Intelligence Agency on February 9, 2015. This assignment is definitely an important indication how President Obama takes money laundering and financial crimes seriously across the globe even if it would complicate bilateral relations with some ally countries.
Erdogan's second weakness, comparing with Davutoglu, is his alleged relations with ISIS that particularly Russian Federation brings to the agenda of UNSC.
Davutoglu may want to use these important developments against Erdogan as well.
Calling all HuffPost superfans!
Sign up for membership to become a founding member and help shape HuffPost's next chapter