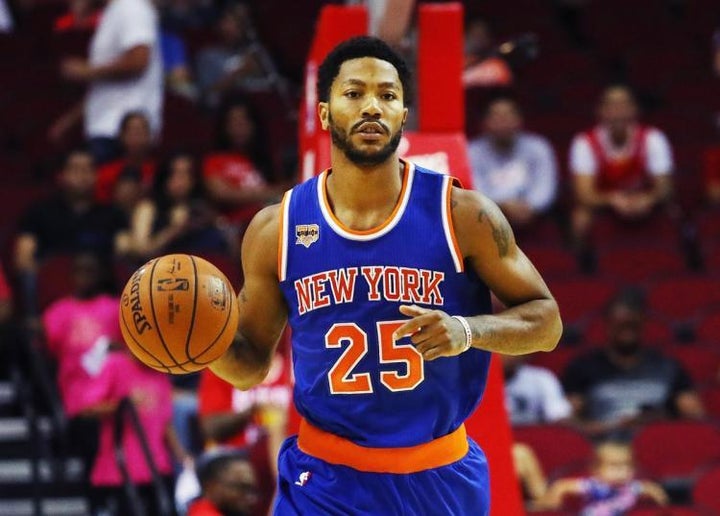 Last week, there was a major brouhaha when New York Knicks point guard Derrick Rose unexpectedly disappeared before a New Orleans Pelicans game. There was no text, no call, no Instagram, no email, no Facebook message to his coaches or teammates alerting them to his unplanned absence. It was later reported he flew to Chicago for unspecified family reasons. That night, the team lost to the New Orleans Pelicans without one of their top scorers.
By all accounts, the Knicks are having a tough year. Their current record is 19-24. The signings of free agents Rose and Joakim Noah from the Chicago Bulls were intended to bolster the team with veteran leadership and bring more star power to Madison Square Garden. Instead, the squad has lost 11 of their last 14 games, and are 5 games below .500.
Following his unsanctioned time off, Rose was fined $200,000 for missing a game, a small fraction of his $21 million paycheck.
But we don't have concrete proof of Rose being in Chicago. Did anyone get a photo? A selfie? Was he physically seen at O'Hare or Midway? Without formally checking in with his team, we don't know if he really was in the Windy City.
Here are five places that Rose may have been instead of Chicago:
1. Knicks Defense – during the Pelicans game, you may have blinked and missed Rose when he was parked between Courtney Lee and Kristaps Porzingis under the boards. You would be forgiven if you had, given that the Knicks defense is currently ranked 24th in the league, with a $100 plus million payroll.
2. Tinsel Town – Rose hopped on plane bound for LAX in a bid to plead with LA Lakers President Jeanie Buss to take former fiancé and Knicks President Phil Jackson back. Maybe he thought by brokering a rekindling between the long-time couple, Jackson would stop commenting on how long Carmelo Anthony holds the ball or question whether he wants to stay in the Big Apple.
3. On a Boat in Miami –If you look closely at the viral photo that surfaced of New York Giants players and celebrities on a boat in Miami last month, you can spot DRose in between Trey Songz and Victor Cruz, hanging with his BFF's Justin Bieber and Odell Beckham Jr.
4. Memphis, Tennessee – Rose returned to Memphis to retake his SATs, in a bid to gain re-admittance to University of Memphis, where he spent one year before declaring for the NBA draft in 2008.
5. The Big Apple Circus - Rose went to meet with the Big Apple Circus in hopes of saving them from packing up its tents after 40 years in business. After declaring bankruptcy last year, the legendary entertainment company announced they were shutting down. There's hope though for New Yorkers – there is still a circus in town, and they, and Derrick Rose are playing the Garden.
Calling all HuffPost superfans!
Sign up for membership to become a founding member and help shape HuffPost's next chapter