"Well behaved women seldom make history." - Laurel Thatcher Ulrich
Over the last few years, boudoir photography has really caught its stride, quickly becoming one of the more respected and pursued genres of photography. But the popularity of boudoir didn't pop up over night. In fact, it has a long history of classic tradition and unique style.
It was in the 1920s when boudoir art and photography really began to come into its own. During this decade, it was generally illegal to have nudity in photographs, but regardless, photographers like Albert Arthur Allen, a French artist, continued to create masterpieces. He focused mostly on women, especially larger women, who posed in romantic ways against ornate backdrops.
Fast-forward to the 1940s, and suddenly the boudoir focus was on pin-up girls. These decadent women were delightfully curvy, as popular standards deemed a lack of shape typically undesirable. It was a culture quite different from our more modern, and ridiculous, ideas of beauty. These pin-up girls wore stockings, corsets, men's ties and hats and were among the first to use various props in their unique "portraits."
The next large change in the evolution of boudoir took place in the 1970s, about the time when photography began to carve a place for itself in the professional "art world." Many magazines began to feature photographs of real women as opposed to mere drawings, and as the vision of the female form became more prolific, boudoir photography became significantly more acceptable.
Boudoir art and photography is often misunderstood, and this could be considered a result of the total change in style during the 1970s. Women without their bras or even without any panties began appearing in photographs and artwork, and despite it being for artistic purposes only, many people simply could not shake off the idea that this was just glorified pornography. Sometimes cultural taboos are hard to break.
Over the last three decades, this opinion has gradually changed, and Boudoir photography is not only completely accepted, but highly encouraged and celebrated in many circles. People not only enjoy this kind of photography as art work for their homes and other properties, but women often look for photographers who can help them recreate classic boudoir photographs, or just come up with something new that features them as the stars of their own show.
Boudoir photography has ultimately, in recent years, established itself as an successful add-on for wedding photographers. This sexy new trend has become a popular gift from the bride to the groom, and so, the pictures are taken before the date of the wedding by a professional, and then edited and bound in a book to be given to the groom. But it's not just weddings! The fashion world has picked up on the trend. Vintage clothes and even vintage-style lingerie are prominently featured on the catwalks.
Boudoir style doesn't look like it's going to go away any time soon, and that could be a fantastic thing! In a world that often shows only the thinnest and "most perfect" (cue eye roll) on TV, in movies and in magazines, boudoir photography stands out for its celebration of real women's bodies. It represents real women at their most vulnerable and their most confident, which is incredibly empowering.
Women all over the world can start believing in themselves, as well as feeling great by wearing their favorite lingerie and having their photographs taken. This is really a great way to boost self-esteem, have a bit of fun and treat your other half. The whole purpose of boudoir art and photography is that women should love their bodies, and that feeling sexy shouldn't just be about pleasing somebody else -- it should be about pleasing yourself, and realizing just how valuable you are.
For these reasons, I would argue that boudoir photography is not only relevant in modern society, but it's absolutely essential! It's a very real outlet where women can learn to feel great about themselves and become proud of their beautiful bodies. Boudoir gives women of all shapes and sizes the chance to strut their stuff.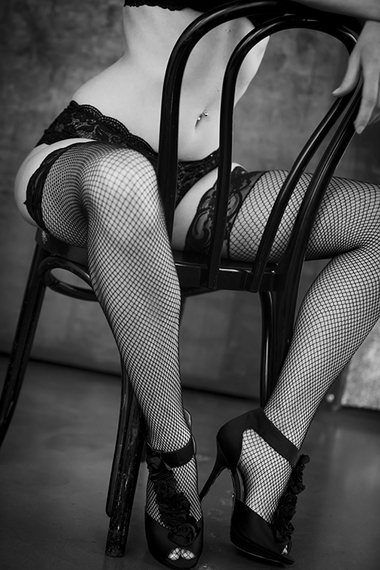 Related
Popular in the Community