Fashion designers have always looked to Hollywood to spot trends. Now, they're looking in different places.
Biotech labs. Engineering Departments of universities. Math classrooms.
What does it all mean? The Museum of Fine Arts, Boston's new show, #techstyle, demonstrates the new and astonishing connections between fashion and science.
A dress that turns into three elegant picture frames and can be hung on the wall?
How about a garment made of recycled plastic from the ocean?
Or a dress that can show respond to the environment -- both heat and light?
Fashion has always been influenced by technology -- when you had a Singer sewing machine, you were limited to creating garments that could be made on such a device.
Today, though, as technology explodes, the fashion world is watching with unique fascination.
As a result, companies with names like CuteCircuit, United Nude, and Nervous System are using new technologies, including 3D printing, to create new kinds of clothing that speak to today's concerns about the environment and sustainability in general.
The show takes up two large rooms, one of which focuses on the production of dresses, and the other on performance.
If you've never seen a remote-controlled dress, this is your chance.
"The scientists and engineers have embraced fashion pushing the boundaries of manufacturing design," says Pamela Parmal, one of the curators of the exhibition and Chair of the MFA's David and Robert Logie Department of Textile and Fashion.
"It's fitting that #techstyle is on view here in Boston," Parmal adds, "a crucible for technology and research."
At the exhibition, you'll find works by well-known designers including Issey Miyake, Comme de Garcons, Mary Katrantzou, Hussein Chalayan, Alexander McQueen, and Ralph Lauren.
You'll also find a "molecule" shoe from the Francis Bitoni Studio, which looks a bit like a Gaudi cathedral reinvented for the foot.
Perhaps the most literally "cutting edge" piece in the show is Viktoria Modesta's artificial leg, a black spike which the designer wears in a video.
She literally uses the spike to cut through glass, putting an entirely new spin on what it means to be disabled.
Meanwhile, is the world really ready for dresses with built-in solar panels?
There's always a gap between what's worn on the runway and what ends up in the local mall.
The wild items in the exhibit, like the Anthozoa cape and skirt from the "Voltage Collection" designed by Iris van Herpen and Neri Oxman, aren't something you can expect to see people wearing down Fifth Avenue or Rodeo Drive anytime soon.
And yet, the show is fascinating because it demonstrates a sense of where fashion is going -- to the science lab and Silicon Valley for new inspiration.
Technology influences not just the design of the rather wild outfits you'll see on display, but also the manner in which clothing will be sold going forward.
In the past, there was always a lag of about six months from the time a runway collection appeared and when you could actually buy those garments in a store.
Today, buyers are so impatient that they want everything right now. Thanks to 3D printing and other forms of new technology, you can pretty much have anything on the runway immediately after the show is over.
Just beyond the Viktoria Modesta exhibit, you can look into a room of 19th Century paintings and see just how different our conception of beauty and fashion was a century and a half ago.
So if you're in Boston, stop by #techstyle. While you're there, brace yourself for the future of fashion.
And be sure to tweet the gown.
#techstyle, Boston Museum of Fine Arts, now through July 10, 2016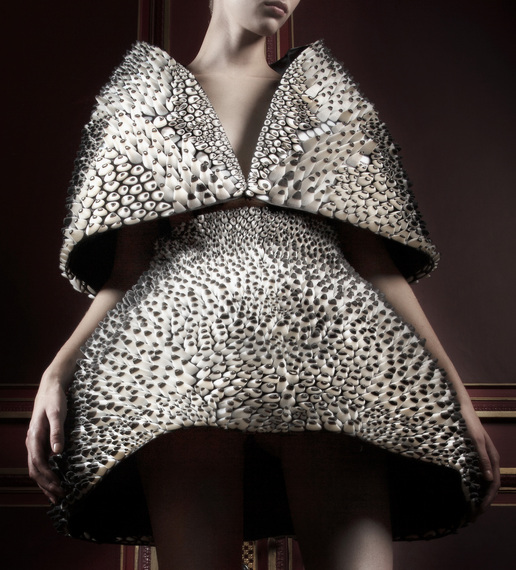 Related
Popular in the Community