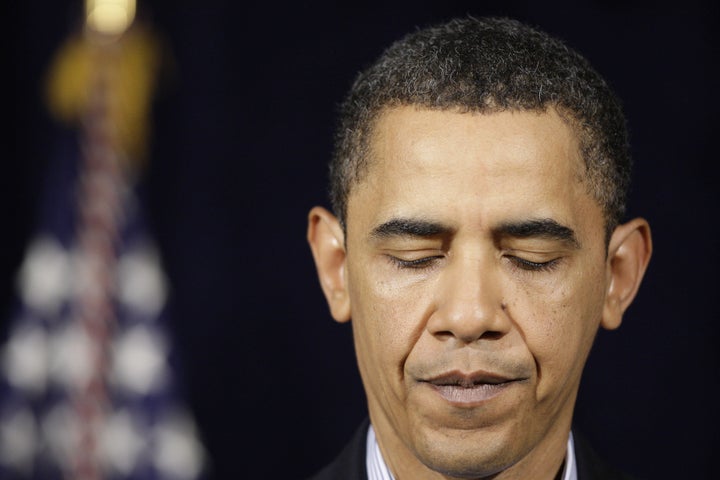 It's hard to own the disappointment I feel over our moderate corporate Democratic President. The whole Obama phenomenon brings up memories from my distant past: the good-looking guy who talks real good, whose line you don't buy immediately but whose charm is so dazzling that he gradually convinces you that this time it will be different.
Yeah. Right. Really different.
What the current administration is giving us is minimal change. And not because the President hasn't had the time to do better; if he had truly wanted to make fundamental change, he would have gone in there fast and done his own version of shock and awe in the first hundred days. And not because he didn't realize how mean all those Republicans can be, either; Obama knew what he was getting into, and if he didn't, then he was as unprepared for the job as his opponents said he was. I see so many people now -- many of them men, interestingly enough -- tangled up in an almost school-girlish, co-dependent, apologetic relationship with this President. As though "poor baby" should be tacked onto the end of every description of his failures.
I see all things political in light of the immense unnecessary suffering in the world. Republicans see it and say, "Wow, it's sad about all that suffering, but the government has no proper role in assuaging it. Hopefully the private sector will do something. That would be nice." The Democrats -- not all of them but enough of them, and definitely this President -- see all that suffering and say, "Wow, it's sad about all that pain people are going through. Let's try to assuage it."
And yet they're refusing to do anything to challenge the underlying forces that make all that suffering inevitable.
I remember Bobby and I remember Martin. I remember when there was a moral force
at the center of the Democratic Party. I see it sometimes still, in a Sherrod Brown, a Dennis Kucinich, an Anthony Weiner, a Marcy Kaptur and an Alan Grayson. But they're not reflective of the general tenor of the Democratic Party anymore, and I think we would all do well to wake up to that fact. We elected Obama and then he sort of became someone else. He's doing a lot of good things in various areas, but he's certainly not changing the new bottom line: that corporations get to run the world.
He bailed out the banks, but he didn't stipulate that they had to start lending again. He got us health care, but he wouldn't say a word about single payer and he wouldn't raise a finger for the public option. He won the Nobel Peace Prize, but accepted it with a speech that was an apologia for war.
Democrats seem to have no idea what dark wave is rushing towards them in the form of the 2010 mid-terms. They have no idea how many people will be too depressed to go vote, who'll be thinking, "We tried so hard last time, and what did it get us?" They have no idea how many people are thinking, as I am, that it's time to face the facts, no matter how painful they are. If Obama doesn't retrieve his spine and retrieve it soon, then his Presidency will go down in the history books as one of the biggest disappointments in American history.
In the meantime, we should be looking at our options. In "Healing the Soul of America", I wrote about Ghandi's notion of soul force in politics and why it matters to stand on your truth. Should we re-brand the Green Party perhaps, or draft another Democrat to challenge Obama in the primaries in 2012? I don't know what we should do, but I know one thing that we shouldn't do: pretend to ourselves that this man is delivering on what he promised when he first won our hearts.
Popular in the Community