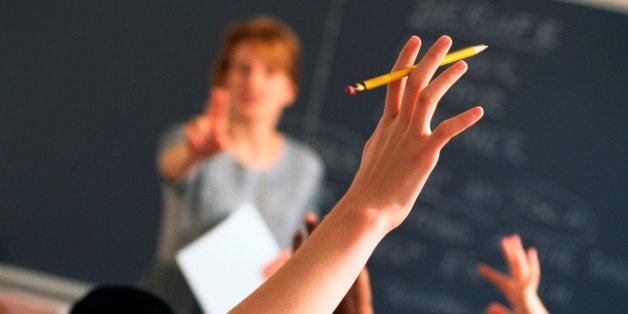 Where have all the teachers gone? It's the title of a recent story featured on NPR's All Things Considered, highlighting the political and professional challenges that are likely the explanation for declining enrollment in education preparation programs across the country. In fact, in California, enrollment is down 53 percent over the past five years. New York and Texas are seeing similar declines as well. These numbers don't bode well for the education profession as a whole, but especially for parents with high hopes for their child's future, anxiously awaiting the teacher placement lists posted at the beginning of the school year, the savvy ones jockeying for placement in a favorite teacher's classroom. They know what matters most for the education of their child is not only a safe, supportive school, but also a great teacher in the classroom. They also recognize the importance of a school principal who knows each of her students by name, and who is willing to do anything to support the success of their faculty and staff.
While there's much agreement about how important educators are, there's been nothing but controversy spilling over from debates about how to ensure every child has access to excellent educators - teachers, principals, librarians and other staff who help children learn. This week, Senate leaders from both sides of the aisle released their draft proposal to reauthorize the Elementary and Secondary Education Act. It represents a positive shift away from prescribing evaluation systems that rely too heavily on students' standardized test scores as the right medicine for getting rid of bad teachers--a trend that has unfortunately been embraced by many states in response to the Obama Administration's Race to the Top initiative and NCLB waivers. The bipartisan compromise shows progress towards a more comprehensive approach to building the capacity of teachers and principals to be successful on the job.
Some of the most promising aspects of the Senate's most recent NCLB rewrite are intended to address the current obstacles deterring people from pursuing careers in education. And it's no coincidence that key elements of a bill introduced by Senators Casey of Pennsylvania and Jack Reed of Rhode Island are included in the bipartisan agreement. Known as the Better Educator Support and Training (BEST) Act, the bill requires states and districts to develop a broad, coherent strategy for developing and supporting excellent teachers and school principals. It also places a heavy emphasis on clinical training in a real classroom with real students and mentorship for new teachers and principals from accomplished, experienced educators. It requires regular time for collaboration, planning, and feedback from peers and administrators, and opportunities for professional development tied to the needs of the teacher and the school. Most importantly, it encourages opportunities for growth within the profession, so that excellent teachers can become leaders and grow in their careers while still remaining in the classroom.
Unfortunately, a critical element of the BEST Act has been omitted from the bipartisan Senate draft bill. The BEST Act would, for the first time, write into federal law a standard that every teacher and school principal enter the profession "profession-ready." This means that both teachers and principals complete their preparation program, demonstrate content knowledge in the subject taught, and demonstrate effective teaching and school leadership skills, such as through a teacher performance assessment.
Disappointingly, the Senate proposal fails to establish any minimum entry level standard for educators or provide students with any right to be taught by a profession-ready teacher. We know that low-income students, students of color, students with disabilities, and English learners are disproportionately taught by underprepared and inexperienced teachers--and yet these are the students who most need an excellent educator leading their classrooms. It's hard to understand how the Senate could justify giving billions of federal education dollars to states without requiring in exchange that they provide this most basic educational resource to students: a profession-ready teacher.
There is still time to establish clear national benchmarks for teachers and principals before they start working in schools. The United States has clean water standards, auto safety standards, drug safety standards and strict rules for airlines safety, but no common preparation threshold for educators. That has to change immediately, along with a genuine commitment from both parties to elevating the teaching profession through new resources and a new lexicon for teaching at the local, state and federal level. We know it is possible: one need look no further than countries like Finland, or just over the border in Ontario, Canada. Educational experts from across the spectrum have articulated this vision for the United States, including the Coalition for Teaching Quality, an entity representing over 100 civil rights, disability, parent, student, educator, and education policy organizations who have been urging both political parties and the Obama Administration to take a long-term approach to teaching quality.
Some members of Congress are listening, including Senators Casey and Reed. It seems like Chairman Lamar Alexander and Ranking Member Patty Murray are starting to listen as well. But they can't take up the 'where have all the teachers gone?' policy question alone and their proposal needs some fine tuning still. We need more policymakers and parents pushing for a day when there isn't a rush to see the school lists of who will be teaching their child because every classroom is led by an excellent teacher. As Congress continues to move on reauthorization of ESEA, let's encourage policymakers from both sides of the aisle to invest in a teaching force that has the preparation, support and expertise to lead, not leave.
Co-authored by Tara Kini, a consulting attorney with Public Advocates, a nonprofit law firm and advocacy organization that challenges the systemic causes of poverty and racial discrimination by strengthening community voices in public policy. She is also an 8th grade social studies teacher in San Francisco Unified School District
Related
Popular in the Community