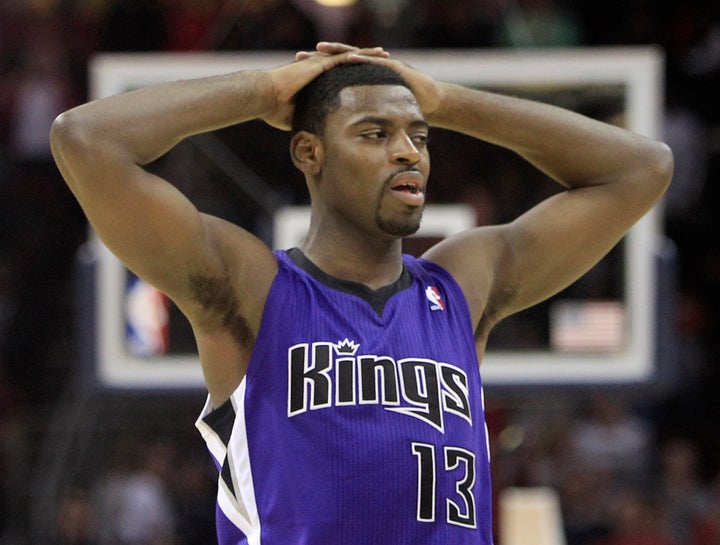 When Tyreke Evans won the 2010 NBA Rookie of the Year award as point guard of the Sacramento Kings, he did so by averaging a remarkable 20 points, 5 rebounds and 5 assists. Evans -- the fourth pick out of Memphis as a freshman -- joined the elite company of Oscar Robertson, Michael Jordan and LeBron James as the only rookies in league history to boast 20-5-5. With his chiseled 6-foot-6 frame, terrific ball handling ability and capacity to attack the paint, he had the talent to be one of basketball's brightest young stars.
Nearly three seasons into his young career, the question isn't whether Evans has talent as an NBA player, but what is his role and, perhaps more importantly, what remains of his seemingly dimmed prospects?
Evans is still just 22 years old, but he has already become an enigma. During a poor sophomore campaign, his field goal percentage fell from 46 percent to 41 percent, his turnovers slightly increased and his assists numbers decreased. This year hasn't been much different. And with the unexpected rise of rookie point guard and back-to-back Western Conference Rookie of the Month winner Isaiah Thomas -- the last pick in the 2011 NBA Draft -- and the improved play of Marcus Thornton (19 points per game) at the two spot, the versatile Evans was moved to small forward with the hope that he could blend his ball-handling skills with his natural attacking style and ability to score.
This season, Evans has recorded just one 30-point game and has a total of five double-doubles through 57 games. His 16.5 point average per game is the lowest total of his career, and while his turnover clip is under 3 (also the lowest), he is shooting a pedestrian 44 percent from the floor and a woeful 21 percent from three.
"I'm trying to get used to it," Evans recently said of his move to the small forward position. "It's up to me to be aggressive and to keep attacking. When I rebound I just get a head start and just kind of open up things because they close the paint."
In transition opportunities, where these attributes usually work best, Evans ranks in just the 44th percentile of the league, per Synergy Sports, getting to the free-throw line a mere 16.5 percent of the time, a number so low for a guy so strong and fast that it doesn't seem plausible.
In the half-court setting, his limitations become more apparent, particularly in spot-up situations, where Evans converts less than 32 percent of his shots, an unacceptable rate for a starting small forward. It may not be the fairest of comparisons, but for what it's worth, fellow three-man Kevin Durant converts 43 percent of those opportunities. To be a truly efficient small forward, Evans does not need to be so consistent, but his 31.6 percent clip hinders the offense.
While the Kings average a healthy 98.1 points per game -- 10th best in the league -- they do so in large part because no other team in the NBA plays at a faster pace. The team's offensive efficiency, however -- as measured by the number of points scored per 100 possessions -- is actually in the bottom third of league average at 100.2. With the vastly improved DeMarcus Cousins on the block, Evans' inability to run pick-and-roll sets has grown into a significant issue. According to Synergy Sports, he ranks in the bottom third of the entire league in overall efficiency in that play, a key reason why the Kings actually score 1 point more per 100 possessions when he is not on the floor, according to basketballvalue.com.
As one Eastern Conference scout told me: "You don't need to be a great shooter at the two but someone who you can isolate and play off as a playmaker" -- which is often how Evans is perceived at this stage in his career. Per Synergy, however, in isolation opportunities his numbers rank in just the 41st percentile of the league, with a very low free-throw rate. If Sacramento were to use him as its starting shooting guard, it could then boost scoring by bringing in Marcus Thornton off the bench -- a role in which he thrived with New Orleans -- as Thornton has been the far more efficient scorer all season.
Another option for Evans is to remake himself as the team's sixth man. It's not an ego boost, nor is it really a solution, since it's hard to know who he could replace in the lineup, but the move could ultimately prove beneficial. Doing so could accelerate his scoring proficiency, because when playing with the second unit, he would likely be the go-to option while assuming the role of point-forward. Other successful starters have enjoyed great success when they made a similar move, while also extending their careers by playing fewer minutes. Manu Ginobili, Jason Terry and Jamal Crawford were all starters who made the change to sixth man and never looked back.
Then again, for an organization as deep in limbo as the Kings are, maybe it's fitting that Evans finds himself in a limbo of his own; neither seems to have a clue as to what the future holds. Evans is simply too talented and too young to give up on, though. If the Kings can figure out the proper role for him, he can still be an extremely useful NBA player. But as more time elapses and more of his confidence erodes, that is becoming a very sizable "if."
Email me at jordan.schultz@huffingtonpost.com or ask me questions about anything sports-related @206Child.
Plus, check out my new HuffPost sports blog, The Schultz Report, for a fresh and daily outlook on all things sports and listen to my radio spot on 1280 The Zone Friday nights at 6:10.

REAL LIFE. REAL NEWS. REAL VOICES.
Help us tell more of the stories that matter from voices that too often remain unheard.