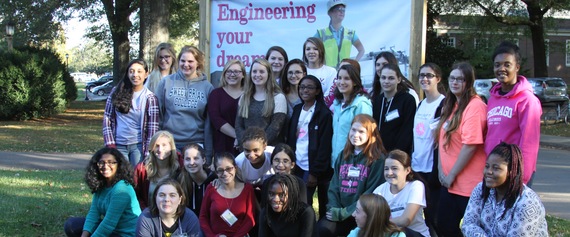 Attendees of the October 2015 Explore Engineering for High School Women Program
Photo Credit: Sweet Briar College/Paulette Porter-Stransky
Although the field of engineering offers women careers that are engaging and interesting, this career has not been a historically popular choice. Understanding why so few women consider a career in engineering is complex and hard to pin down.
The good news is that even though a gender gap exists, it is shifting as educators and employers seek out ways to encourage more women in engineering. Today's technology-driven employers realize the benefit of having a diverse workforce, supporting initiatives that help hire and retain women in engineering roles; they continue to rethink and retool what companies must do to be successful. Educators also are embracing their role by encouraging and training future female engineers. Leveraging the symbiotic relation between educators and employers is fruitful and I look forward to seeing additional ongoing collaboration.
In today's blog post, I'm spotlighting one such employer-sponsored initiative,
Explore Engineering for High School Women, offered by Sweet Briar College. Hank Yochum, Ph.D., professor and director of the Margaret Jones Wyllie '45 Engineering Program at Sweet Briar, heads up the program.
Now in its eighth year, the all-girls Explore Engineering program has introduced more than 300 high school students to the world of engineering. Attendees participate in hands-on, team-based design projects in an environment where previous engineering experience is not required.
The summer camp is always popular, and the weekend event held this year on October 16th and 17th was filled to capacity with a waiting list. In attendance were 28 high school girls from Maryland; Washington, D.C.; Virginia; North Carolina and Texas as they enjoyed the 3,250-acre campus and engineering facilities/classrooms located in Sweet Briar, VA. Below are photos from the October event.
Explore Engineering complements the ABET-accredited engineering program found at this liberal arts and sciences college for women. The undergraduate program was created in 2005 and since this time, Sweet Briar College has graduated female engineers, time and time again. Alumnae are prepared to either launch an engineering career upon graduation or continue on to graduate school.
One of the best ways to see more female engineers is by transmitting the message that women make excellent engineers and showing girls and young women what engineering is all about. Programs like Explore Engineering are vital to this goal, as is Sweet Briar College's undergraduate engineering program.
Women's colleges continue to do their part when it comes to encouraging and educating future STEM women. Sweet Briar College rises to the challenge, excelling at educating the next generation of female engineers as well as other STEM professionals.
Knowing how important financial support is for programs like these, I would be remiss if I did not thank AREVA Inc. for their continued support of the Explore Engineering for High School Women program at Sweet Briar College.
REAL LIFE. REAL NEWS. REAL VOICES.
Help us tell more of the stories that matter from voices that too often remain unheard.