Chances are your favorite indie movie of all time -- whether that'd be Reservoir Dogs, Garden State, Memento, Heathers, Tangerine, or American Psycho -- had its world premiere at the Sundance Film Festival in Park City, Utah.
Founded by Robert Redford, this venerable indie film fest attracts not only up-and-coming filmmakers but a slew of Hollywood heavyweights. Want to know what's Javier Bardem's favorite Italian restaurant in Park City or where Ryan Gosling goes skiing?
During Sundance, the quaint but fabulous ski resort town of Park City becomes a satellite hotspot for A-listers. And 2016 won't be the exception. This year's festival, which kicks off on January 21, will premiere movies starring boldface-names like Julianne Moore, Paul Rudd, Anna Kendrick, Ewan McGregor, Ellen Page, Nick Jonas and Selena Gomez. Here's where in Park City you might happen upon them.
Checking in at the Sundance host hotel, the Waldorf Astoria, could result in seeing Anne Hathaway waltz in. This luxury resort has everything you could ask from a glitzy winter getaway: big rooms, grand chandeliers, cozy fireplaces, relaxing spa treatments and helicopter rides. If you won't be arriving to Park City via helicopter, however, the Stein Eriksen Lodge offers all the luxury accommodations you'll need, plus all the amenities and stylish touches you might expect from a resort built by (and named after) a Norwegian ski champion. Mariah Carey and Emmy Rossum didn't seem to have any complaints when they stayed here.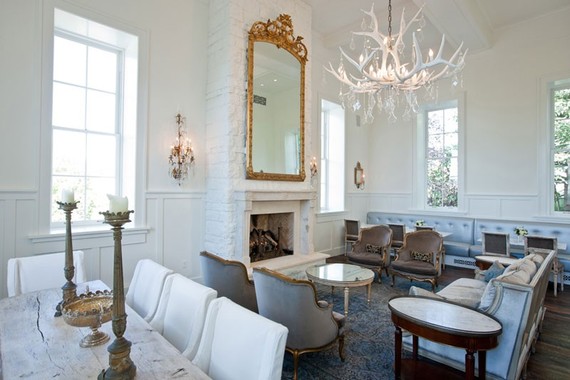 High-profile guests who value privacy over pampering should find themselves at home staying in one of only 12 rooms in this 19th-century schoolhouse. Our preferred pick is the immaculately tasteful Washington School House (pictured above). This boutique hotel is so intimate, don't be surprised if you get to know your fellow guests during your stay, including a gentleman by the name of Matthew McConaughey.
For a yummy meal in between movie screenings, you can turn to Park City's make-believe mayor, Robert Redford. The actor not only founded Sundance but also opened up a colorful, casual restaurant on Main Street named Zoom. For something with more gravitas, head over to Riverhorse on Main, widely considered the best restaurant in Park City, at least by Jeffrey Tambor. As for Javier Bardem, the Spanish actor prefers the hearty Italian meals at Grappa, housed in a three-story rustic farmhouse. And if you're in the mood for Asian cuisine, Dave Grohl would recommend sushi at Shabu, whereas Lena Dunham would pick Wahso Asian Grill. The Girls creator hosted a benefit for Planned Parenthood here.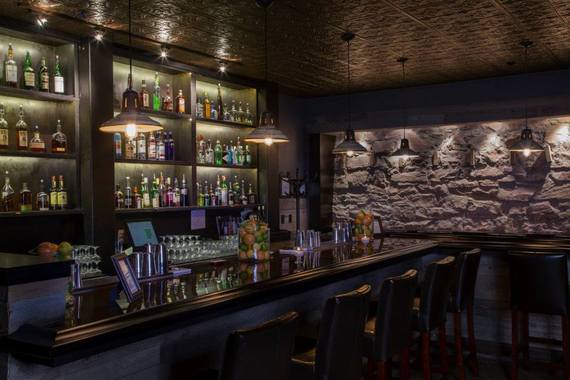 As far as nightlife, Park City has only two places to go if you don't feel like drinking at a faux Irish pub. O.P. Rockwell (pictured above) is one-part swanky speakeasy cocktail lounge, one-part cozy stonewall lodge and one-part live music venue. Pretty much the only place in Park City that's aiming for an Aspen-level nightlife experience. If you want to suit up with a liquor jacket earlier in the day, High West Distillery and its craft whiskey is another local hotspot popular with the aprés ski set.
Of course, you can't really aprés ski unless you first hit the slopes (or can you?). Recently two nearby resorts (Park City and Canyons) joined forces to becomes the largest single ski resort in the country. This means one ski lift ticket gets you twice the celeb sightings. Catch Ryan Gosling, Orlando Bloom and James Vander Beek -- if you can! Meanwhile members of the Sundance jury, like director Quentin Tarantino, hang out at the more-upscale Deer Valley Ski Resort where snowboarding is not allowed. Not an Olympic champion when it comes to skiing or snowboarding? Pull a John Stamos and head over to Lofty Peaks Adventures for a day of 007-style snowmobiling.

Now you know where Sundance filmmakers and actors stay, dine, drink, party and ski while in Park City. But perhaps the one place where you're bound to run into a Hollywood A-lister is simply walking down Main Street with its art galleries and charming boutiques. The Falani Gallery features one-of-a-kind originals by the famous landscape photographer who has even-more famous fans, like President Obama. The Silver Queen Fine Art Gallery has the type of contemporary artwork that lures in younger stars, like Emma Roberts and Chace Crawford.
But the ultimate place to see and (get paid to) be seen during Sundance has got to be the makeshift Village at the Lift, a promotional, paparazzi-laden hub that takes over Park City's Town Lift on Main Street. This collection of pop-up shops, restaurants and branded booths, along with the Getty Image Portrait Studio, has attracted the likes of James Franco, Keira Knightley, supermodel Chanel Iman and a ton of other celebs who are guaranteed to show up because they get paid.

This post originally appeared on Confessions of a Boy Toy.