People disappear for many reasons. Some choose to disappear, alone. Many of these soon return. Then again, for those who disappear on their own, there are a host of possible reasons. Maybe they want to avoid domestic abuse, or avoid legal papers being served, or out of control debt.
But about 10 percent of missing persons in the United States never return. They disappear without a trace.
All days are nights to see till I see thee,
And nights bright days when dreams do show thee to me.
~William Shakespeare, "Sonnet XLIII"
With new technologies, it's a new ballgame in the search for missing people; there are always viral search options that can lead to finding someone, such as the National Center for Missing Adults (NCMA). Many people dedicated to searching for missing persons refuse to give up, and there are many paths to take.
Start with the obvious places first by checking the main search engines: Google, Yahoo and Bing. Next, put an ad on Craigslist or in the local paper, and in the papers in surrounding areas where the missing person may reside. Make it easier for others to find you as the "searcher." Post any information about the missing individual on relevant message boards like our Long Lost Family Bulletin Board. You can contact private investigators, but of course they charge to locate missing people. Last but not least, consider building your own web page or social network profile to expose the names of the missing people. Here's one from Spokane Washington looking for a woman named Laurie Partridge.
Unfortunately, if someone disappeared prior to the entire world going online, odds seem to drop significantly. All that's left is patience, hope and luck.
Where is Francis Wetherbee?
"The Teller and The Truth," my latest film project, brings the challenge of finding missing persons to life. "The Teller and The Truth" chronicles the never ending search to find Francis Wetherbee, a bank teller who disappeared in 1974.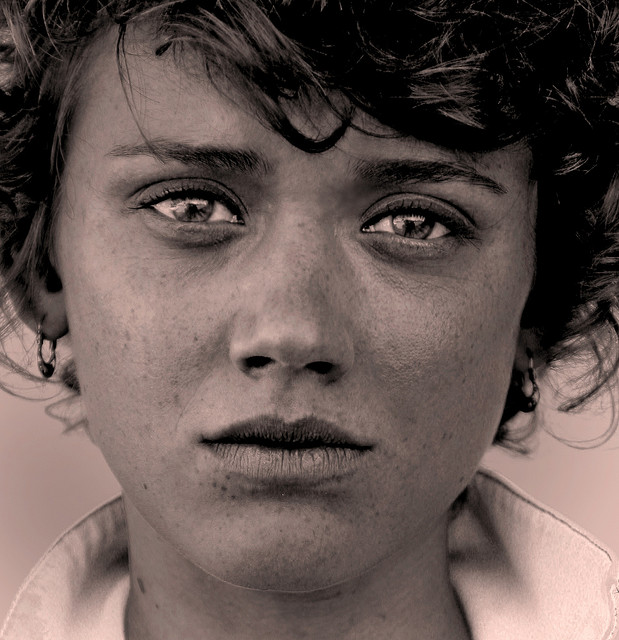 She was a teller from a small bank in her hometown of Smithville, Texas and she is the subject of my photography mentor, Paul Amos McQueen's most memorable portrait. It hung on his studio wall for years. I lost count of how many times he told me her story. He photographed thousands of people over three decades but said he'll never forget the girl with the curly hair and hazel eyes. "She was always energetic in front of the camera, but on this day something was very unusual. She sat motionless and quiet as if she was somewhere else. It wasn't the Francis I knew," he said.
I asked why she would allow him to take this photo when she was clearly upset. He replied, "I don't know why she was upset. I asked her if she wanted me to stop but she said 'no no keep going' so I did. That's when I took this shot. I had no idea it would be her last photo ... but maybe she knew."
Just a week before this photo was taken, Francis was taken hostage during a robbery at the bank. She was eventually rescued. Just one week after my uncle took this portrait, she disappeared and was never seen again.
According to police reports, she was last seen leaving her job at the bank on December 30th, 1974. There was no sign of foul play. No goodbye note. No evidence or remains were ever found.
Still to this day, there are so many unanswered questions surrounding her disappearance. I can't get her eyes out of my mind because there is a story in her facial expression.
The story of Francis is dedicated to organizations like the NCMA. Francis represents the many missing faces who have loved ones still searching for them today. Loved ones still searching for answers, still looking for clues, still hanging on to hope.