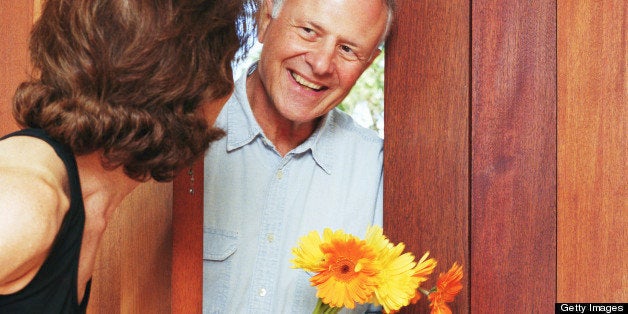 Dating after divorce has been described to me as "a nightmare," something that "sucks," "not fun," and "I feel like I'm in hell." Remember the famous line from the Newsweek article in the 80's? "Women over 40 are more likely to be killed by a terrorist than find a husband." Well, help from Jackie has arrived! Here are 5 ways to meet someone after divorce. These come from personal experience, as well as the experiences from many, many men and women dating after divorce.

1. Dating Websites: I have to be honest, I have never joined a dating website, so I can't speak from personal experience. But, I can't count the number of couples who have met on these sites. Almost everyone I know! So, it's got to be a good way to meet people. Here's the catch. You have to be patient and it's a numbers game.
I compare going on Match.com or other sites to shopping at Loehman's. In other words, you have to sift through some crap to get to a real gem. You have to try on 25 sweaters before you get that beautiful Michael Kors sweater that was originally $110, which you found for $19. Get the analogy? I think there are liars, married people who are cheating and some real slime balls who join these sites. BUT, there are also countless wonderful, normal people who like you, just want to meet someone. Just be careful. And, if I was going to go on a date with someone I met online, I would drive myself and meet in a public place.
2. Professional matchmakers: I recently did a feature story for the Pioneer Press on a Winnetka based matchmaking service called North Shore Match. Suzy and Amy, two lovely women personally set you up on dates. They don't use pictures or computers, they meet every single client in person. They don't have any formula for set ups, they just go with their gut. So, it's sort of like your friends setting you up! Look into personal matchmaking!

3. Networking: This is one thing I feel I am an authority on, because I did it! Here are your explicit instructions. If you want to meet someone, ask EVERY SINGLE PERSON you know to fix you up. Your friends' husbands, people you work with, your hair stylist, boutique owners, people in your community. You will not appear desperate, I promise!
Here's the thing. No one is thinking, "Hmm...I should set so and so up." So, you have to MAKE them think about it! Casually say, "By the way, do you know any single men who might be interested in dating?" Don't say, "I can't meet anyone to save my life!" Just say, "I'm single and I think I'm ready to date." If they have that in the back of their mind, next time they see that cute, single mom or dad, they will think of you!

4. Platonic friends of the opposite sex: Picture this. Your friend sets you up on a blind date and you walk in and see the guy. You immediately say to yourself, "No way." First of all, DON'T do that!! Several years ago, (before I was married) I did that, but by the end of the night, I was gaga over this guy, because his personality made him VERY attractive. So, keep an open mind!
That said, if you really aren't attracted to the guy (or woman), don't write him or her off completely. Try to become friends. He or she will most likely have divorced friends. Be honest at the end of the night and ask your date if he or she would like to be platonic friends with you. Even if the person is disappointed, there's something in it for them, because you could set him or her up with one of your friends. Friends of the opposite sex offer so many gifts! You get valuable insight into the mind of the opposite sex, you might make a really good friend and your friend might end up setting you up with your soul mate!
5. Always Look Your Best: Whenever you leave the house, make sure to look the best you can. It takes just as long to throw on your old, holey jeans and tennis shoes than it does to put on a cute pair of Hudson's, sexy sandals and a necklace.
The guy or girl of your dreams might be at the grocery store, or at a gas station (I actually met a guy at a gas station once who I went on 4 dates with!). If you look nice, you will exude more self confidence and it might make the difference of being noticed or not. Think about it. would you strike up a conversation with some cute guy if you feel like you look like crap? No way. I'm not saying you have to spend hours getting ready if you are making a Target run, but just look presentable. The odds go up, trust me!
In closing, I have one more thing to say about the best ways to meet someone. No matter how many dates you go on, how many bars you hang out in, how many people set you up, you will never meet anyone of significance if your heart isn't open. Here's what that means:
1. accepting your divorce
2. letting go of anger and bitterness
3. admitting your faults and taking blame for some of the demise of your marriage
4. being your best self, as a parent, a professional and as a person
5. being open minded to new friendships.

Jackie Pilossoph is the author of the blog, Divorced Girl Smiling. She is also the author of the comedic novel, Free Gift With Purchase, about life after divorce. Ms. Pilossoph is a weekly business features reporter for the Pioneer Press, with the monthly column, "Heart of the North Shore." She lives in Chicago with her two kids. And she's divorced (obviously).