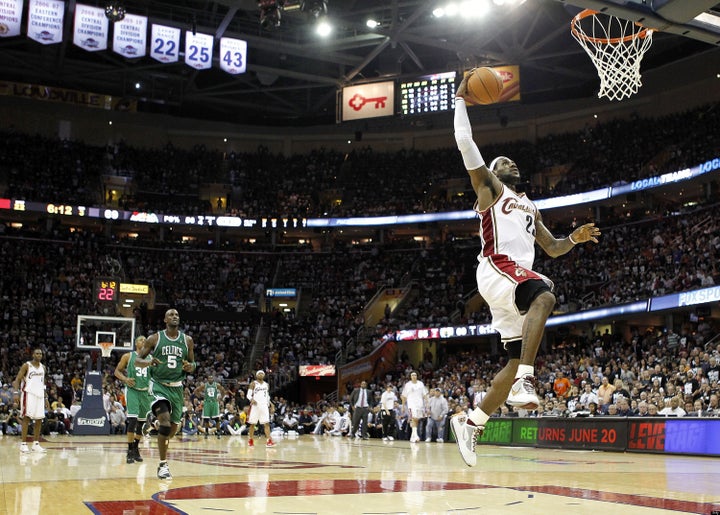 Today is the biggest day in recent NBA history, and no games will be played. July 1st is the day that the NBA changes, and I for one love it.
I know, some people say LeBron-mania overshadowed the playoffs. Maybe it did. But part of the reason I still enjoy sports is because I also enjoy wild, or even mild, speculation. Any speculation will do. But this? This is great. Everyone seems to be 100% sure as to where LeBron will go. They have sources "inside the NBA," "close to LeBron," and "in the King's inner circle." Their sources are impeccable, unimpeachable, and almost certainly, wrong.
On the wild speculation front: Stephen A. Smith, a man who often confuses certainty with volume, said on ESPN that he was "100% sure" LeBron was joining Dwayne Wade and Chris Bosh in Miami. I heard Skip Bayless on ESPN say he thought it was a 90% certainty, and then some other guy debating Bayless said it was also probable that LeBron and Bosh would head to Miami.
Of course, there's zero percent chance of all three playing in Miami. You don't have to have sources, as Stephen Smith says he had, to tell you that LeBron and Wade will not play on the same team. All you need is a brain. LeBron is a big dog and so is Wade, and never in the prime of their careers have two players joined together so that they can sublimate ego and money, and win titles. It doesn't happen. And don't tell me about Gary Payton and Karl Malone joining the Lakers -- they were at the end of their careers. Or about Kevin Garnett and Ray Allen joining the Celtics -- they were nearing the end of their prime.
No, LeBron will not be joining Wade, but part of the fun of July 1st is hearing the outrageous, total certainty of people like Smith and Bayless (and me, saying there's 0% chance).
We can all speculate on what it will be like if LeBron signs with New York, New Jersey, Chicago, Miami or Cleveland, joined by Bosh, Dirk Nowitzki, Carlos Boozer, and who knows, maybe Stephen Strasburg and Landon Donovan.
William Rhoden in the New York Times said that there is only one way for LeBron to create a legacy: he should sign with... the Charlotte Bobcats! Why? I don't know. You'd have to ask William Rhoden.
Let's take a step back: LeBron is obviously the top free-agent. He has three realistic options: Cleveland, Chicago or New York. Dwayne Wade is the other maximum-contract guy, but Wade is most likely to stay with the team he's played with so far, and where he won a title, and that's in Miami.
After that, other players may get maximum contracts because teams are desperate. Chris Bosh is an excellent player, but he has not yet proven to be a franchise player. Joe Johnson is very solid, but fizzled in the playoffs. Amar'e Stoudemire can certainly score, but he has bad knees, eyes, defensive and rebounding skills. David Lee has great all-around skills for a big man, but how much of his scoring was due to playing in Mike D'Antoni's friendly system? Rudy Gay is young, but is he a star and should he be paid like one? Carlos Boozer could have played alongside LeBron forever, but reneged on his deal with the Cavaliers, and went to Utah. He left LeBron. Do you trust that he wants to win?
There are pros and cons to most everyone. Yet many teams have followed the lead of Donnie Walsh and the Knicks and cleared space to sign some big name, and because of that, teams will overpay.
Sure, every market insists that if they do not get LeBron, it'll be a catastrophe. In New York, the papers run daily LeBron-or-bust articles. Basically, the papers have set up a situation where the Knicks have to get LeBron, or it's bust. The team's management never said they were getting LeBron. This is why LeBron may not want to sign with New York; the all-or-nothing made up media situation.
Personally, as a Knicks fan, I'm fine with the Knicks getting LeBron, or not. I'm not looking for the Knicks to become title contenders overnight. I'll take a realistic shot at the playoffs. It's better than what we've had for the last decade; most games, I know the Knicks are going to lose, so why bother watching. I'd like to turn a game and know that the Knicks have a shot.
If LeBron isn't in New York, so be it. Let's move on and build a team. If that means signing Rudy Gay, keeping David Lee, and looking to move Eddy Curry's contract for, say, Monta Ellis, Jose Calderon, or someone else, that's just fine. Build a team that we can watch. Do not overpay. That's how we got into this mess. Don't react to the pressure and throw a max contract at Sebastian Telfair.
Heck, today, Minnesota signed Darko Milicic for $20 million. Darko? I think their GM looked at the draft that produced Wade and Bosh, and said, wait a second, Darko was picked ahead of those guys and he's available? Let's lock him up. But it's really the Wolves GM who should be locked up.
The Knicks aren't going to overspend like that, are they? I'm speculating. And so should you. We have a few weeks to enjoy the madness, and then, soon enough, training camp will be upon us.
The Summer of Speculation will be over. Until next year: Carmelo Anthony?

Calling all HuffPost superfans!
Sign up for membership to become a founding member and help shape HuffPost's next chapter