I have had the privilege of seeing Senator Ed Markey lead on tough environmental issues in the House, in the Senate, here in Massachusetts, and at the recent Paris Climate talks. On both climate change and ocean conservation, he has been our champion.
So when new research announced last week by prominent scientists from the New England Aquarium and the Mystic Aquarium provided compelling scientific justification for the permanent protection of the area around Cashes Ledge and the New England Canyons and Seamounts, two fragile and irreplaceable ocean habitats off New England's coast, I fully expected Senator Markey to be our champion once again.
But the Senator has been disappointingly silent, even as staff for the White House Council on Environmental Quality have tried to preempt the science and undermine our congressional delegation by telling private audiences that the White House won't consider Cashes Ledge for protection as a Marine National Monument at this time.
Its justification for taking this unique underwater mountain range off the monument table? They claim there simply isn't enough support for it.
Frankly, this pronouncement is shocking - because, in fact, there is overwhelming public support for protecting Cashes Ledge and the Canyons and Seamounts. The Administration has chosen to ignore more than 160,000 citizens, more than 380 scientists, 30 faith-based organizations, a former chair of the New England Fishery Management Council, 50 state legislators, 10 education centers, more than 90 New England business owners, and countless others, all of whom have raised their hands and said they want these special places to be protected, permanently.
What's even more shocking, however, is that in spite of this diverse and strong support, not one of our New England Senators has stepped up to publicly endorse a Monument proposal, except for the Connecticut delegation's support for the New England Canyons and Seamounts.
From my own time serving at the White House, I can tell you this: a Senate champion can make it clear to the White House that the public as well as climate and conservation science compel a monument designation that includes Cashes Ledge and the Canyons and Seamounts. Senator Markey has the stature to make it happen.
So, where is New England's ocean champion, Senator Ed Markey? The 2013 recipient of a Peter Benchley Ocean Award for excellence in ocean policy? The senator who, as a House Representative, was called "an ocean champion throughout his career," authoring 12 ocean-related bills and co-sponsoring another 29? The current member of the Subcommittee on Oceans, Atmosphere, Fisheries, and Coast Guard?
As an advocate for the ocean, who would be better to go to President Obama to ask for a Marine National Monument proposal that includes New England's most fragile, special ocean habitats?
It's hard for me to believe that Senator Markey and our other New England congressional leaders - Senator Whitehouse is also a recipient of the Peter Benchley Ocean Award - will stand silent while the region's most precious marine resources fall prey to the mounting threats of climate change, overfishing, resource mining and drilling, and other industrial pressures. Now more than ever we need strong leaders who will not shortchange ocean protection for the short-term interests of a small but vocal fishing minority. Fishermen do not own the ocean.
Today, the stakes couldn't be higher for New England's ocean. The Gulf of Maine is warming faster than almost any other ocean area in the world. This poses a major and imminent threat to our coastal economies, which rely on a healthy and thriving ocean - for hundreds of thousands of jobs and more than $7 billion in marine-related revenue every year.
Four marine monuments spanning hundreds of thousands of square miles have been protected in the U.S. Pacific Ocean, but we have zero here in the Atlantic. Such a lack of basic stewardship would be unthinkable on land. Outstanding ecological treasures in the Atlantic deserve the same kind of protection.
Our ocean has long been a proud part of our legacy and heritage and New Englanders deserve the recognition, and more importantly, the comprehensive permanent protection that comes with a monument designation.
The new aquaria research analyzed years' worth of data, providing a strong and comprehensive analysis that makes a compelling scientific case for protecting these areas. This reinforces the support of more than 380 scientists who called for permanent protection of these ocean treasures.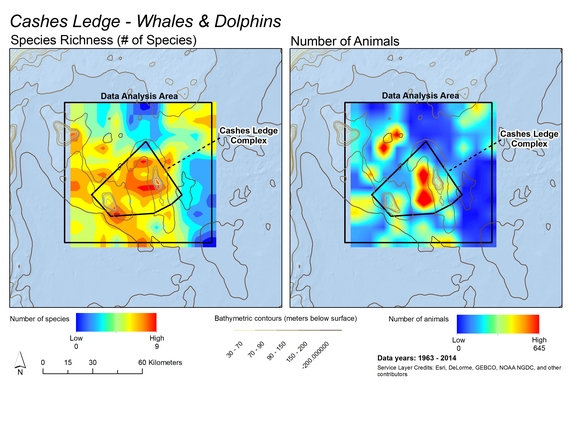 Research by Dr. Scott Kraus and Dr. Peter Auster shows Cashes Ledge is a hotspot for biodiversity, and an important area for marine mammals. Photo courtesy New England Aquarium.
We're glad the new research bolsters what we already know to be true: that the Cashes Ledge area and the Canyons and Seamounts are both critically important - as scientific research areas to understand how climate change is changing our ocean, as hotspots of biodiversity and habitat for endangered whales and other marine wildlife, and because they're incredibly sensitive to human disturbances.
There is no question: Cashes Ledge and the New England Canyons and Seamounts need and deserve permanent protection, immediately and comprehensively.
With science and legions of support on our side, we're calling on our region's senators - and especially Senator Markey - to throw their full weight behind this proposal to fully protect all of New England's ocean treasures.
Thousands of your constituents have called for the Atlantic's first Marine National Monument. Senator Markey: Are you listening?
Calling all HuffPost superfans!
Sign up for membership to become a founding member and help shape HuffPost's next chapter