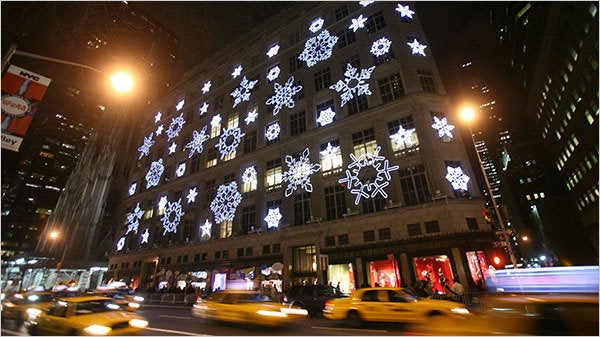 Google "Hannukah Decorations" and you'll come up with only a slightly less lame selection of foil dreidels and plastic menorahs that you'll find stuck in the back corner of your local CVS.
I don't say this resentfully: Jews themselves tend to be ambivalent about their trumped up competitor to Christmas. They don't traditionally "decorate" for it. And it's mostly just in North America that yuppie Jewish parents (of which I am one) get anxious about how envious and excluded their children will feel amidst all the glittering Yuletide greenery. This year is no different, despite the grinchy economic pall that has fallen over retailers. In some ways, the recession will only add to Jewish anxiety -- for once the commercialism and materialism will be subdued, and we will all be implored to remember the "true meaning" of Christmas. Which is the part we Jews are most forbidden to celebrate.
In our house, we try to make our Hannukah as festive as possible. When our now-teenage children were small, I would pile up eight presents for each of them under a date palm in our living room. On the first night, we would blast Handel's "Judas Maccabeas" over the sound system. I discovered that Julia Child's "grated potato galette" made for a much tastier and crisper latke than the traditional soggier recipes -- especially when accompanied by crème fraiche, salmon roe, and champagne for the adults. Together we'd light the first candle in my husband's inherited menorah, after which the children would dive at their pile of presents and search for the package marked "One." Their remaining gifts were labeled for the subsequent nights of Hanukkah, to be opened after the evening candle lighting. It was lovely but, well, unfailingly mediocre compared to what they saw taking place in the homes of their non-Jewish friends.
Fortunately, children are natural chauvinists about their own customs. For a long time they could be persuaded that the guarantee of eight presents over as many nights was more fun than a single morning of ripping open gifts. And -- full disclosure -- since I am a convert, there was always the back-up of "Christmas at Grandma's" which would satisfy their desire to decorate trees and believe in Santa.
Still, the children would pester us to expand our Hannukah celebrations to include decorations, games, and even lights (they knew better than to push for a tree). One year, a pathetic string of light-up plastic menorahs made it onto the date palm. They were good sports about spinning the dreidel, even when they didn't know the official rules of the game. They obligingly ate the bags of chocolate gelt that had not been accidentally mixed in with the stale ones from the previous year. And their father didn't mind if I played jazzy Christmas tunes alongside the klezmer, because who, after all, wrote these tunes?
Then, suddenly, a miracle happened. No, the crummy menorah candles that melt all over the windowsill did not burn for eight straight nights. Rather, this year, for the first time, my husband caved in to our 15-year-old son's irrefutable argument that a "festival of light" should be a FESTIVAL. OF. LIGHT.
At last I'd been given license to unleash my inner goy.
But to what end? After surfing such websites as "bargainjudaica.com," I discovered that if I did not want to go the foil dreidel route, my only other choice was to launch a giant inflatable menorah on our front lawn (Where is the Jewish Martha Stewart?!). So I gave up on the internet and drove to our local plant store. I returned an hour later, my trunk laden with evergreen boughs, pine roping, ivory pointsettas, blue ribbon and silver pinecones.
For the rest of the afternoon, I fussed on the back porch with recalcitrant spruce branches and florist wire. My husband poked his head out a few times, suspicious of what I was up to.
"Go away, " I snapped, just as my mother used to do when she had to deal with tangled strings of lights and our tinsel wars. Hadn't I always felt that my conversion to Judaism liberated me from this annual hassle?
"I'll call you when it's done," I said a little more patiently. "It's a surprise."
Finally it WAS done. I presented my husband with a wreath shaped like the Star of David, complete with a blue silk bow, silver pinecones, and twinkly white lights.
"Really? You don't think it's too--?"
"No!" He examined it admiringly. "Actually, there's nothing intrinsically Christian about greenery," he allowed. "The custom is originally Druidic. In fact, if you go back to Roman times..." He proceeded to give me a thoroughly Talmudic explanation about why my wreath conformed to the highest Rabbinical authorities -- one with which our own conservative Rabbi agreed when I later put it to him.
Now our mantles are decked out with spruce, poinsettias and ivory candles. The Star of David sparkles on our front door. I'm eyeing running blue and white lights through our bushes. This year (as another first) we are planning to hold a Hannukah party -- mainly as a fundraiser for our synagogue. When guests arrive, they'll be served a Maccabee Martini (gin mixed with blue curacao -- a liqueur discovered and manufactured originally by a Jewish family).
Who says Jews can't adapt the customs of their surrounding communities without surrendering their Jewish identities?
After all, we've been doing it for thousands of years.
TO MY JEWISH READERS: Please share the ways you decorate for and celebrate Hannukah! Below is my "Hannukah Wreath."