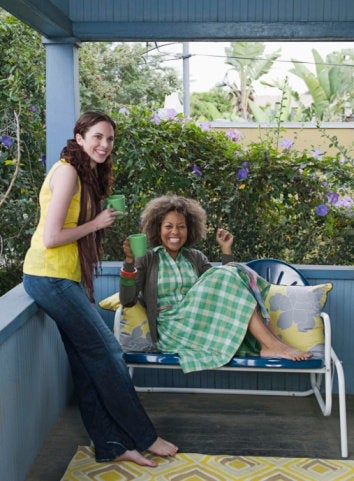 Given the high caliber of so many scripted drama series on basic cable these days it may be asking too much for the press to show big love for VH1's Single Ladies -- a simple show that seeks only to entertain -- but how about a little "like"? This sexy primetime soap about the personal and professional lives and loves of three upscale women in Atlanta (where the series is filmed) may at times be lighter than air, but the same can be said of many of the books, reality television programs and movies that pass for summer escapist fare, and they all have their strident supporters in the media and elsewhere.
Single has been compared to the modern scripted classic Sex and the City and the current unscripted hit The Real Housewives of Atlanta, but similarities to either are slight at best. Even at its most outlandishly materialistic, there was a realistic feel to Sex that is largely absent in Single, perhaps because Atlanta is not used in Single to the same advantage that Manhattan was in Sex. (I've got to note, however, that the daytime and nighttime establishing shots of Atlanta that punctuate so much of Single are breathtakingly beautiful and on their own may encourage tourists to visit The ATL.) Also, the primary characters in Single tend to live very well; not as well as characters in those fondly remembered primetime serials of the Eighties, but a step or two up from the women of Sex and the City, at least when we first met them early in that show's run. As for the inevitable (and lazy) comparisons to the Atlanta Housewives, even with their fantasy lives the women in Single seem far more identifiable in their personal searches for love and fulfillment than the women in Housewives in their desperate bids for stardom.
Continuing with comparisons, while the relationship-driven and romance-challenged characters in Single may not be as well-developed as those in Sex and the City or as bombastic as those in the Atlanta (and other) Real Housewives franchises, they are a lot more fun to be around than the relationship-obsessed and romance-challenged characters in many of the new broadcast sitcoms set to debut this fall. (That's all I will say about any of those at this early stage, as I presume most of them are undergoing significant changes from their pilots.)
To continue this column, please go here.

Calling all HuffPost superfans!
Sign up for membership to become a founding member and help shape HuffPost's next chapter