The bloody fist of the war in eastern Congo smacks me in the face every time one of these press releases comes in. I swear and say, "Not another," and want to ignore it, but some crazy notion hangs on that if one keeps writing it might make a difference. I am, however, filled with doubt and despair.
Bloodshed continues in DRC, while celebrities focus on rape victims in Bukavu and do not look into the involvement of the Kabila government, its collusion with Rwanda, and its continuing supply of arms and ammunition to the FDLR, which it claims to be fighting. The rape hospitals in Bukavu could not operate without the OK of the Kabila regime. It is Kabila's own soldiers who are willingly providing the patients for these hospitals and the western world looks away from this fact. Rape is always a good story. Kabila cannot stop his own troops from committing atrocities and appears to be encouraging them. This is a complete and utter breakdown of a country that does not have Twitter and social networking at its disposal to expose the reality of this convoluted, hellish mess.
Human Rights Watch (HRW) reports today that the United Nations-backed intensified military operations in eastern and northern Democratic Republic of Congo (DRC) have failed to protect civilians from brutal rebel retaliatory attacks. Congolese civilians are being attacked by those sent to protect them. HRW executive director Kenneth Roth says that the Congolese army (FARDC) and rebel forces (FDLR) have killed more than 1,500 civilians, raped thousands of women and girls, abducted hundreds of adults and children, and burned to the ground thousands of homes and "sometimes entire villages."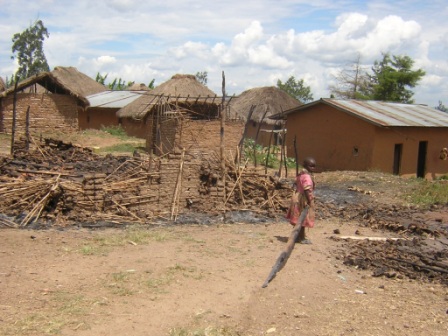 Image: HRW
The Congolese government's military operations have been a disaster for civilians, who are now being attacked from all sides. Congo and the UN need to take urgent measures to protect people and keep this human rights catastrophe from getting even worse. Congolese army soldiers have also committed war crimes against civilians. Soldiers have deliberately attacked civilians whom they accused of collaborating with the FDLR, raped women and girls, looted, unlawfully forced civilians to act as porters, and torched homes in villages that they claim harbored FDLR supporters.
In January 2009, after Rwanda arrested Tutsi Rebel Leader Laurent Nkunda, Rwanda conducted an aborted joint military mission with the Congolese government. Operation "Umoja Wetu" was supposed to disarm the FDLR Rwandan Hutu rebel remnants of the 1994 genocide, but proved instead to be a spectacular failure when Rwanda abandoned the exercise prematurely. Wanted war criminal Bosco Ntaganda is now a general in the Congolese army and involved in military operations in eastern Congo. "To allow these troops to be led by commanders like Bosco Ntaganda, with a known track record of horrific abuse, creates a climate in which atrocities flourish," Roth said.
Rwanda engaged in a secret agreement with the Congolese president Joseph Kabila to depose Nkunda and install Ntaganda in January.
Why? For approximately four years Nkunda had erected a wall of protection for ethnic minorities and had also made significant military gains in territory and weapon seizures from the FARDC. Kabila was rapidly losing territory and support and turned to Rwanda to neutralize Nkunda. Rwanda was happy to oblige, since the rebel Tutsi leader had become too popular and too independent. The results of the betrayal of Nkunda and the failure of "Umoja Wetu" have been catastrophic.
Since January 2009, nine Human Rights Watch fact-finding missions to frontline areas found a dramatic increase in attacks on civilians and other human rights abuses in Lubero, Rutshuru, Masisi, and Walikale territories in North Kivu, Kalehe and Shabunda territories in South Kivu, and Haute Uele district in northern Congo.
On one hand the United Nations admits that more than a million people have fled their homes. But, in a press release that is simply mind-blowing and in complete contradiction to reality, MONUC (UN Mission in Congo) reports that the fifteen member UN Security Council members who visited the Kivus in May said "they were impressed with the progress achieved in the province."
This was posted the very day that Turkish diplomat Baki I`lkin sent the Interim Report of the Group of Experts on the Democratic Republic of the Congo to the same United Nations Security Council, detailing a possible disintegration of the Congolese army and a region that appeared on the brink of collapse. The Security Council delegation reported that victims of the Kiwanja Massacre were "smiling." This kind of spin by the United Nations Mission is heinous in its duplicity.
I Baki I`lkin's report has proven to be prophetic. HRW confirms it.
In Kalehe territory in South Kivu, soldiers who had not been paid for five months are regularly pillaging, looting, and extorting the civilian population. On June 15, government soldiers, angry because they had not been paid, tried to kill their commander and then attacked a UN base in Pinga, North Kivu. On June 17, more than 30 armed soldiers who had not been paid deserted in Ngora, Walikale territory.
HRW and other groups have been screaming about the military failure and its impact upon the civilian population of eastern Congo for months. The 27 page Interim Report supports what HRW, OXFAM, CNDP remnants, humanitarians, informants, and others have been saying. The report also details something new and worrisome--massive airlifts of arms and ammunitions to the Congolese military (FARDC) through Khartoum, Sudan.
There are really two "fronts" in eastern DRC. The Lords Resistance Army (LRA) whose leaders are wanted by the International Criminal Court for war crimes and crimes against humanity committed in Uganda, are currently in northern Congo. Human Rights Watch reports abductions of children and adults have increased, concluding that the LRA is attempting to replenish its ranks. Slave soldiery, if you will.
FDLR and LRA combatants are responsible for the great majority of killings of civilians documented by Human Rights Watch. Both armed groups are deliberately terrorizing and punishing civilians and attacking their property as a military tactic in retaliation for Congolese government military operations. Those who committed or ordered such attacks are responsible for war crimes. On May 10, for example, FDLR combatants brutally massacred at least 86 civilians, including 25 children, 23 women, and seven elderly men at Busurungi, in the Waloaloanda area of Walikale territory, North Kivu. Twenty-four others were seriously wounded. Some of the victims were tied up and executed; others were shot or their throats were slit by knives or machetes as they tried to flee. A number of people were burned to death when FDLR combatants deliberately locked them in their homes and torched the village.
In an attack on an FDLR position in Shalio, near Busurungi, in late April, Congolese army soldiers (FARDC) killed an unknown number of FDLR family members and Rwandan refugees. This possibly led to the brutal May 10 reprisal attack by the FDLR on Busurungi, HRW reports.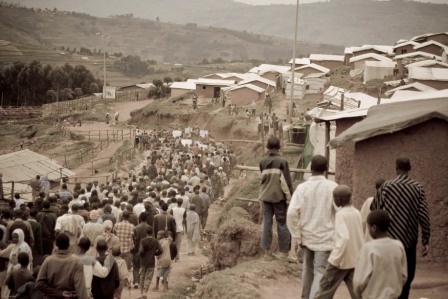 Image:Refugees in Rwanda demonstrating for release of Nkunda in January 2009 © Ilona Jablonski
The atrocities are endless, and Rwanda is still getting a free pass in international media while 50,000 Congolese Tutsi refugees languish in camps in Rwanda and clamor for the release of their "protector," Nkunda. Nkunda is trying to gain his freedom (he has no charges against him) and no one is allowed to interview him. We sent a formal request for an interview last week which appears to have been denied.
REAL LIFE. REAL NEWS. REAL VOICES.
Help us tell more of the stories that matter from voices that too often remain unheard.