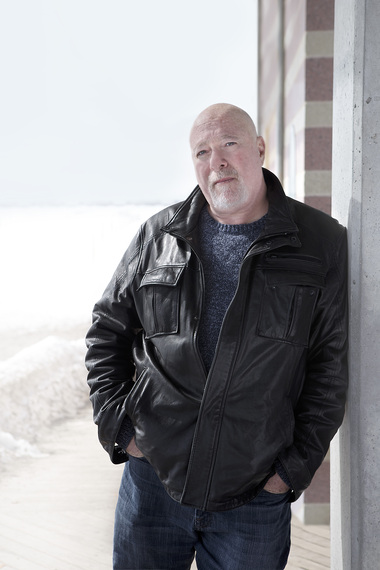 Reed Farrel Coleman, known to thriller lovers everywhere, is the author of the New York Times-bestselling Robert B. Parker's The Devil Wins, in addition to having written twenty-two other novels. Because of his writing style, he's been dubbed a "hard-boiled poet" and the "noir poet laureate". He's received the Shamus Award three times for best detective novel of the year, and has also won the Barry Award and the Anthony Award, in addition to being a three-time Edgar Award nominee. His books include nine novels in the Moe Prager series.
Where It Hurts introduces us to a new protagonist, Gus Murphy, a retired Suffolk County cop. Gus thought he had the world figured out until tragedy struck: his son died suddenly. Gus's marriage fell apart; and now he's divorced and works as a courtesy van driver for a run-down hotel on Long Island. His life is one of mindless tedium until an ex-con, Tommy Delcamino, asks him for help: Tommy's son has been murdered and he feels Gus is the only person he can trust to uncover what happened. Gus agrees to investigate, and is soon ensnared in a web of secrets more extensive than he could ever have imagined, one even threatening his own life.

Where It Hurts begins with Gus Murphy in a terrible place: his son has died; his wife betrayed him; they're now divorced; and his daughter has serious problems. What made you begin a new series with the protagonist in such a dark place?
I think the darker the place a novel starts, the more interesting the possibilities for the series.
Did Gus's predicament affect you as you were writing about his troubles?
Every protagonist about whom I write affects me because I'm living his plight emotionally. I think that's why people respond to my work.
I must say Gus's voice was so authentic.
Thank you. I take that as high praise. I've been told I have a very strong authorial voice. That comes from the fact that I don't separate myself from my protagonists. I invest myself emotionally in their lives. The emotions they feel are mine. Many other authors write differently, but that's the only way I know how to do it.
It's difficult to imagine you having written Where it Hurts without having been deeply affected by it.
Yes. I can't read the first three pages of the book without crying. The only way I can write well is by putting myself in my characters' shoes. Not only in a protagonist's, but in the antagonist's, too. It's quite draining, but I wouldn't trade it for anything.
Throughout Where It Hurts, I was very impressed by your description of Gus's bereavement process and its variations. You made it so real. You certainly had your finger on the pulse of grief. Will you talk about that?
Many people who've read the book have asked if I've had tragedy in my life. While my parents died at ages we would now consider fairly young, fortunately I've not suffered the kind of tragedy Gus has.
I think a writer's job is to be an observer and a sponge. I've been around people who have suffered all sorts of tragedies. So, I absorb those experiences of other people, and pour those feelings onto the page. "Writing as art" is often dismissed for genre writers. The assumption is if it's a mystery or thriller, it's formulaic; it's fluff. I defy anyone who reads this book to conclude it's fluff.
Throughout the book, it's clear Gus is on a journey of self-discovery. Will you talk about a character's evolution through the course of a novel, and within a series?
Oh, absolutely. I was influenced by the classic private-eye novels: Philip Marlow, Sam Spade, and the others. But the flaw I found in those characters was they were static. They didn't evolve. They remained who they were. One happy client walked out of the P.I.'s office, and the next one walked in.
That worked in 1940, but it didn't work for me. What interests me as a reader and writer, is the evolution of a character. In the Moe Prager series, the first book takes place in 1978 and the last book in 2013. Through the course of nine books, Moe ages; gets sick; divorces; and has different businesses. None of us are the same as time moves on, so I love watching my characters change over time.
With Gus, when his son died, he was a good guy who always did the right thing because it was the right thing to do. By the end of Where It Hurts, that's not quite the same Gus Murphy anymore.
Throughout the novel, Gus makes many observations about the human condition. Will you discuss how this relates to the crime novel genre?
I contend that mystery or crime fiction is perhaps the best platform to discuss the human condition. Crime is essential to this genre, and when there's been a violent crime, people are at a heightened level of humanity--either good or bad. It's like wartime. That's why war novels are often great reflections of humanity. And of course, Gus is a cop. Like writers, cops are always observing. Now, because of his son's death, Gus has a heightened sensitivity about his own humanity. He's seeing a therapist, so he's paying close attention to the world around him in an emotional sense.
Where It Hurts has been praised by Pat Conroy, Michael Connelly, Jeffrey Deaver, Linda Fairstein, C.J. Box, Nelson DeMille, among others. They describe Where It Hurts as "modern noir" with "hard-bitten lyricism." Who are your writing influences?
Everything I read influences me. I'll never stop being influenced by what I read. If I had to pick a few authors who've influenced me, I would say they've been Dashiell Hammett, Raymond Chandler, and my more modern influences, include Peter Spiegelman, Daniel Woodrell, Megan Abbot, Philip Kerr, Dennis Lehane, George Pelecanos, and Lawrence Block. But I can just as easily read a book by a first-time author and find it influences me. I must repeat, for me, the list of influences is never long enough.

If you weren't a writer what would you be doing?
(Laughter) That's a difficult question because I've had many jobs. My favorites...I'd either be working in the cargo area at Kennedy airport, or driving a home heating oil delivery truck.
Why those two?
I worked in the cargo area at Kennedy for five years, and I'm sure you saw Goodfellas. I worked with those guys. It was like working in the Wild West. And, I loved driving an oil truck. It gave me some of the same things writing gives me: I was alone and had time to think. No boss was bothering me, and I could measure myself as a person and as a man.
What's the most important lesson you learned about writing?
The most important lesson is there's no such thing as wasted writing. The more I do--even at this stage of my life--the better I get.
What do you love about the writing life?
I love the independence. I love not having a boss. I love the discipline of it. Growing up, I was an undisciplined quitter. I love the discipline of having to write every single day. I write seven days a week, and if I can, three-hundred sixty-five days a year.
Looking back, is there anything about your own journey as a writer you would change or do differently, if you could.
I have some regrets, but I know enough about how things work that if I changed anything in the past, I wouldn't be where I am today. And I'm in such a good place now, I would be a fool to want to change a thing.
Do you ever procrastinate?
It's against my religion. (Laughter). Even as an undisciplined kid, I never procrastinated. I was always the first kid in class to give a speech when no one wanted to do it. I always felt waiting caused me more anxiety than doing something I didn't want to do. I'm still that way.

You're hosting a dinner party and can invite any five people, living or dead, from any walk of life. Who would they be?
I'd invite Moses, Jesus of Nazareth, Marilyn Monroe, T. S. Eliot, even though he'd hate being with so many Jews. (Laughter). And then I'd invite my grandfather. He apparently loved me, but I don't remember him. He died when I was very young.
What's coming next from Reed Farrel Coleman?
I'm just finishing a sequel to Gus Murphy's story.
Congratulations on penning Where it Hurts, a riveting and heart-wrenching crime novel that speaks to many things, among them the nature of duplicity, evil, conscience, and the quest for meaning in a world gone wrong.

Mark Rubinstein's latest novel is The Lovers' Tango