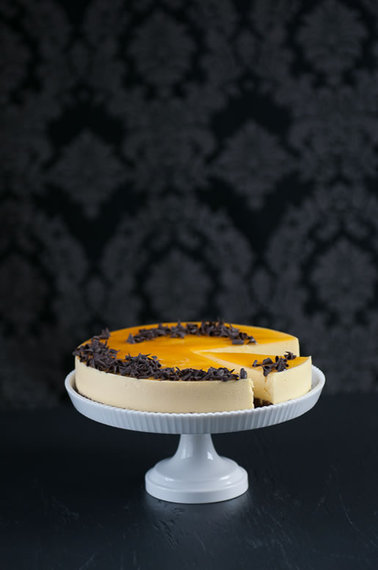 About three months after M and I dated, he said what we all want to hear in a relationship, "I love you." Yet, I felt like I was woken in the middle of the night or stuffing my face with doughnuts and unable to speak. All I could manage was "Ummmm, too."
I knew I was falling in love with him, but I had a hard time saying it back to him. Was it too soon? Did I not want to commit? Is there such a thing as the right moment to express your love?
I finally reciprocated a few weeks later, somewhat more articulate. (A Virgo cannot be rushed.) I sense it's partly due to my Chinese upbringing -- we don't verbally express our love as freely and often as the Western culture. I've gotten more expressive over the years, but when it comes to love, I'm more about actions rather than the verbal expressions.
When you share your life with someone, the most mundane gestures are the heart of the matter. The daily rituals -- folding laundry, cooking dinner, gently caressing, sitting side-by-side in comfortable silences -- give shape and meaning to the relationship. When you stand back, it's the totality of time and experience that provide the full dimension of love.
As Valentine's Day approaches, I offer this cake to M, the person that kept me sane, grounded, and loved. The chocolate shavings might seem random, but the heart/love is there if you spend the time to search for it.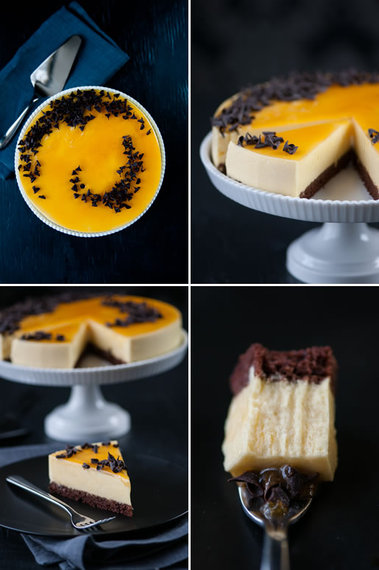 Passionfruit Mousse Cake
yield: one 8-inch cake
Ingredients
1 ounces bittersweet chocolate, finely chopped
1 tablespoons Dutch-processed cocoa, sifted
1/8 teaspoon instant espresso powder
2 tablespoons boiling water
1/2 cup (2-1/2 ounces) unbleached all-purpose flour , plus additional for dusting cake pans
1/4 teaspoon baking soda
1/8 teaspoon fine sea salt
3 tablespoons (1-1/2 ounces) unsalted butter, softened
1/4 cup (1-3/4 ounces) granulated sugar
2 tablespoons (about 1 ounce) packed light brown sugar
1 large egg, room temperature
1/4 teaspoon pure vanilla extract
3 tablespoons sour cream, room temperature
Directions
1. Adjust oven rack to lower-middle position; heat oven to 350℉. Combine chocolate, cocoa and espresso powder in small bowl; pour boiling water over and let stand to melt chocolate, about 30 seconds. Whisk until smooth; set aside to cool slightly.
2. Spray one 9-inch-round cake pan with nonstick cooking spray; line bottoms with parchment rounds. Spray paper rounds, dust pans with flour, and knock out excess. Combine flour and baking soda in a small bowl, set aside.
3. In a large bowl, beat butter, and both sugars with hand mixer until until mixture is light and fluffy, about 3 minutes, scraping down bowl with rubber spatula as needed.
4. Reduce speed to medium, add egg and beat to combine. Reduce speed to low, add vanilla and cooled chocolate mixture, then increase speed back to medium and beat until combined, about 30 seconds, (batter may appear broken).
5. Add dry ingredients in 3 additions, alternating with sour cream (in 2 additions), beginning and ending with dry ingredients, and beating in each addition until barely combined. Stir by hand with rubber spatula to finish mixing batter, scraping bottom and sides of bowl, to ensure that batter is homogenous. Pour batter into prepared cake pan; spread batter to edges of pan with a small off-set spatula and smooth surface.
6. Bake cake until toothpick inserted into center comes out clean, about 20-25 minutes. Cool in pans 10 minutes, then invert cakes onto greased wire rack; peel off and discard paper round. Cool cake to room temperature, about 1 hour.
7. Slice cake horizontally to yield a 1/2-inch cake layer. Trim and place the cake layer in the bottom of an 8-inch cake ring or a 8-inch spring-form pan. Set aside.
Ingredients
1/4 cup cold water
4-1/2 teapoons unflavored powdered gelatin
1-1/2 cups passion fruit purée
1/2 cup (3-1/2 ounces), plus 1 tablespoon granulated sugar, divided
2 teaspoons fresh lemon juice
Pinch of fine sea salt
1-1/2 cups heavy cream
Directions
1. In a small bowl, add cold water and sprinkle gelatin over the top, set aside and let stand for 5 minutes.
2. In a medium saucepan, warm passionfruit purée, 1/2 cup of sugar, lemon juice and salt until sugar dissolved. Add gelatin and stir to dissolve. Remove from heat, pour mixture into a large bowl and let cool to room temperature, about 15-20 minutes.
3. In the bowl of a stand mixer fitted with a whisk attachment, beat heavy cream to soft peaks on medium speed. Add remaining 1 tablespoon of sugar gradually and beat to medium peaks. Stir 1/4 of the whipped cream into the cooled coconut mixture, then fold in the remaining whipped cream until well combined. Pour passionfruit mixture into prepared cake base, leaving at least a 1/4-inch below the rim of cake ring. (you may have extra mousse) Smooth top with metal spatula, cover with plastic wrap and refrigerate for at least 3 hours. (Freeze for 2 hours if you are in a hurry).
Ingredients
Passionfruit Mousse Cake
6 tablespoons apricot jam
1-1/2 teaspoons lemon juice
1 teaspoon Grand Marnier
1/2 cup bittersweet chocolate shavings (optional)
Directions
1. In a small saucepan, combine apricot jam and lemon juice and warm on medium-low heat until it's combined and in liquid form. Remove from heat and stir in Grand Marnier. Set aside and cool slightly.
2. Remove cake from refrigerator, pour apricot mixture over a fine mesh strainer on top of cake (make sure apricot mixture is cool or it will melt the mousse). Refrigerate until set, at least 30-40 minute.
3. Place cake, still in ring mold, on cake stand or serving platter. Wrap warm towel around ring and let stand for a minute. Slide ring up and off the mousse cake. Decorate with chocolate shavings, if use. Serve.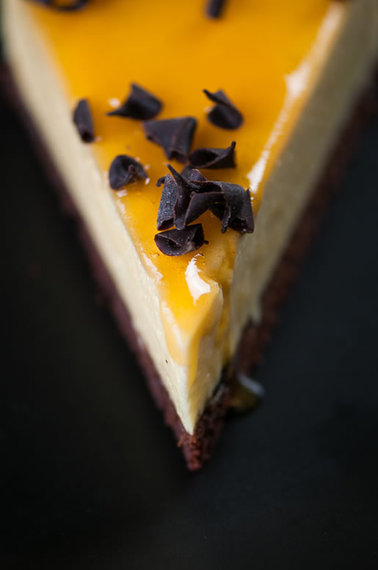 Related