There's a magical quality about movie stars from the Golden Age of Hollywood. As part of the studio system, women would receive complete makeovers and regular beauty regimes to match up with the reputation the studio wanted to build around them. If a young hopeful was signed, hair and makeup were paramount to her success. A lion's share of those glamour gal makeovers took place at the Max Factor Building, which is now a must-see museum at North Highland and Hollywood Boulevard.
A classic film buff, I was determined to add this museum to my itinerary on my recent trip to Hollywood. From the moment I entered, I was greeted with Art Deco grandeur. Bathed in pink, the great room features marble and gold columns, built-in shelving lined with memorabilia, and vitrines filled with vintage Max Factor beauty products and paraphernalia.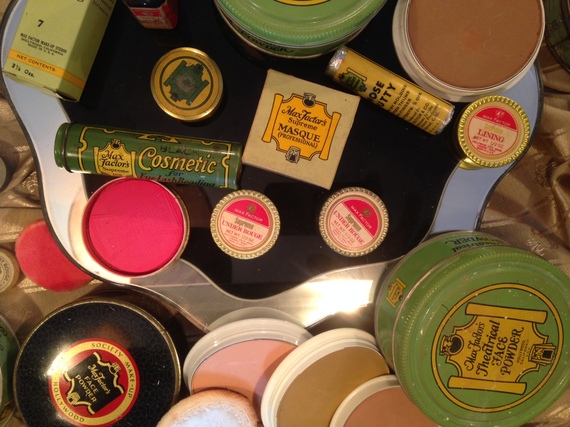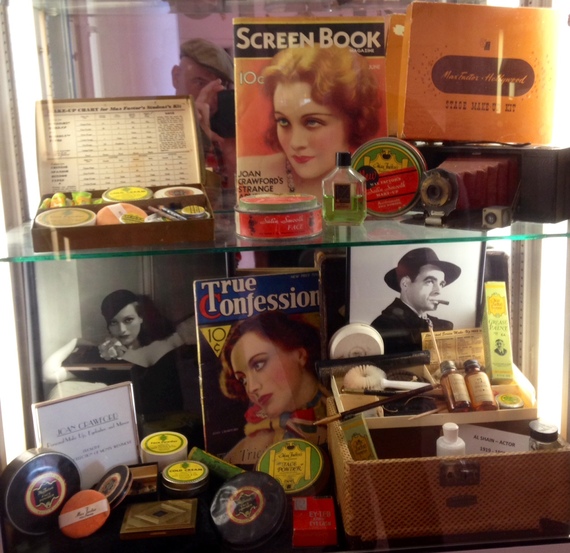 Blondes to the Left, Redheads to the Right
Beyond the impressive lobby are four beauty chambers labeled: "For Redheads Only," "For Blondes Only," "For Brunettes Only," and "For Brownettes Only." While some entered to have their hair and make up aligned, others were completely transformed.
Most people know that one of Hollywood's most famous redheads, Lucille Ball, was actually not a redhead at all. She became one at Max Factor. It's also where Marilyn Monroe went from 'brownette' to blonde.
Each room contains photos of stars that got the Max Factor treatment, and while all four are fantastic, I really loved the "Redheads Only" chamber. Photos of some of my favorites, including Barbara Stanwyck, Ann Sheridan and Rita Hayworth lined the walls. Of course, Lucille Ball took center stage. While many Hollywood stars became redheads at Max Factor, Lucy was probably the most famous in that both her overall hair color and make up combination was created here.
To add to the fun, a 1950s TV set plays the famous "Vitameatavegamin" episode of I Love Lucy on repeat, and an original setting of Lucy Ricardo's china (Franciscan's Ivy pattern) is on display. On another screen, footage of Lucy holding court as head of Desilu Productions shows her looking lovely as a businesswoman.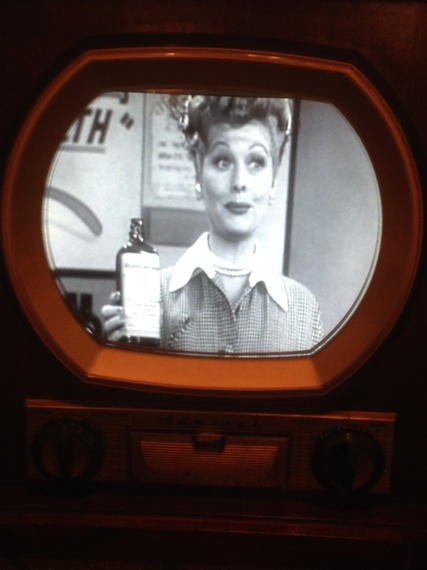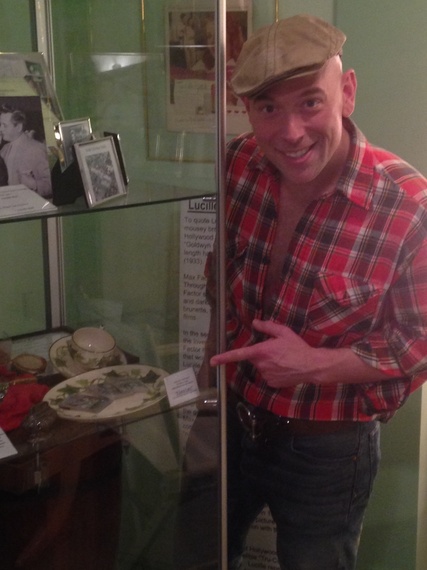 The "Blondes Only" chamber includes a bustier worn by Marilyn Monroe in How to Marry a Millionaire and an article revealing her beauty secrets. There's also a contraption known as the "Beauty Micometer," which looks like something out of a futuristic torture chamber. It is a helmet of sorts that was designed to assess a woman's face from all angles and contours. Because the screen could easily magnify any flaw, this device sought to seek them out and offer makeup solutions for them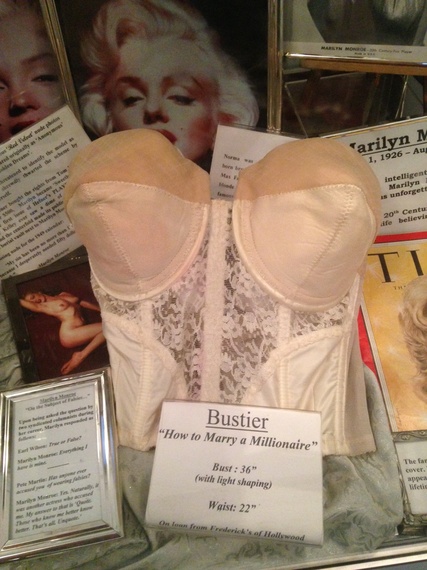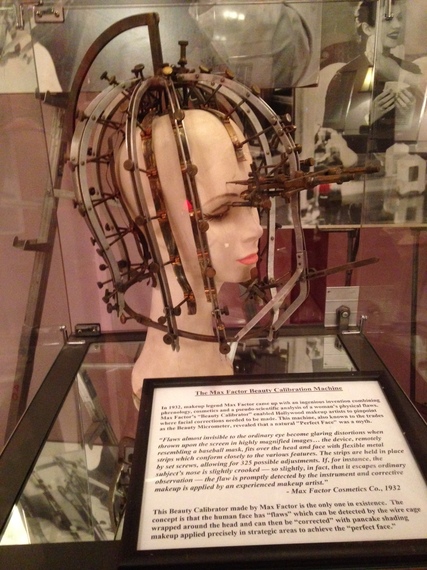 A Brief History on Max Factor
Just as with any museum visit, this trip gave me the opportunity to learn about history, invention and inspirational people. Until I visited, my only association with Max Factor was recalling Jaclyn Smith say "Thanks, Max" in those sassy 1980s commercials she did for the cosmetic line, which showed gratitude for its founder. I knew the products had a long history in Hollywood, but I had no idea how long or how Max Factor, the man, revolutionized the cosmetics industry.
Long before his beauty products were available to the masses, Max Factor made his mark on Hollywood in the early days of cinema. A Polish immigrant, Factor began by creating custom-made wigs and makeup for the movies. Theatrical makeup didn't translate well from stage to screen, so Factor came up with what he called "flexible greasepaint," which revolutionized the industry because it didn't crack.
Factor was also famous for personally applying makeup to Hollywood stars to ensure they looked their absolute best on screen. Gloria Swanson, Joan Crawford, Jean Harlow, Bette Davis, Judy Garland and a bevy of others all got the personal treatment.
As such many of these stars endorsed Max Factor cosmetics for little money, in exchange for publicity for their latest film. Many of these stars were regulars at the salon, where even non-celebrity clientele would get the Hollywood treatment.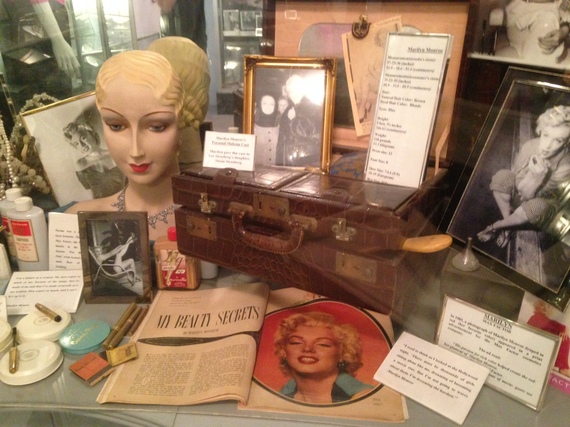 Catty Quips and Digs Abound
As immortalized in the 1939 Classic The Women, beauty parlors are famous breading grounds for gossip. As such, interspersed with the cosmetic and costume displays are some juicy framed quotes from silver screen queens. Here are three of my favorites:
Only two people in Hollywood I ever wanted to meet: Garbo and Mae West. Now I've met them both, and I can go home and lie down.

-- Bette Davis
Don't think I don't know who's been spreading gossip about me and my temperament out there in Hollywood, where that film was made

-- All About Me [All About Eve]

And after all the nice things I've said about that hag, Bette Davis. When I get a hold of her, I'll tear out every hair of her mustache!

-- Tallulah Bankhead
I don't hate Bette Davis even though the press wants me to. I resent her -- I don't see how she built a career out of a set of mannerisms instead of real acting ability. Take away the pop eyes, the cigarette, and those funny clipped words and what have you got? She's phony, but I guess the public likes that.

-- Joan Crawford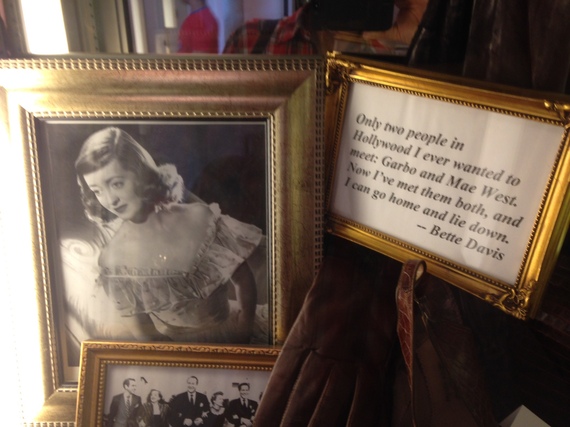 When Max Factor died in 1938, his company was at the height of its success. His son took over the business and continued its reputation as an innovator and leader in the cosmetic industry.
Milestones included a kiss-proof lipstick (actual kissing machines were made to test its endurance), a line of camouflage makeup that was used during WWII, a male line of products; fragrances, and eventually special industry lines created for television.
Most of all, it seems, Max Factor revolutionized the beauty industry. He turned "brownette" starlets into "redhead" and "blonde" stars. He synchronized hair and makeup for the perfect look. Above all, he paved the way for every woman to look like a celebrity.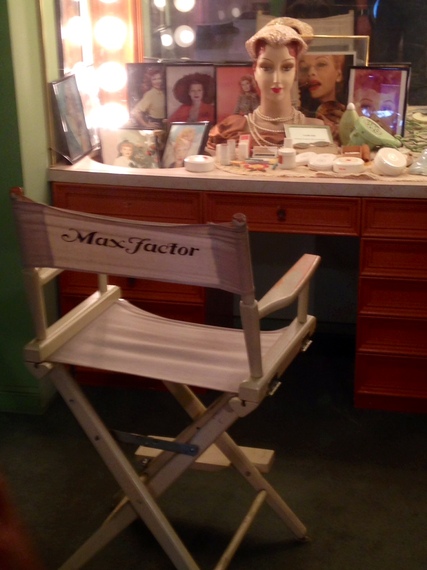 The Max Factor Building holds much more than the history of beauty that unfolded underneath its roof. It's also home to the Hollywood Museum, and as such, it really contains something for everyone. There's a dungeon that contains shrines to Freddy Kruger and Hannibal Lecter, with original costumes and ephemera. On other floors there are wardrobe and props from television shows like Mad Men, The Walking Dead and The Beverly Hillbillies.
More to my liking...there are some great items like Cary Grant's Rolls Royce, gowns worn by Greta Garbo and Jean Harlow, and a room of photographs of stars gathering at awards ceremonies and watering holes like The Brown Derby. One of the wildest exhibits is actor Roddy McDowell's entire guest bathroom, which was lined with photos and memorabilia from his favorite silver screen colleagues.
For fans of classic Hollywood, the building, the makeup studios and the overall museum are sensory overload and an absolute delight. I will undoubtedly return, because I couldn't possibly absorb everything in one go-round. (Did I mention there's an original pair of the ruby slippers on display?). In fact, the helpful guide told me that exhibits rotate, so there's always something new to see. I'm only hoping next time I can get a gander at that kissing machine.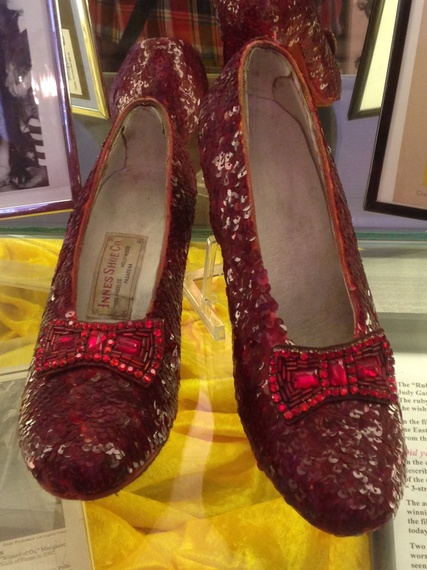 Related