"I love this soup," exclaimed my five-year-old, as she greedily shoved another spoonful in her mouth. The scene of my girls' newfound favorite food was the Galvin Brasserie de Luxe. Located in the grand Caledonian Hotel, a member of the Waldorf Astoria family, in the West End of Edinburgh, Scotland resides the French bistro who has earned a Michelin Bib de Gourmand award. I had ordered the artichoke soup for her without explicitly explaining what an artichoke is. My bad since I've never bought one in a grocery store. The server even offered that if Isabelle she didn't like the soup, she would gladly bring out another appetizer, another sign of classy child-friendliness in a restaurant.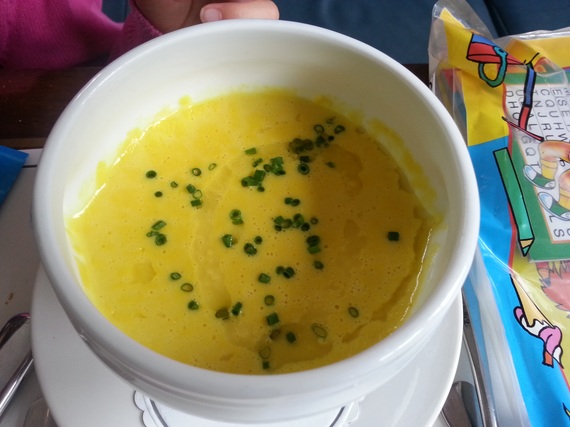 Let the kids experiment with novel food rather than resort to staid favorites. Isabelle's enthusiasm encouraged her older sister to partake as well, who also promptly fell in love too.
My 5-year-old is only beginning to appreciate experimenting with food though I have to say she is doing better than many kids. She did gobble my lobster roll in Portland, Maine leaving me with chicken nuggets at a seafood restaurant. With much curiosity, she ceremoniously lifted the white ceramic lid for the soup urn and the aromatic smell of herbs and cream drew her in. She gulped down the artichoke soup, which was the soup of the day. I don't think I've even attempted to cook an artichoke in my life, intimidated by the spiky, tough layers that looks like it would more than a day to cook. I felt a surge of pride that no vegetable will put my daughters off, a battle that happens in many households with kids.
The couple next to us were dressed in matching Scottish rugby shirts, hinting at their attendance at the upcoming game happening at nearby Murrayfield Stadium, which hosts rugby matches, American football games and Madonna concerts. Their sports-fan attire made me feel more at ease that I was there with my two young girls, looking a little harried from riding a morning train from Glasgow to catch a morning theater show as part of Edinburgh Festivals.
However, my kids were made to feel perfectly welcome. With a gourmet children's menu, toys and scheduled children's activities, wee diners were made to feel like perfectly paying customers. There were many impressive aspects to the restaurant but the one of the most incredible features was the mouth-watering children's menu, which didn't default to deep-fried chicken fingers and greasy pizza. The maitre'd also welcomed the kids with individual fun packs with coloring pens and puzzles.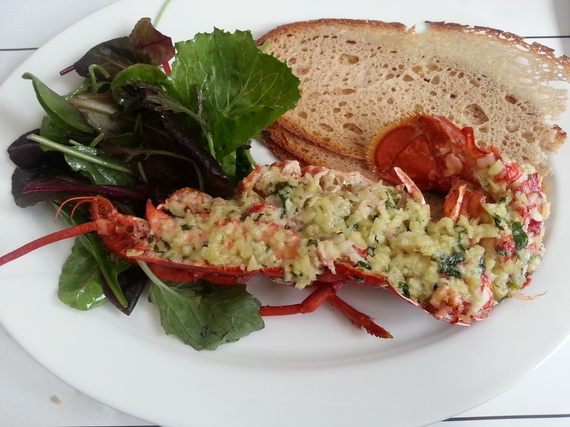 Of course, it's not just the children's meal that was the star. My perfectly grilled half lobster sveltely slipped out of the shell and melted in my mouth amidst the mixture of herbs, garlic and butter. A concoction of shellfish bliss.
The British Cumbrae raw oysters were fresh and scrumptious. No hint they had been transported to the heart of Edinburgh but as refreshing as if we were on a fishing pier and the oysters had just been brought in on a vessel, just as I had delighted in oysters on a pier in Gloucester, Massachusetts over the summer.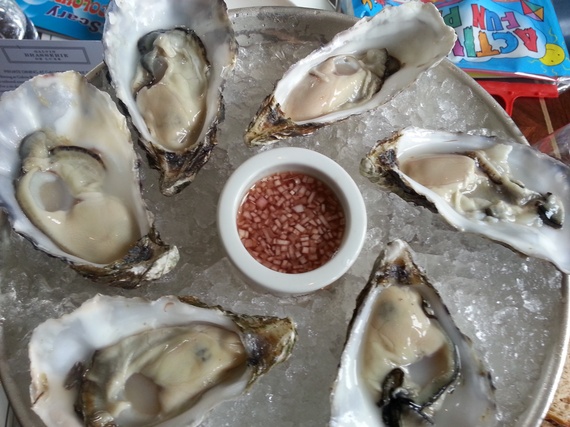 Through the entrance tucked away on a side street, away from the shopping bustle of Princes Street, the restaurant immediately invites you into a relaxing atmosphere. The décor is tastefully decorated with azure blue, slate-gray overtones, surrounding a circular bar. Located near the edge of the Mound makes the hotel restaurant ideal for Edinburgh's spectacular fireworks displays. It's also across the street from a sprawling urban green space that spans the length of the center of the city so you can walk all the way to the spectacularly eerie historic buildings in Old Town without crossing through too much car congestion.
As much as we've loved to languish all day and stay for dessert, we had tickets for the next show. There's always a next time.
For more information, go to Galvin Brasserie de Luxe.