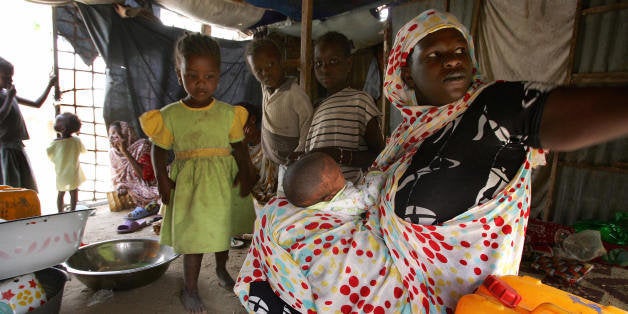 The facts were what caught my attention.
Mauritania, this enormous but sparsely populated country on the fringe of the Sahara Desert, was the last in the world to abolish slavery. And it's thought to have the highest percentage of its population still living in slavery in the world.
Those sad truths were floating out there on the Internet and in newspaper archives before Edythe McNamee and I set out to visit the country to document the practice for a CNN Digital story that would win the Livingston Award for Young Journalists. Before we left, the UN's special rapporteur on modern slavery had told me an estimated 10 to 20 percent of people there were living in a form of slavery.
But there were plenty of unanswered questions: How did that crisis play out for the real people caught up in this tragedy? Who were the slave owners? Were there no efforts to prosecute them? And most centrally: How in the world could 10 to 20 percent of a country's population live in slavery in this day and age?
We set out to answer these questions and to humanize the crisis.
Many of our interviews had to be conducted in the middle of the night and in secret because Mauritania doesn't exactly like foreign journalists (any journalists) reporting on its gross record of slavery and human rights abuses. We weren't allowed to be there for that purpose. Our visas said we were there to report a story on locust swarms and new technologies used to detect them. I reported that story, true to what the visa said, but also reported on slavery in secret.
Some of those middle-of-the-night interviews will stay with me forever.
On one particularly memorable and tense evening, Edythe and I reunited a former slave with his former master. The two men hadn't seen each other in years. Their master-slave relationship started when the master chose his slave -- like he was choosing a toy, he told us -- at his circumcision ceremony far out in the desert. The slave master, Abdel Nasser Ould Ethmane, would go on to become one of Mauritania's most prominent abolitionists -- working with a group called SOS Slaves to free many people in Mauritania. But with this man, named Yebawwa, he failed, he told us. I asked Yebawa what it was like when he was freed by his former master. He acted like he didn't know exactly what I was talking about, or didn't remember. I got the impression that this man didn't truly understand what "freedom" meant.
He still saw his former master as family.
And I came to believe that's this uncomfortable truth is part of what perpetuates modern slavery in Mauritania: The shackles of slavery, as one activist told us, can exist in the mind. Breaking them may be a long and arduous process.
Thinking back on this story, however, I'm filled not with a sense of sadness but of hope. There are so many brave people, inside Mauritania and abroad, who are working to fight this practice, sometimes at great personal risk. CNN Digital readers donated thousands of dollars to a training center for escaped slaves and their descendants in Nouakchott, Mauritania's capital. Members of the CNN iReport community also sent in video clips telling them women who attend classes at that center that "We are with you," in the local language, so they could understand. Sean Tenner, in Illinois, founded a group called the Abolition Institute, based in Illinois, because he was so moved by the coverage. And, despite tough odd and the fact that much of the opposition is boycotting the election, one of the men we interviewed, Biram Dah Abeid, a descendant of slaves, is currently running for president.
When I asked abolitionists how they'd know if the struggle had been won, they told me that would happen when a descendant of slaves became president.
That could happen later this month.
I'm incredibly grateful to the Livingston Awards for honoring this work and helping spread awareness of this critical issue. And to everyone who is pushing for greater freedom and equality, both in the United States and around the world.
The Livingston Awards for Young Journalists aims at identifying top talent early (entrants must be under 35) and boosting winners by presenting them to the senior levels of the profession at an annual lunch in New York City. For more information on the program, run by the University of Michigan and supported by the Knight Foundation, read here.
Popular in the Community