As the Mad Men craze continues to inspire retro chic fashions, it's high time to look at some of the show's more stationary stars -- such as the spot-on 1960s period sets featuring Knoll furniture. This iconic brand has inspired architects and designers for over 70 years, so I recently visited Knoll's showroom in The Meat Packing District, where I experienced the company's Antenna Workspaces, which is both a line of Knoll furniture and an approach to enhancing workplace productivity.
As someone who worked in a cubicle for many years at ELLE magazine, I was struck by the airy, expansive design by Masamichi Udagawa and Sigi Moeslinger.
In an era when everyone aspired to a plum view of the City, I remember a former ELLE staffer was furious that I was promoted to a spacious cubicle overlooking the Hudson River. Bad vibes between employees is not productive in any creative environment, and this new concept addresses that.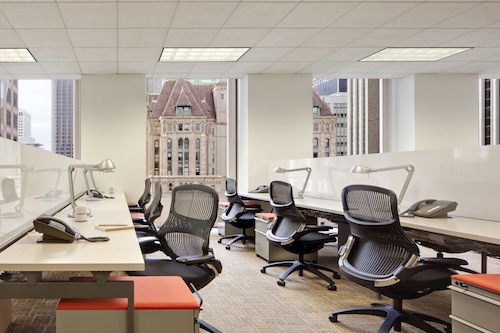 The Antenna Workspaces in San Francisco's McKesson office
TG: How do your respective backgrounds and design skills influence this concept for the future of the workplace?

K: "We are dedicated to making the experience of technology and environment more meaningful and exciting," said Masamichi Udagawa, principal Antenna Design.
K: "Our work is informed by an interest in functional simplicity and experience in using design as a tool of social interaction that bridges people and technology. In this way, in the tradition of Florence Knoll, Antenna Workspaces is both office furniture and a planning system," added Sigi Moeslinger, Udagawa's business partner.
TG: Is the AW price point making it accessible for those architects/designers who thought Knoll was not in their client's budget?
K: In a world where people scrutinize and measure more carefully the value of a product, the Antenna Workspaces price point facilitates solutions that save money.
Antenna Workspaces creates work environments for organizations driven by innovation and potential. The product line includes a range of simple furniture elements providing performance and flexibility to create a space where ideas can grow - a workplace that is as dynamic and collaborative as it is scalable and efficient.
TG: Antenna Workspaces can accommodate from 25-500 employees. What kinds of companies are using them?
K: We have been successful with all types of organizations from start-ups to established companies to educational institutions, including Blackboard (education technology); McKesson (pharmaceutical); North Carolina University (education); and Fallon (advertising).
TG: How did winning an innovation award in 2010 for AW design, and in 2011 snagging the Cooper-Hewitt National Design Award, shape the perception of Knoll on the global design playing field?
K: These recent accolades build on a 70+ year track record of design excellence and workplace experience. They reinforce our continuous interest in exploring the power of modern design and ever-changing landscape of today's workplace to create compelling work environments.
Unlike Draper and company, today's driven thought leaders may stash less booze in their drawers during the work hours and more Vitamin B12 to stay one step ahead.