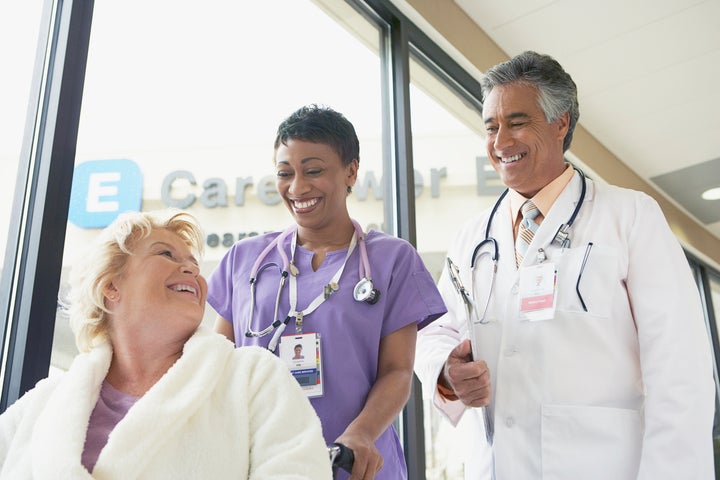 As the U.S. grapples with a physician shortage, let's look at an organization that attracts top physicians and offers high-quality care.
A leader in preventive health and chronic disease management, Kaiser Permanente provides some of the nation's best specialty care in areas including cardiology/cardiac surgery, oncology and neurology.
Every day, specialists perform complex procedures, and research shows that high-volume medical centers yield better results and fewer complications.
Here are three examples of our extraordinary specialty care.
Not that long ago, fixing heart valves with a minimally invasive approach was thought to be unlikely.
But in 2012, an alternative to open heart surgery became a reality when the U.S. government approved transcatheter aortic valve replacement, or TAVR.
As an early adopter of TAVR, Kaiser Permanente now has one of the nation's larger programs, and major complication and mortality rates that are lower than published studies for similar patients.
TAVR helps people with aortic stenosis – the narrowing of one of the pathways to the heart – by using a catheter to install a replacement valve. Kaiser Permanente in San Francisco is also part of a clinical trial to test whether TAVR works better for patients who would otherwise get open heart surgery.
Many patients with stenosis are ineligible for open heart surgery. Left untreated, their prognosis is poor.
Within days of TAVR, patients can have their life back, a refrain Dr. Jacob Mishell, Permanente Medical Group cardiologist with Kaiser Permanente in San Francisco, has heard from many patients.
Patients such as Douglas Mudgway, a retired space engineer who was 92 when he had TAVR two years ago. He resumed his morning walks and playing cello, and described the difference in his life before and after TAVR as "night and day."
"All of us went into medicine to have a positive impact in a profound way," Dr. Mishell said. "TAVR does just that."
Treating Cancer Minimally for Maximum Results
With the rate of American head and neck cancers caused by the human papillomavirus (HPV) rising steadily, more adults – primarily middle-aged men – are being treated for this potentially deadly disease that strikes decades after infection.
That used to mean months of chemotherapy and radiation, or surgery that required breaking a patient's jaw.
Now, physicians such as Dr. Ryan Brown, a Permanente Medical Group surgical oncologist with Kaiser Permanente in Colorado, are treating some oropharyngeal cancers with highly precise robotic procedures that remove tumors in hours, and have patients out of the hospital in days. Most of these trans-oral robotic surgery recipients never need chemotherapy or radiation, or to have their jaw broken.
"What I do as a surgeon is becoming more and more minimally invasive," said Dr. Brown.
For those who are eligible – the cancer has not spread to multiple lymph nodes – the five-year cancer-free rate equals that of chemotherapy and radiation: a remarkable 95 percent.
Dramatically Changing Lives with Deep Brain Stimulation
Lori Boyd's friends and family were nervous about her undergoing deep brain stimulation (DBS) – a surgery using electrodes to stop abnormal impulses, such as tremors caused by Parkinson's disease, or in Boyd's case, by a condition called essential tremor.
She wasn't frightened because Dr. Mark Sedrak, a Permanente Medical Group neurosurgeon with Kaiser Permanente in Redwood City, Calif., and the whole care team were so "amazing" and "patient."
Dr. Sedrak also developed software that helps surgeons target the optimal placement of the electrodes. And Kaiser Permanente in Redwood City has a unique approach to DBS: the "ultra-precision" technique, which uses X-rays to help zero in on the areas of the brain. These techniques lead to better results of eliminating or reducing tremors.
Patients needing DBS feel hopeless and helpless. Ordinary tasks, such as holding a cup or brushing their teeth, become impossible.
"It's incredible to give people a better quality of life," Dr. Sedrak said. "They are now able to do simple things that most of us take for granted."
Boyd can now use a screwdriver, take videos and photos, and give herself a pedicure. A pianist, she regained her ability to play favorite pieces that she couldn't play for years.
"It feels really satisfying to play my go-to songs again," she said.
Kaiser Permanente's Key to Clinical Excellence
Crucial to our success in all of these cases is our ability to work as a team and attract top-notch physicians and health care professionals.
Patients benefit from Kaiser Permanente's model: A multi-specialty, physician-led medical group works with the nation's largest integrated health system, caring for nearly 12 million patients. Physicians have the autonomy to practice medicine that is patient-centered, ethical and backed by the latest evidence and technology.
When patients don't have to worry about their care, they can focus on recovery and resuming their lives. That's why we all went into medicine – to fix what ails others and make lives better.
Michael Kanter, MD, is the Chief Quality Officer of The Permanente Federation, the national umbrella organization for the more than 21,000 physicians who provide care to Kaiser Permanente's 11.7 million members.