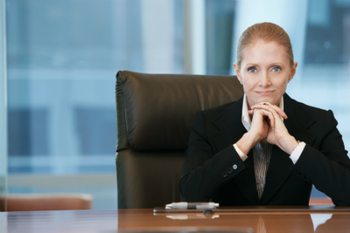 How can you make success happen if you can't envision it?
Small business ideas are just that ideas. In order to move an idea forward you must focus on how you envision success. As an entrepreneur, you're the leader of your business, and having a strong vision of success is essential to great leadership. What is your vision? Can you articulate it? You should share it with everyone; your team, customers and potential investors. In the day to day of running a business, you need to get practical things done, but if you don't remember why you're doing it in the first place, your accomplishments can feel hollow.
Whether you're still in the development phase of your business or have been in business for years, understanding your vision can infuse new enthusiasm into your actions. That enthusiasm will naturally carry over to your employees and customers. Here are some ideas about transforming your business vision into reality.
Start With a Plan: Outstanding leaders consider values, ideas, and actions that are in line with their vision and core values, and they pursue those rather than just money or fame. It doesn't mean putting vision into action is easy. Actually, it requires setting challenging, yet realistic goals and having a plan for pursuing them. Naturally, it helps when your share your plan with your employees, so they can be committed to this vision as well. And persistence is necessary, because the road to success isn't free of obstacles or detours. But few things are more satisfying than creating a plan and seeing your business vision become reality.
Communicate Your Vision: Having a vision of what you want your business to become is necessary, but not sufficient to ensure success. You must also communicate your vision effectively. It isn't always easy, because sometimes you can get so excited about your ideas, that you don't articulate the execution plan or next steps. Running a business is filled with endless tasks that need to get done. Communicating your vision can often go on the back burner. But communicating your vision is a valuable use of your time. Communicating your vision shouldn't be done via edict. It's important to have open discussion with team members and really listen to them. Team members can be terrific sources of ideas and inspiration.
Create a Vision That Inspires: Your vision statement should include elements that motivate and inspire enthusiasm. It should make your organizational direction and purpose clear, and every employee should be able to envision his or her place in it. It should express the values and strengths of your organization and inspire you and those around you to commit to making them happen. A great vision statement reassures employees they're part of something greater than just their individual position.
Reinforce Your Vision Constantly: Use emails, memos, annual reports, phone calls to remind everyone of the big picture that you are all working so hard to achieve. Emphasize over and over that there is a reason why you do the things you do, why you hire the people you do, and why you deliver the products and services you do. A consistently communicated vision can challenge everyone to go the extra step and do what they may not have thought possible before.
Having a great vision and imparting it to the entire team isn't something you have to be a guru to do. It's a skill like any other, and you can improve with practice. Here are some ideas:
Identify and articulate a single challenge in your organization.
Envision how everyone benefits when that challenge is overcome.
Think of the specific words and phrases you can use to communicate that vision, where and when you can communicate it.
Rehearse the core message of your vision, until you know it by heart.
First, you can try doing this for a basic challenge, like increasing your same-day shipping rate by 10%. Once you and your team have envisioned and met this challenge, it becomes more natural to envision and meet the next one.
If you're a small business owner, you're already a visionary. Envisioning the needs of your customers and addressing them is immensely important. Whether you're in finance, hardware, or food services, your unique skills are capable of changing the business world for the better. If you're in the development phase of your small business, I encourage you to download two free chapters of my book Become Your Own Boss in 12 Months. It's packed with small business advice ranging from the developing your vision to developing your online brand.