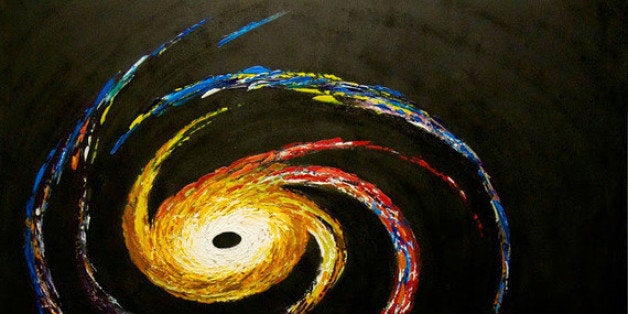 This weekend, a few dozen New Yorkers attended an event at Tibet House: an art tour by Tara Lobsang, a Tibetan artist born and raised in Tibet, educated in India, and now living in New York. The art exhibit, A Brush with Reality: Calligraphic Paintings of Tara Lobsang, opened last month and is currently on view at Tibet House.
There is little in common between Lobsang and calligraphy. Calligraphy is an unforgiving art form that imposes strict limits on the boundaries within which the brush is allowed to travel. In old Tibet, students spent years copying the same sentences again and again on a wooden board in order to achieve the ability to write in a style matching that of their teachers. This was considered a great skill in Tibet - well, at least until the day Tibetans learned that foreigners had invented a strange machine called the typewriter.
Lobsang was never cut out for the rigidity and discipline of traditional calligraphy. At eight, he fought with his teacher. At ten, he was expelled from school. At eleven, he lobbed an axe into the back of a cow that belonged to a neighbor. At thirteen, he crossed the Himalayas and escaped from Tibet; after a month of walking, he reached Dharamsala, India, where he was enrolled into a Tibetan refugee school.
"It was in exile that I first started to take a real interest in calligraphy," said Lobsang, "because I no longer had to copy my teacher's handwriting. I was free to experiment and let my brush run on paper in all directions. There was nothing more liberating than taking that departure from the tradition within which I was trained as a kid."
At the Tibetan Children's Village, Dharamsala, Lobsang grew up with hundreds of other children who, in search of freedom and education, had also been separated from their parents. Dharamsala is the seat of the Dalai Lama and the Tibetan government in exile, and one of the largest concentrations of Tibetan refugees in the world.
"Being separated from my mother has been the greatest sorrow of my life," he said, describing a piece called Ama (mother). "There is no love like a mother's love - genuine, unconditional, unchanging. As someone who has been separated from his mother for the last twenty plus years, this love is the one thing I've missed above all else, and I made this piece to represent that feeling."
After finishing high school, Lobsang moved to the United States, where he obtained a degree in filmmaking. In 2011, he made a film, Crossings, a short narrative about identity crisis. His separation from his family, and the pain he feels about the loss of his homeland, are recurring themes in his art. Lobsang has a love-hate relationship with his suffering.
"Where there is suffering, there is art," says Lobsang. "Happiness is what everyone wants, but it is not the most fertile soil for art to grow. When we feel happiness, we just absorb it because it feels good. But when we feel suffering, we cannot absorb it, because it is toxic, and we must find a way to channel it out through some kind of expression. And when that expression is characterized by beauty and originality, that is when art is born."
One of my favorite pieces in the show was Mandala of Milarepa, a calligraphic representation of Tibet's most beloved saint from the twelfth century, whom Lobsang described as "probably Tibet's first vegetarian." Milarepa meditated in the barren mountains of western Tibet, where he lived on boiled nettles for years, until his body turned into the legendary green. He is said to have attained enlightenment within one lifetime.
Perhaps the most political and powerful of all the pieces in the show is Inferno, a work of terrifying force that addresses the wave of self-immolations in Tibet. In that masterpiece representing fire and smoke, I could see the eyes of the self-immolator staring intensely at me through the flames. These were not the eyes of someone pleading, or crying, or despairing; these were the defiant eyes of certainty, urgency and prophecy. The message was one of prophetic fire of Tibetan wisdom that will one day restore Lobsang's homeland and set his people free.
Calling all HuffPost superfans!
Sign up for membership to become a founding member and help shape HuffPost's next chapter