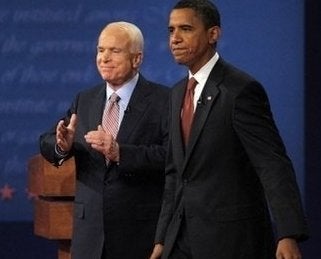 Over the next two days, John McCain and Barack Obama will maintain a break-neck pace to the finish line as they criss-cross the country several times to make appearances and lead rallies in battleground states.
On Sunday, Obama leads rallies in Ohio - Columbus, Cleveland, Cincinnati - and running mate Joe Biden covers Florida, appearing at rallies in Daytona Beach, Gainesville and Tallahassee.
On Monday, Obama plans to appear in Jacksonville, FL, Charlotte, NC and Manassas, VA before flying back to Chicago late at night. Meanwhile, Biden will jump from Philadelphia, PA to Copley, OH and Lee's Summit, MO and Zanesville, OH. And Michelle Obama will greet crowds in Littleton, CO and North Las Vegas, NV.
On Sunday, McCain leads rallies in Wallingford, PA and Scranton, PA before heading to Peterborough, NH and ending the night with a rally in Miami, FL. Running mate Sarah Palin is all over the crucial battleground of Ohio, starting the day in Canton before going to Marietta, Columbus and Owensville.
On Monday, McCain will spend much of the day in the air while traveling to six states - starting the day in Tampa, FL, he then heads to Blountville, TN and Moon Township, PA, Indianapolis, IN, Roswell, NM, Henderson, NV and ending the night with a midnight rally in Prescott, AZ.
Palin continues in Ohio, starting in Lakewood before moving on to Jefferson City, MO and Dubuque, IA and Colorado Springs, CO before finishing in Reno and Elko, NV.
Popular in the Community