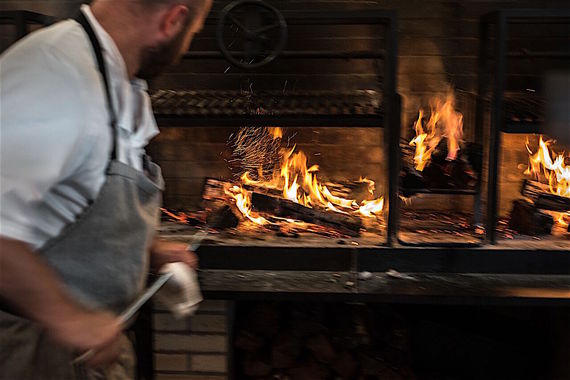 With the Super Bowl being played in Houston's NRG Stadium this year, visiting fans may well want a break from wings and tailgate fare. Here are some top places to consider.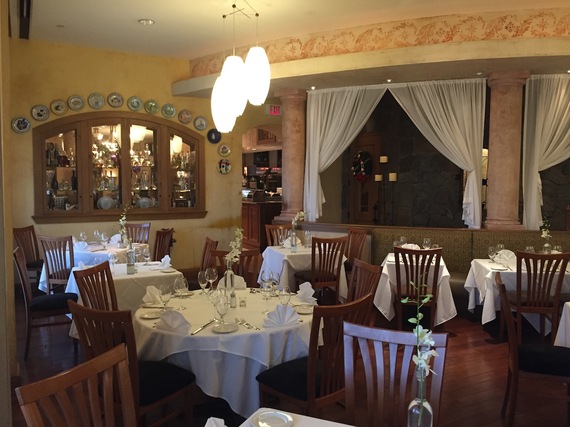 I believe Houston's Arcodoro is the only true Sardinian restaurant in America. And, if it's not, I know it's the best, for not only is owner-chef Efisio Farris proudly Sardinian, but he works very hard and happily to educate his clientele as to the diversity of and difference from what too often passes for Italian food in Houston.
With his wife, Lori, Farris has managed to keep Arcodoro in the top ranks of all the city's restaurants for more than twenty years now, and he has built a unique network of Sardinian food and wine suppliers. Since Sardinia is considered one of the world's "blue zones" for healthful eating, he has a menu of typical Sardinian dishes that manifest that idea.


The beautiful dining room reflects the Farrises' intent to make it feel like you're dining at an affluent home on the Costa Smeralda, with warm colored tiles and stencilings, arched ceilings, and tables draped in thick cloths. There is a wonderful slew of pizzas--try the one with porchetta, mozzarella, Gorgonzola, wild mushrooms and mustard dressing ($18); Begin with an array of antipasti like house-cured meats and Sardinian cheeses ($19).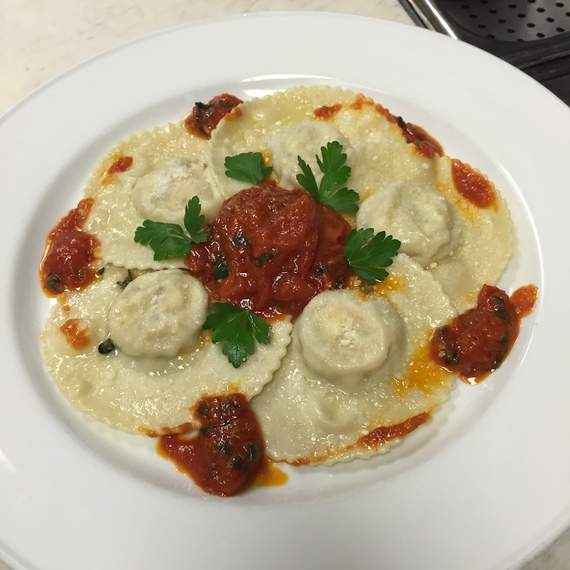 There is a special hand-braided pasta called lorighittas with baby octopus and sweet potato or with roasted goat ($36), and linguini with fresh clams, tomatoes and bottarga ($28). Anzelotos are stuffed with cheese and mint ($26). Duck breast is pan-roasted with myrtle and fennel, served with mosto d'uva (grape must), caramelized baby onions, and butternut squash ravioli ($32). For dessert try the sampling of five for $14.50.
Arcodoro's wine menu has a wide range of wines, with a long list of hard-to-find Italian regional wines.
ARCODORO
5000 Westheimer Road
713-621-6888
Open daily for lunch and dinner.
You can sum up what American food is in 2017 by perusing the expansive menu at the cavernous and gregarious Liberty Kitchen at The Treehouse Memorial City, where most of the food comes off a 13-foot-long wood-fired that imparts enormous flavor to the food, some of it cooked in cast iron Dutch ovens.
The dining room has tall glass walls, reclaimed wood, Yee Haw" wallpaper. and a soaring ceiling hung with chandelier globes.
Even at lunch, the room can get brutally loud.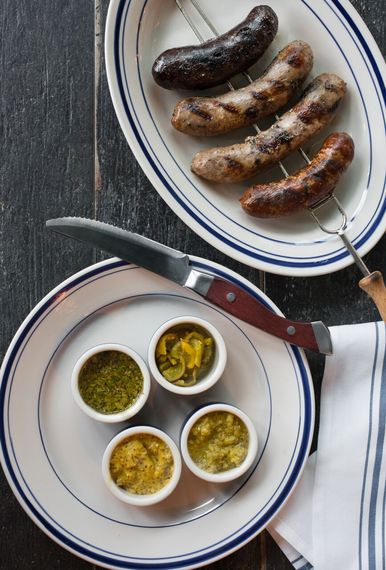 There are a lot of sharing plates, which make sense, including hush puppies with chopped bratwurst meat, cherry peppers, cheese, bacon, jam, scallions and hot sauce ($8.95), a dozen "specialties," including five kinds of hamburger, and a dozen sides ($4.50 to $10). It's all way too much to digest in even ten visits, but I have to commend the company's chefs for the food's overall integrity.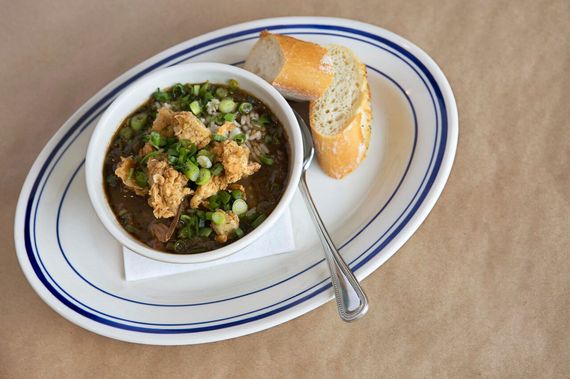 I barely made a dent in the menu, but I thoroughly enjoyed dishes like the heritage Angus rib eye (MP) and a red snapper (MP) that came off that wood grill nice and juicy. A hearty rendering of chicken and andouille with red beans and gold rice ($22) took on a good dose of hot sauce, with scallions and hush puppies on the side. Also good was Creole whole crab, shrimp and andouille gumbo (left) with potato salad, fried oyster, okra, and scallion ($8.50-$12).
I recommend a platter of à la carte meats ($4-$5 each), that include excellent chorizo, pork belly with Taipei-style duck sauce, sweet Italian sausage with cherry peppers, morcilla with aji pique, and brats with beer and ballpark mustard. The only dessert I tried was a decent if not exceptional chocolate cake.
LIBERTY KITCHEN AT THE TREEHOUSE
936 Bunker Hill Road
713-468-3745
Open for lunch and dinner.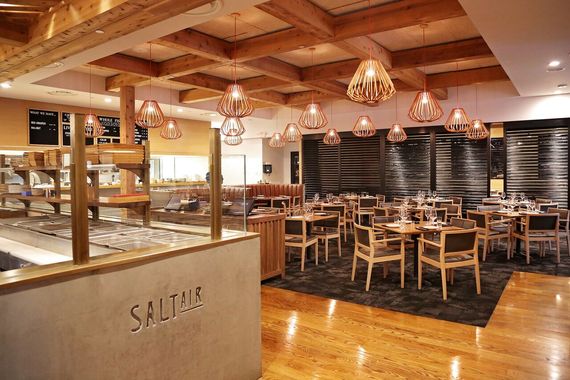 I suspect many people don't realize that the vast, ever-expanding Houston metro area reaches into the Gulf of Mexico, So Saltair's Director of Culinary Operations Brandi Key can command the best that comes into the market.
Start off with some raw bar items that include a very good scallop ceviche With coconut, lime, ginger, basil and shrimp chips ($14), none of which overpowers the delicate flavor of the scallops. Similar is the seafood campechana of shrimp and crab with a spicy tomato sauce and avocado, with tortilla chips for scooping it all up ($13).
The goat's cheese ravioli with crushed tomato sauce, basil pesto, and crispy garlic ($19) is a fine contemporary take, as is saffron fettuccine with crabmeat and bottarga ($21), and garlicky spaghetti with sautéed shrimp, lemon, chili and basil ($20).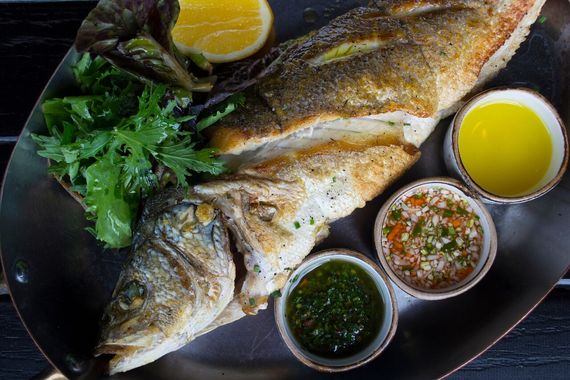 Order a simply cooked whole fish like the "branzini" [sic], which shows how good this sea bass is when it comes from Mediterranean waters rather than a fish farm, here roasted simply with olive oil, salt and pepper and lemon butter, then sauced with chimichurri and nuoc cham it doesn't need (MP). There's also a grilled fish sandwich on brioche bun with a tasty remoulade and French fries. ($16). Enhance the richness of a dish by ordering Joël Robuchon-inspired potatoes with equal amounts butter to starch ($7).
For dessert don't say no to the brownie with vanilla ice cream ($9) or the butterscotch pot de crème with dulce de leche ($8).
SaltAir is a very large restaurant, with the cast of a dockside restaurant, complete with blue canvas chairs and sunny bright walls, as well as the main dining room of varnished wood and very warm lighting. Tables are bare, the bar very popular, the decibel level high.
The place lends itself to all kinds of conviviality, but without that pristine seafood it might be not be the big draw it clearly is.
SALTAIR SEAFOOD KITCHEN
3209 Kirby
713-521-3333
Open Tues.-Sun. for lunch, brunch on Sat. & Sun., for dinner nightly.